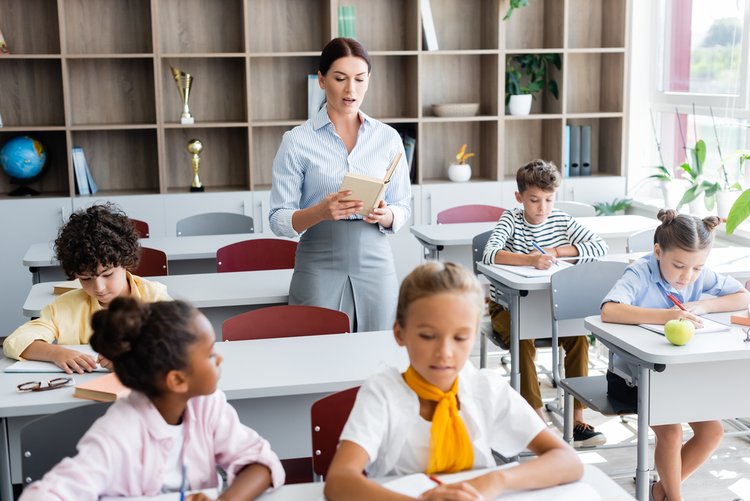 Did you know that 4.85% of the world's population speaks Spanish? That may not seem like much until you consider that only 4.83% speak English. That's not all. As the economy becomes more globalized, there is increasing demand among students and other professionals to learn Spanish as a second language.
And that can't happen without them having a Spanish teacher. Are you one of them? We bet you are! Now it's time to show that to your new employer. A custom cover letter is your best route for doing that. Wondering how to open one? Well, follow our tips and then check our Spanish teacher cover letter sample.
Introduce Yourself, Your Credentials, and Your Methods
When it comes to teaching jobs, your credentials matter a lot. Most employers won't accept you unless you have a relevant degree and/or have the required certifications. In many cases, hiring managers simply don't have much leeway, even if they think you're spectacular.
ADVICE FROM OUR EXPERT
---
When hiring an individual in the education sector, companies are looking for engaging and dedicated individuals to teach their students. Reveal your personality, while still maintaining your professionalism. Detail your experience and any expertise that validates your capacities, including certifications, training, and educational background, specifically as it relates to Spanish as a foreign language.

Claire Webber
Career Consultant, CPCC, CPRW
Give them a quick assurance that they aren't wasting their time with you and communicate that you meet the basic academic qualification requirements. The best way to do this is with a simple introduction, follow that with your credentials, and a quick glimpse of your teaching methods/philosophy. It might look like this:
"Greetings! My name is Linda Davis, and I am submitting my application for the position of a high school Spanish teacher. I have my secondary teacher's certificate in foreign language studies, and I have a teaching license in good standing from the state of Indiana. I also obtained my Master's in Spanish from Indiana State Uni in 2011. I've been teaching high school Spanish for nine years, and have enjoyed great success combining immersion learning with multisensory techniques."
Connect Your Letter with the Job Listing
Read the original job post carefully. Identify the most important skills, personality traits, and other attributes the school has included. These are your target keywords. Try to include as many as possible in your cover letter. Doing so will help you position yourself as a highly-relevant job candidate.
Also, remember that many hiring managers simply scan your cover letter in search of the right words and phrases. By using this technique, you ensure they are in place.
Discuss Classroom Management
Language fluency and experience are only part of the puzzle. You'll also want to establish that you can maintain order in the classroom, keep students on task, and deal with issues that may arise.
Today, classroom management also encompasses your ability to keep things on track during remote and hybrid learning sessions. If you've successfully taught in challenging circumstances, consider adding something describing that experience.
Highlight Your Cultural Understanding
A Spanish teacher is usually expected to teach about Hispanic or Latinx culture in addition to the language. This skill is more important than ever as schools are recognizing the importance of cultural respect and understanding. Consider discussing how you combine cultural education with language learning in ways that are relevant and engaging. Here is a brief example:
"Throughout each semester, I have my students select a Spanish speaking country from different regions. They are expected to research the country thoroughly, and present a report on the history and culture of that nation."
Cover Letter Sample for a Spanish Teacher – .docx Format
Check out this example letter. It does an excellent job of demonstrating some of the tips and techniques mentioned above.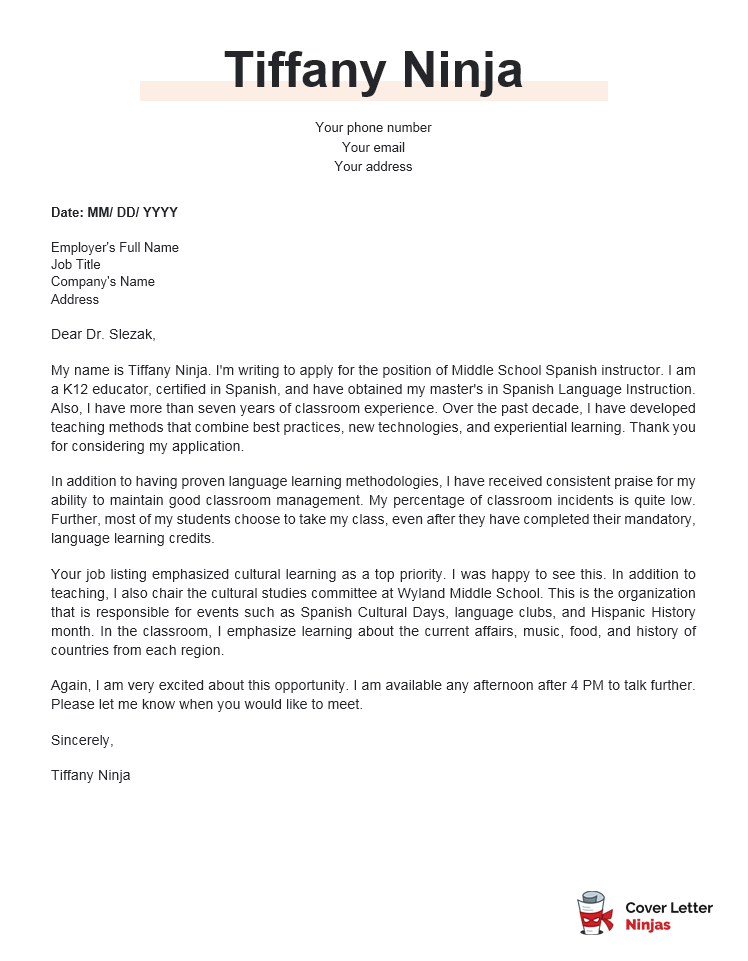 Download example (Word version)
Spanish Teacher Cover Letter Example – Text Format
Dear Dr. Slezak,
My name is Tiffany Ninja. I'm writing to apply for the position of Middle School Spanish instructor. I am a K12 educator, certified in Spanish, and have obtained my master's in Spanish Language Instruction. Also, I have more than seven years of classroom experience. Over the past decade, I have developed teaching methods that combine best practices, new technologies, and experiential learning. Thank you for considering my application.
In addition to having proven language learning methodologies, I have received consistent praise for my ability to maintain good classroom management. My percentage of classroom incidents is quite low. Further, most of my students choose to take my class, even after they have completed their mandatory, language learning credits.
Your job listing emphasized cultural learning as a top priority. I was happy to see this. In addition to teaching, I also chair the cultural studies committee at Wyland Middle School. This is the organization that is responsible for events such as Spanish Cultural Days, language clubs, and Hispanic History month. In the classroom, I emphasize learning about the current affairs, music, food, and history of countries from each region.
Again, I am very excited about this opportunity. I am available any afternoon after 4 PM to talk further. Please let me know when you would like to meet.
Sincerely,
Tiffany Ninja
Final Tip: Show Your Extracurricular Involvement
A teacher who will take responsibility for clubs, teams, and other organizations is an absolute treasure. If you have the time, energy, and experience required to lead a club, coach a team, or otherwise be available for extra activities, your application may be put on the fast track!
Get More Ideas From Other Teaching Cover Letters!