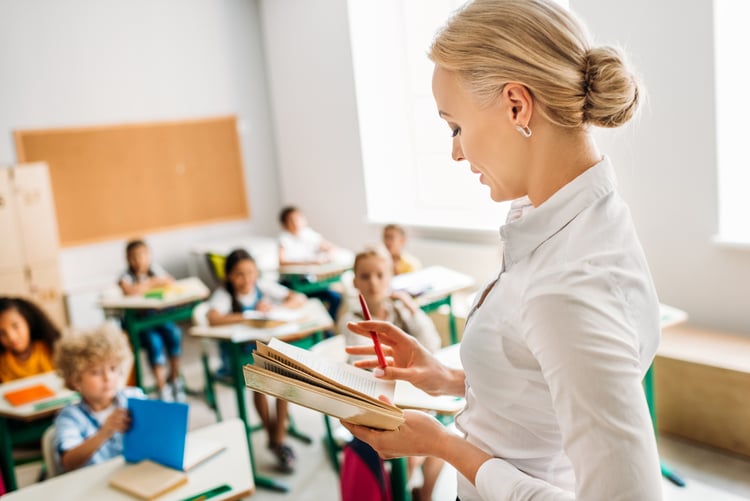 You have completed your degree in education. In the course of all of that, you had lots of field experiences, including a student-teaching semester in a real classroom. You have a fully prepared portfolio and have passed the state-mandated test. You are now "hitting the street" in search of that first teaching job.
Obviously, you know where to go to look. Schools and districts advertise current job openings. And, in many states, there is a "clearinghouse" website that provides a complete state-wide listing, alongside all-purpose job search engines such as Indeed and Monster among others. Each option lets you narrow your choices by schools or school districts and by more specific age groups – early, middle, or older elementary positions.
And when you drill down to those open teaching roles, don't delay your application. Because good elementary teaching jobs get snagged fast! Thus, it's handy to have an application packet featuring your transcripts, your state certification documents, a resume, professional references, and a cover letter for an elementary teacher. 
A cover letter might come last, but it's arguably one of the most important documents. Why? Because it's your only shot at showcasing your personality before an interview.
Elementary Teacher Position Cover Letter Sample in .docx Format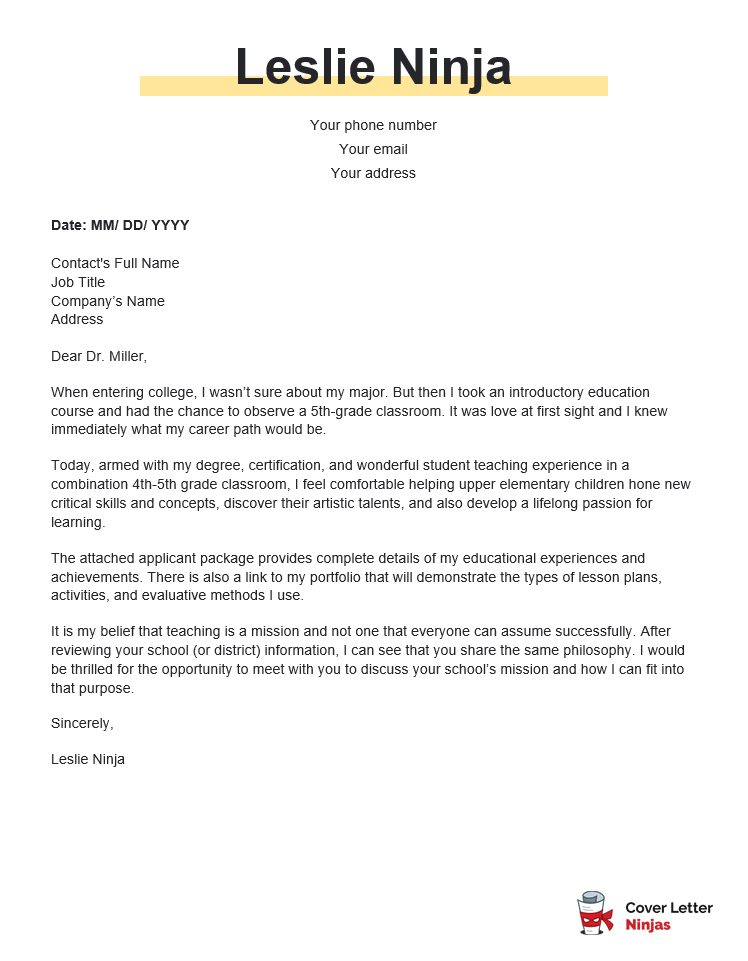 Download example (Word version)
Cover Letter Example for Elementary Teacher Position – Text Format
Dear Dr. Miller,
When entering college, I wasn't sure about my major. But then I took an introductory education course and had the chance to observe a 5th-grade classroom. It was love at first sight and I knew immediately what my career path would be.
Today, armed with my degree, certification, and wonderful student teaching experience in a combination 4th-5th grade classroom, I feel comfortable helping upper elementary children hone new critical skills and concepts, discover their artistic talents, and also develop a lifelong passion for learning.
The attached applicant package provides complete details of my educational experiences and achievements. There is also a link to my portfolio that will demonstrate the types of lesson plans, activities, and evaluative methods I use.
It is my belief that teaching is a mission and not one that everyone can assume successfully. After reviewing your school (or district) information, I can see that you share the same philosophy. I would be thrilled for the opportunity to meet with you to discuss your school's mission and how I can fit into that purpose.
Sincerely,
Leslie Ninja
More Relevant Teaching Cover Letters
Tips for Crafting Your Perfect Cover Letter for Elementary Teacher Positions
Wondering how to create a similar cover letter? Well, we've got you covered. Apply the following tips to your cover letter to make a strong first impression.
Start with a Short Personal Story or Anecdote
Most candidates prefer to showcase their "pro" side only in the cover letter. But doing so puts them at a disadvantage because many schools seek out a nice "personality fit" for their bench of staff.
That's why opening with a short personal story can serve you well. In this sample cover letter for an elementary teacher, the candidate clarified what led her to select this career. You can try the same approach!
Make Your Cover Letter Different From a Resume
It's okay to refer to your credentials and experience in the cover letter. But don't turn it into a summary of your resume. By doing so you waste a chance to tell yet another thing about yourself — your passion, motivation, unique experience, or big accomplishment are well-worth a highlight.
Too many candidates want to summarize their resume contents. This wastes the reader's time and shows that you don't have anything unique to add. If you do this, you will sound like every other candidate. Your goal is to engage the reader in a different manner.
ADVICE FROM OUR EXPERT
---
Enthusiasm is key in a cover letter for an elementary teacher position. After you have highlighted your educational and career background, demonstrate your passion to connecting with students. Great words to use include adaptability, active listening, and learning strategies.

Debi Douma-Herren
Senior Certified HR Professional & Career Coach
Mention Where the Employer Can Find More Information
The application process for a school position can be lengthy. So it's worth reminding the reader about the type of details/supporting materials you've enclosed and how to locate them.
This letter states that there is a link to his portfolio in his resume. This will remind the employer to look for that link and to access it. Further, you have given the reader a "taste" of what will be found in that portfolio — great lesson plans, student-centered activities, and some solid evaluation methods.
Use a Professional but Contemporary Style and Tone
Most school and district HRs want to see an applicant who can relate to the informal nature of an elementary classroom. Your letter should reflect a professional tone and yet a style that is not too formal or stiff. The cover letter above is a good example of nailing the tone.
Check and Re-check Your Grammar and Composition
A school or district administrator responsible for reviewing applicant materials may very well have been a former teacher too. So they'd be trained to spot any mistakes, even the tiniest ones. So make sure your writing makes an air-tight impression when it comes to your composition, spelling, and grammar.
Final Tip: A Perfect Cover Letter Will Reap Rewards
There's a good reason to polish and perfect your cover letter. A superb cover letter presents you as a unique candidate. It engages the reader right away, contains information that is different from the standard and "canned" letters most applicants will file, and motivates a reader to invite you to the job interview!