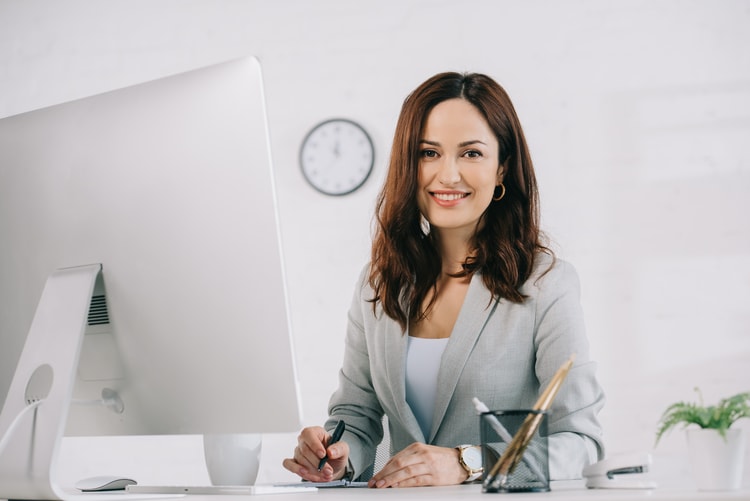 As a school secretary, you're not just an administrative assistant to the principal or vice-principal. You are also a key part of communication between students, parents, and staff. Depending on the school, you might be also given some executive or event management duties.
While this position doesn't come with the highest pay, a family-friendly work schedule can compensate for that. Plus, you can always treat it as a "launchpad" for other positions in the educational sector or even the corporate world.
But let's go one thing at a time. First, you have to nail the job application process. In this post, we provide a sample cover letter for the school secretary that will allow you to learn how to properly format a cover letter, as well as additional tips to help you make your letter the best it can possibly be.
School Secretary Cover Letter Sample – Word Format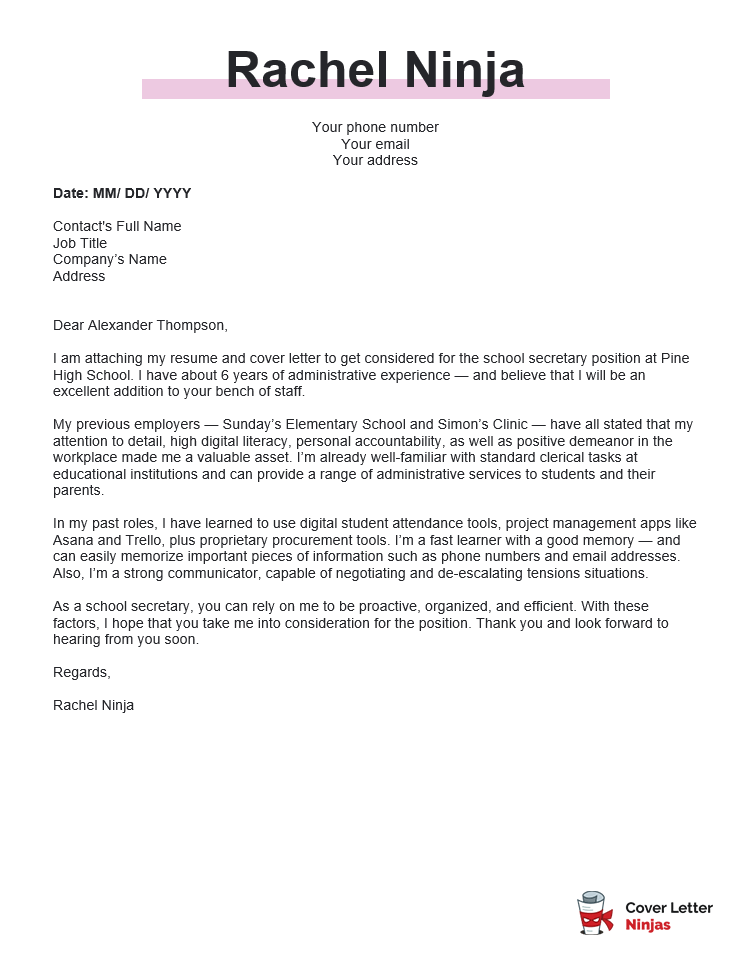 Cover Letter Example For School Secretary – Text Format
Dear Alexander Thompson,
I am attaching my resume and cover letter to get considered for the school secretary position at Pine High School. I have about 6 years of administrative experience — and believe that I will be an excellent addition to your bench of staff.
My previous employers — Sunday's Elementary School and Simon's Clinic — have all stated that my attention to detail, high digital literacy, personal accountability, as well as positive demeanor in the workplace made me a valuable asset. I'm already well-familiar with standard clerical tasks at educational institutions and can provide a range of administrative services to students and their parents.
In my past roles, I have learned to use digital student attendance tools, project management apps like Asana and Trello, plus proprietary procurement tools. I'm a fast learner with a good memory — and can easily memorize important pieces of information such as phone numbers and email addresses. Also, I'm a strong communicator, capable of negotiating and de-escalating tensions situations.
As a school secretary, you can rely on me to be proactive, organized, and efficient. With these factors, I hope that you take me into consideration for the position. Thank you and look forward to hearing from you soon.
Regards,
Rachel Ninja
Check Other Great Samples!
Helpful School Secretary Cover Letter Writing Tips And Tricks
Now, you have a good sample letter that you may use as a reference. However, every person's skills and experience are slightly different. So here are several more tips to help you personalize your cover letter.
Contextualize Your Hard Skills
Every employer has a list of qualifications the ideal hire must meet. Some are stated explicitly in the job ad. Others are "assumed". Your goal is yo guess which type of person the employer wants to have on board. Then present your skills in the right context.
When applying for a school secretary job, paint a picture of how you are using your top-notch organizational and administrative skills. Don't just say that you are attentive to details. Say that you can keep in mind all important reporting deadlines to district authorities.
Say More By Saying Less
As much as you probably want to highlight all your skills and work experiences, save those tidbits for your resume and in-person interview.
After all, a cover letter is meant to be an introduction as well as a short description of who you are and how you could be useful to the employer. Just like in real life an introduction is kept short and sweet and should not be extended any longer than necessary.
Remember that the hiring staff at the school are very busy people. If you write an incredibly long, rambling cover letter, few will read it. Besides, the ability to be concise and to the point is highly important for secretaries.
So aim for a one-page, 300-350 word cover letter with 3-4 paragraphs max. That's the ideal cover letter length.
Use Keywords From the Job Post
When reading the original job listing, pay attention to how it describes the candidate's requirements and role duties. These are your keywords for the cover letter — skills and abilities an employer wants to see.
Words such as hard-working, people-person, organized, and trustworthy, as well as specific school secretary job duties are examples of keywords. Your goal is to organically incorporate these bits into your cover letter.
For example, if the job ad says things like "Attention to detail" or "Excellent organizational skills" required, you should bring this up in your cover letter.
"In my 10 years of service, I have never misplaced a single student document. I've also developed a personal mnemonic system for remembering important due dates and tasks. Finally, my organizational skills have been tested on hosting over 25 fundraising events with 150+ attendees".
Final Tip: Don't Bring Up What You lack
Remember that while listed candidate requirements are important, it's fine if you lack some qualifications. But don't bring that up in your cover letter.
For example, you may not know how to use specific school software (which is fine), but be a pro in information research, meeting planning, and patent communication. Focus on talking about your strengths, rather than apologizing for some weaknesses.