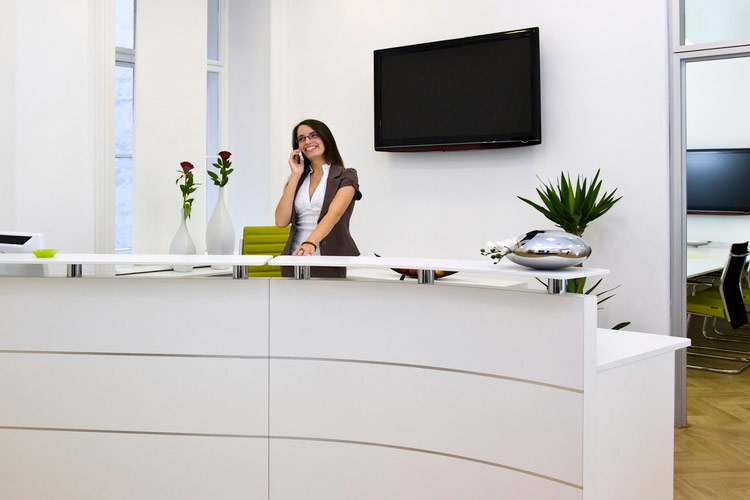 In many ways, the receptionist is the lifeblood of the office. They provide a cheerful greeting to employees and office visitors, handle incoming phone calls, schedule appointments, and provide information and directions. Many receptionists also handle administrative and office management duties. Some even act as a backup for the maintenance and security departments. Ultimately, this is a rewarding career for an outgoing person seeking a steady career in an office environment.
Of course, to land the ideal job as a receptionist, you need a great cover letter and resume. This post will focus on your cover letter. First, take a look at the helpful tips below. Then, check out the receptionist cover letter sample that follows.
Use Keywords From The Job Listing
Receptionists may perform a wide variety of duties. Because of this, two different job listings may contain very different sets of requirements. For example, one position may focus entirely on secretarial and administrative duties, similar to an office assistant position. Another job posting for a receptionist may ask the hire to act as a personal assistant or customer support specialist.
Thus, when you write your cover letter, take keywords–those main requirements in terms of hard and soft skills–from every job listing and customize your letter accordingly. Doing so will not just help you win some points from the hiring manager, but also from the applicant tracking software (if one's in place).
Illustrate Your Skills and Experience with Quick Examples
Show, don't tell. When you state that you have a specific skill or experience in a certain area, use an example to demonstrate this. Quantify things if possible. For example, rather than stating that you have 'people skills', write that you greeted more than 50 customers each day, and regularly handled customer questions and complaints with a high-resolution rate. If you have great computer skills, provide details about the specific software and apps that you used as part of your job.
Also, if you worked in a specific industry, for example as a medical receptionist, explain how your experience can be beneficial for the new company. For example, if you are moving into the finance sector, you can say that you are good at handling sensitive information and trained in the latest cybersecurity best practices.
Personalize Your Greeting
Avoid starting your cover letter with vague or generic "Dear to Whom It May Concern". Instead, do a bit of research. Find the name of the hiring authority who will be reading your cover letter. If you aren't able to find that information, at least include the name of the department in which you will be working.
ADVICE FROM OUR EXPERT
---
It is extra important to do your research on the company! Since the receptionist is the first impression of the company, it should read as if you already know the tone and culture of the office.

Mary Ford
Executive Career Coach
Show You Know About The Organization
Before you send your letter, you should know some basic facts about the company to which you are applying. At the very basic, you should precisely understand what they do, who they serve, and how long they have been in business. Even better, you should have a solid understanding of the company's values, culture, and mission. Once you have this information, you can customize your letter to show that you will fit in well at the company.
Proofread and Edit With Care
A receptionist is often tasked with creating and sending out a variety of communications and other documents on behalf of their employer. You must have impeccable writing skills. Your cover letter will be the first demonstration of your writing skills. The last thing you want is to submit something with spelling errors or hodge-podge sentences, you forgot to edit out. No matter how busy you are, take time to edit and proofread each letter carefully. Don't simply rely on an automated spellchecker.
Now that you've read through some great tips, take a look at the following example. It showcases how many of the tips listed above can be put into action.
Cover Letter Sample For a Receptionist in .docx Format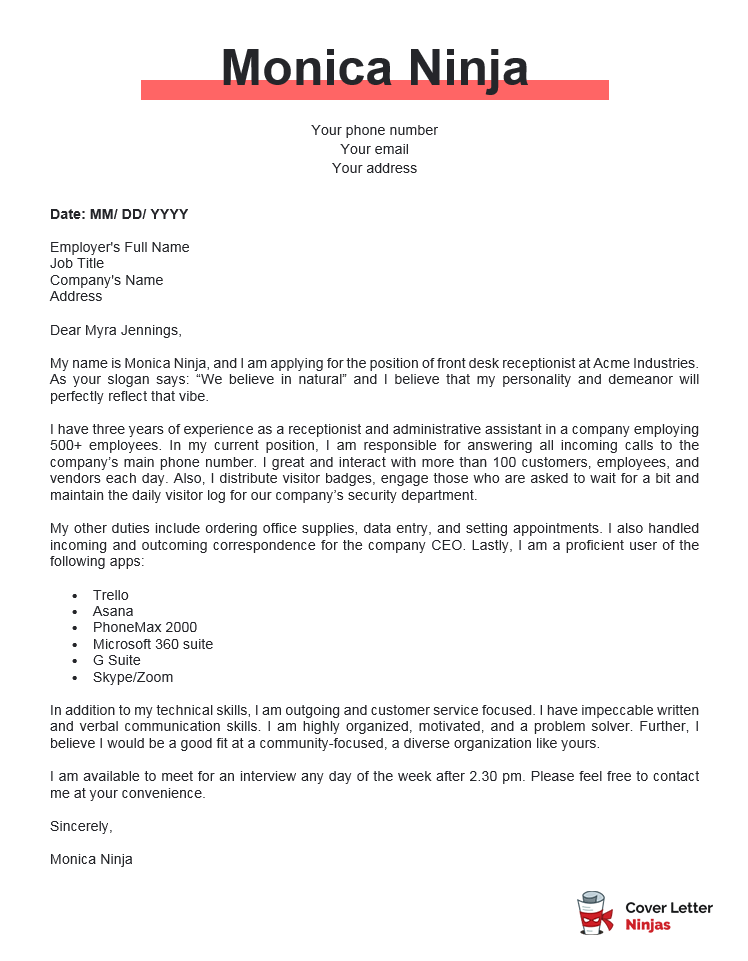 Download example (Word version)
Receptionist Cover Letter Example – Text Format
Dear Myra Jennings,
My name is Monica Ninja, and I am applying for the position of front desk receptionist at Acme Industries. As your slogan says: "We believe in natural" and I believe that my personality and demeanor will perfectly reflect that vibe.
I have three years of experience as a receptionist and administrative assistant in a company employing 500+ employees. In my current position, I am responsible for answering all incoming calls to the company's main phone number. I great and interact with more than 100 customers, employees, and vendors each day. Also, I distribute visitor badges, engage those who are asked to wait for a bit and maintain the daily visitor log for our company's security department.
My other duties include ordering office supplies, data entry, and setting appointments. I also handled incoming and outcoming correspondence for the company CEO. Lastly, I am a proficient user of the following apps:
Trello
Asana
PhoneMax 2000
Microsoft 360 suite
G Suite
Skype/Zoom
In addition to my technical skills, I am outgoing and customer service focused. I have impeccable written and verbal communication skills. I am highly organized, motivated, and a problem solver. Further, I believe I would be a good fit at a community-focused, a diverse organization like yours.
I am available to meet for an interview any day of the week after 2.30 pm. Please feel free to contact me at your convenience.
Sincerely,
Monica Ninja
Final Thoughts
Once you have submitted your job application, give the hiring manager a few days to review it. Then, follow up with a quick email thanking them for their consideration, and restate your interest in the job. Doing so will show that you are proactive and motivated!