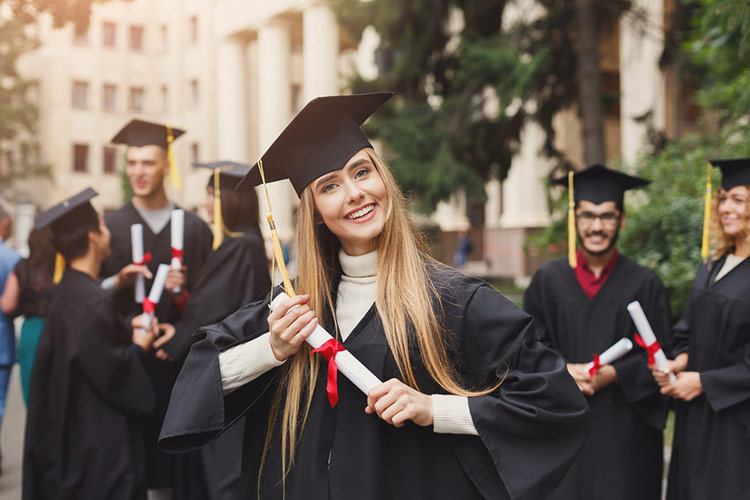 Once you've obtained your Ph.D., you can pursue either of the next three career routes. You can teach. You can work in the private sector. Or you can stay in academia and pursue a postdoctoral position.
If you are here, you may have decided on the latter. Pursuing postdoctoral work can be fulfilling as you can remain in science and keep working on industry-leading research. Perhaps you'll even uncover something truly revelatory.
Of course, you probably know that the path to landing a postdoc position is extremely competitive. You will definitely need an edge, and the best advantage is an impeccable resume (or more detailed CV) and a cover letter.
In this post, we've lined up several tips for landing a great postdoctoral position, followed by a postdoctoral cover letter sample.
Reach Out and Build Your Networks
Building your professional network early on will make it helluva easier to land a postdoctoral position (and the next one after). Find out who's doing research that interests you, send them an email, connect with them on LinkedIn and reach out with a brief letter introducing yourself, your research and explaining how you could contribute to what they are doing.
Ideally, such letters lead to further discussions on potential openings (current & future) or referrals. And even if a new connection doesn't pan out immediately, this quick exchange may lead to collaborative research projects or other interesting work.
Learn to Source Research Funds
In many cases, university departments operate on absolute shoestring budgets. Thus, a hiring committee might be very interested in you and enthusiastic about your research ideas. But the roadblock to hiring you may be funding. If you can secure a grant of your own (at least partial), that can majorly change the hiring odds. So do mention your experience with writing grant proposals.
Consider Global Opportunities
Like many other jobs, if you are willing to relocate internationally, your work possibilities expand significantly. Yes, this is challenging if you have obligations keeping you in one place. However, if that is an effector consider looking into universities abroad. You may be able to find interesting post-doctoral research work and gain some interesting experience working with academics from other cultures. In fact, having international scientific experience on your resume majorly increases your chances of landing a permanent position in the future!
ADVICE FROM OUR EXPERT
---
Just like a cover letter for any position, a postdoctoral cover letter should summarize experiences and accomplishments. Where it differs is including the area of your work or research and specifically how that would help bring recognition or prestige to the organization.

Debi Douma-Herren
Senior Certified HR Professional & Career Coach
Make Sure You Meet The Basic Requirements
Before you submit your application, make sure that you are actually a "fit" for the proposed academic job. This may seem like a no-brainer, but a lot of folks skip this step and then wonder just why they are getting rejected over and over again.
So to save your self-esteem do this:
Identify the minimum requirements established for the position.
If your skills/experience overlaps for at least 75%, apply!
Otherwise, move on to the next position.
Also, this saves you face in front of the hiring committee. Most will think you simply didn't pay attention to the requirements. That's something that could work against you if you apply to the same university or school again.
Don't Overuse Jargon
Post-doctoral hiring decisions are often made by the committee. The members of these committees range widely in terms of their academic backgrounds and knowledge. Keep in mind that you are not simply trying to impress other researchers, and perhaps a department head or a Director of Student Services who also have a deep, but different academic background.
Thus, avoid using too much jargon or technical speak (unless you are linking to or describing some of your research). If you do use jargon, explain it with the understanding that not everybody reviewing your application is a subject matter expert in your discipline.
Postdoctoral Cover Letter Sample in .docx Format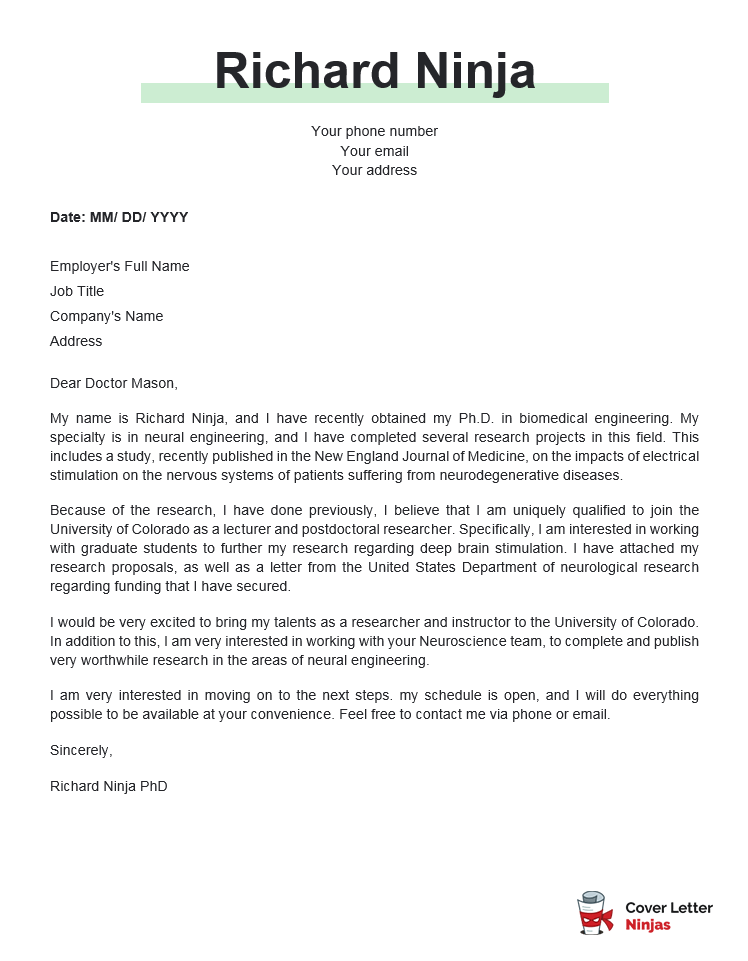 Download example (Word version)
Postdoctoral Cover Letter Example – Text Format
Dear Doctor Mason,
My name is Richard Ninja, and I have recently obtained my Ph.D. in biomedical engineering. My specialty is in neural engineering, and I have completed several research projects in this field. This includes a study, recently published in the New England Journal of Medicine, on the impacts of electrical stimulation on the nervous systems of patients suffering from neurodegenerative diseases.
Because of the research, I have done previously, I believe that I am uniquely qualified to join the University of Colorado as a lecturer and postdoctoral researcher. Specifically, I am interested in working with graduate students to further my research regarding deep brain stimulation. I have attached my research proposals, as well as a letter from the United States Department of neurological research regarding funding that I have secured.
I would be very excited to bring my talents as a researcher and instructor to the University of Colorado. In addition to this, I am very interested in working with your Neuroscience team, to complete and publish very worthwhile research in the areas of neural engineering.
I am very interested in moving on to the next steps. my schedule is open, and I will do everything possible to be available at your convenience. Feel free to contact me via phone or email.
Sincerely,
Richard Ninja PhD
Final Tip: All the Experiences Count!
As you continue your search for the ideal post-doctoral position, remember that all sorts of work experience can be beneficial for you. Even if your ultimate goal is to continue working and academics for the foreseeable future, you may need to consider alternative employment options. Specifically, you might consider looking into research assistant positions at private companies. It is an option for receiving a paycheck that you might need while also developing skills to help you get hired again as a researcher.