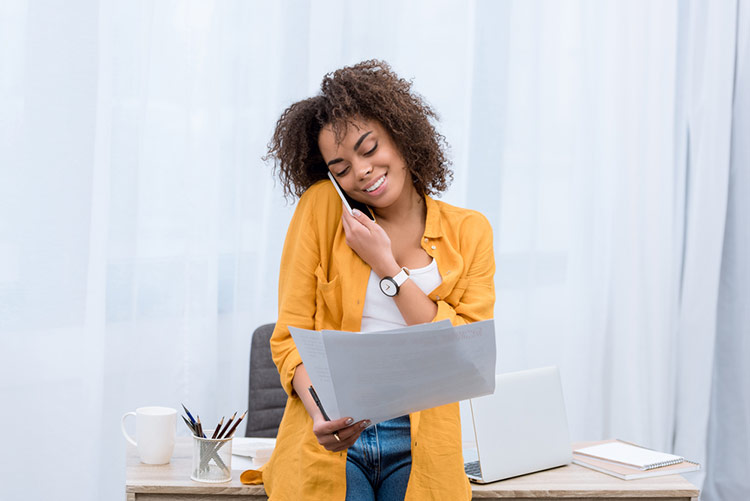 If you're a super-organized multi-tasker and extravert, working as an event coordinator may be the perfect career choice for you. An event coordinator is typically in charge of ensuring that conferences, conventions, weddings, parties, and other events go off without a hitch. If planning and working with people excites you, let's get started with the job hunting!
As the first step, let's work on your cover letter. Below are several actionable tips to help you out with that, followed by a working event coordinator cover letter sample.
Align Yourself and Your Skills To The Clientele
What sort of event coordinator work are you pursuing? Will you be organizing luxurious galas for the upper crust, helping suburban families plan reunions and Bar Mitzvahs, or working the corporate events circuit? It takes an entirely different approach to plan a beach wedding with a 40K budget, then a convention with an 8-figure spending limit. Your letter should indicate that you understand the target customer, and have experience working with that sector. Check out this quick example:
"I have spent the past five years planning events for individuals and organizations in the fine arts sphere. I have the personal and professional connections required to create luxury experiences for clients and their guests."
ADVICE FROM OUR EXPERT
---
In your cover letter as an event coordinator, demonstrate that your organizational skills are second to none. Highlight a couple of specific examples where you helped events be successful without a hitch…or saved events that developed challenges.

Debi Douma-Herren
Senior Certified HR Professional & Career Coach
Prove You're a Great Negotiator
Nobody wants their event to go over budget. The best way to ensure that doesn't happen is to get the best service at in-budget prices. This often requires that you can negotiate off book prices with venues, caterers, and other vendors. Consider demonstrating this skill with a brief anecdote.
"I was recently able to deliver some great news to a bride and groom. I informed them that I had saved more than 10K on the cost of their reception by negotiating better pricing with several vendors."
Show That You Know The Area
An event coordinator must understand the area they serve. Events are often coordinated around happenings in the community. For example, it's difficult to plan an event in a city on the same weekend as a major sporting event. Even weather trends can have an impact on planning. And it's your job to know and anticipate such things!
In addition to that, it's important to understand the culture of the community in which you work. Don't forget about your knowledge of available venues and other amenities.
Give an Example of Your Problem Solving Skills
Your caterer can't get past the traffic. A bartender bailed at the last moment. The musician you've booked has just informed you that there aren't enough outlets for their instruments and amplifiers. What are you going to do now? These are just a few examples of the struggles that someone in your position may face. To get the job you want, you'll have to show that you can deal with any curveball without letting your guests down. You could include a brief description:
"I was recently able to save a corporate event after a power outage rendered the original venue unusable. I contacted several hotels in the area and was able to secure the use of their ballroom and two conference rooms. My assistant then made new transportation arrangements for out of town guests. Later, the event received a very favorable write up on the society page."
Need more ideas on how to talk about your skill sets? Check out cover letter examples from other industries that our ninja team penned.
Cover Letter Sample for Event Coordinators – .docx Format
Here is a quick example of what a professional cover letter might look like. Feel free to take the general structure we've provided, and use your own words.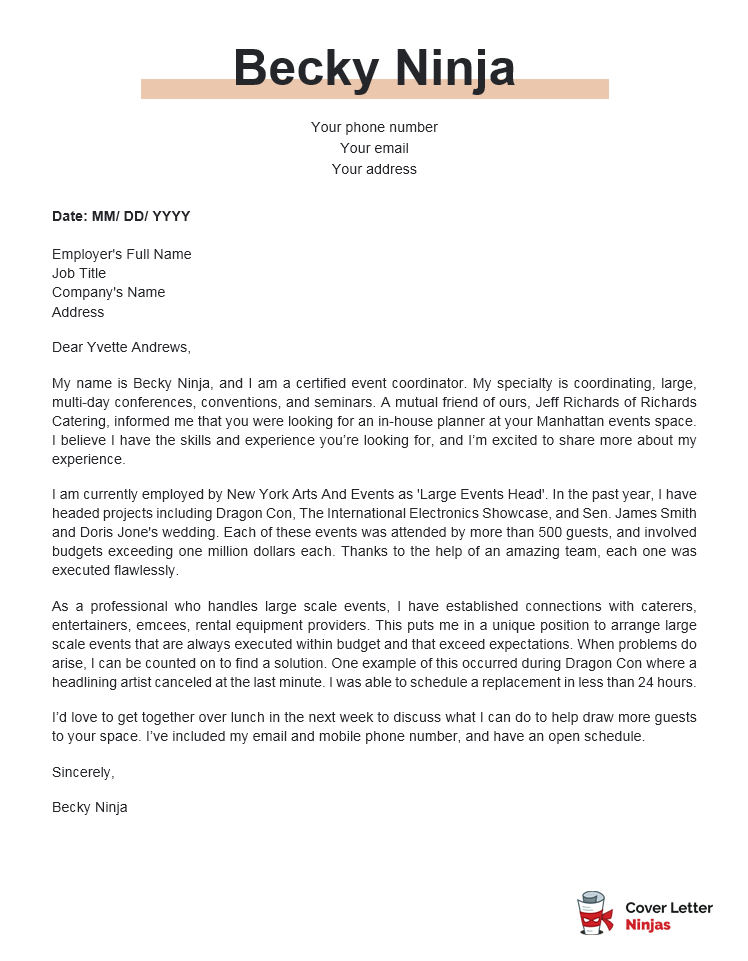 Download example (Word version)
Event Coordinator Cover Letter Example – Text Format
Dear Yvette Andrews,
My name is Becky Ninja, and I am a certified event coordinator. My specialty is coordinating, large, multi-day conferences, conventions, and seminars. A mutual friend of ours, Jeff Richards of Richards Catering, informed me that you were looking for an in-house planner at your Manhattan events space. I believe I have the skills and experience you're looking for, and I'm excited to share more about my experience.
I am currently employed by New York Arts And Events as 'Large Events Head'. In the past year, I have headed projects including Dragon Con, The International Electronics Showcase, and Sen. James Smith and Doris Jone's wedding. Each of these events was attended by more than 500 guests, and involved budgets exceeding one million dollars each. Thanks to the help of an amazing team, each one was executed flawlessly.
As a professional who handles large scale events, I have established connections with caterers, entertainers, emcees, rental equipment providers. This puts me in a unique position to arrange large scale events that are always executed within budget and that exceed expectations. When problems do arise, I can be counted on to find a solution. One example of this occurred during Dragon Con where a headlining artist canceled at the last minute. I was able to schedule a replacement in less than 24 hours.
I'd love to get together over lunch in the next week to discuss what I can do to help draw more guests to your space. I've included my email and mobile phone number, and have an open schedule.
Sincerely,
Becky Ninja
Final Tip: Drop a Name (If You Can)
Have you put on an event for a celebrity? What about your connections to local artists, celebrities, or entertainers? This is one time when dropping a name can help you earn a second look. However, if you worked at private events or have an NDA in place, it's best to show discretion and avoid any disclosures.