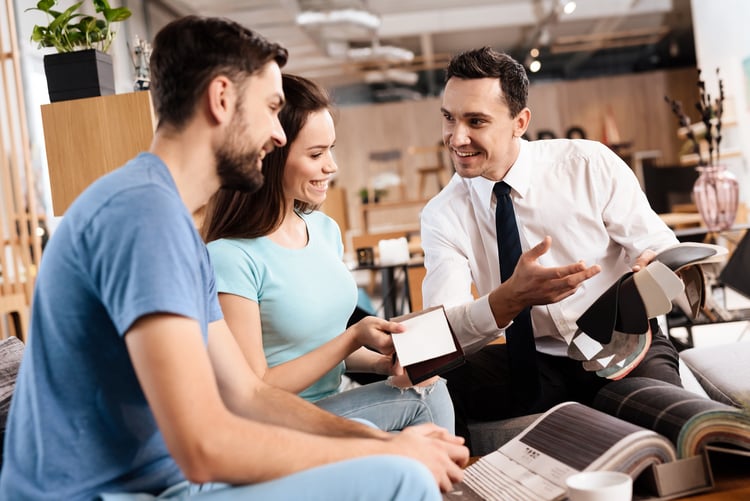 Without sales, most businesses would not even exist. That's why talented sales representatives are always in demand — and can earn a great salary along with healthy commissions. Most companies pay a commission rate of 20%-30%. Though you can get as low as 5% for big-ticket items such as six-figure equipment or software packages. So always inquire about the commission rate, added atop of the base salary.
Sales representatives must have strong people skills — especially those around persuasion and negotiation. Plus, some general business acumen within the industry they operate in. Though this is something you learn on the job.
In addition to having skills and experience, you must also sell yourself with a fabulous cover letter. To do that, you need some inspiration. Check out the sales representative cover letter example below. Then, read our helpful writing tips.
Sales Rep Cover Letter Example for Word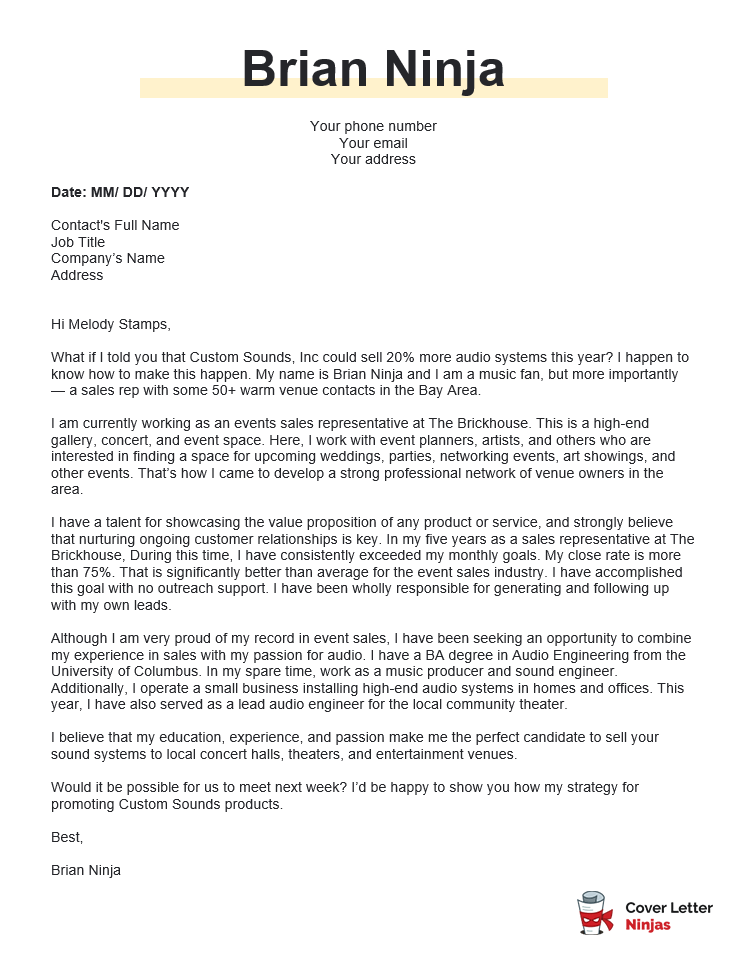 Sample Sales Representative Cover Letter – Text Format
Hi Melody Stamps,
What if I told you that Custom Sounds, Inc could sell 20% more audio systems this year? I happen to know how to make this happen. My name is Brian Ninja and I am a music fan, but more importantly — a sales rep with some 50+ warm venue contacts in the Bay Area.
I am currently working as an events sales representative at The Brickhouse. This is a high-end gallery, concert, and event space. Here, I work with event planners, artists, and others who are interested in finding a space for upcoming weddings, parties, networking events, art showings, and other events. That's how I came to develop a strong professional network of venue owners in the area.
I have a talent for showcasing the value proposition of any product or service, and strongly believe that nurturing ongoing customer relationships is key. In my five years as a sales representative at The Brickhouse, During this time, I have consistently exceeded my monthly goals. My close rate is more than 75%. That is significantly better than average for the event sales industry. I have accomplished this goal with no outreach support. I have been wholly responsible for generating and following up with my own leads.
Although I am very proud of my record in event sales, I have been seeking an opportunity to combine my experience in sales with my passion for audio. I have a BA degree in Audio Engineering from the University of Columbus. In my spare time, work as a music producer and sound engineer. Additionally, I operate a small business installing high-end audio systems in homes and offices. This year, I have also served as a lead audio engineer for the local community theater.
I believe that my education, experience, and passion make me the perfect candidate to sell your sound systems to local concert halls, theaters, and entertainment venues.
Would it be possible for us to meet next week? I'd be happy to show you how my strategy for promoting Custom Sounds products.
Best,
Brian Ninja
More Cover Letter Examples to Check!
How to Write a Sales Representative Cover Letter
As the Father of Advertising, David Ogilvy used to say: "It isn't the whiskey they choose, it's the image."
Your cover letter should paint a clear picture of what value you can generate for the company. So be concrete with "what's in it" for them immediately. Here are some helpful writing tips to ensure your cover letter makes an impact.
Quantify Your Claims
Anybody can claim to be a successful sales representative with a great track record. However, without context, that really doesn't mean anything. Instead of making empty claims, use data to back them up. Show the hiring manager your numbers. Don't say that you were a "great "sales rep. Look at the cover letter here, and notice they gave the detail that their closing rate was 75%. That's the kind of evidence that gives your letter credibility.
Show Your Passion
People are best at sales when they have passion. Whether you love the product, the company, or the people, make it clear that you will approach each sale with absolute enthusiasm. Managers want to work with professionals who believe in the brand. So clearly show that you have a 'history' with their industry or target audiences.
Non Traditional Experience is Relevant
Do you have some transferable skills from other jobs? Your cover letter is the best place to bring this up. If you have relevant skills and experience due to hobbies, volunteer work, or other opportunities, be sure to mention that. This will show you know what you are doing, even if the experience isn't reflected in your work history.
Detail How You Go Above and Beyond
What do you do to take extra steps to make more sales? Do you track down and nurture your own leads? Do you follow up with customers to ensure repeat business? Let them know that you are always willing to put in the extra effort that others won't.
Customize Every Cover Letter
If you are in the position of applying for multiple sales rep jobs, you may be tempted to simply change the header on each cover letter and send the same one to everybody. As tempting as this is, please resist. Write a detailed, personalized cover letter for each position. This will allow you to address the specific needs and requirements of each opening.
Final Tip: Take The Next Step
What's the next step? Is it meeting for an interview, scheduling an assessment, or a phone screening? Whatever it is, plan ahead for that. Then, close out your cover letter by nudging things along to the next step. You'll encourage the reader to start thinking about the next stage of the process too.