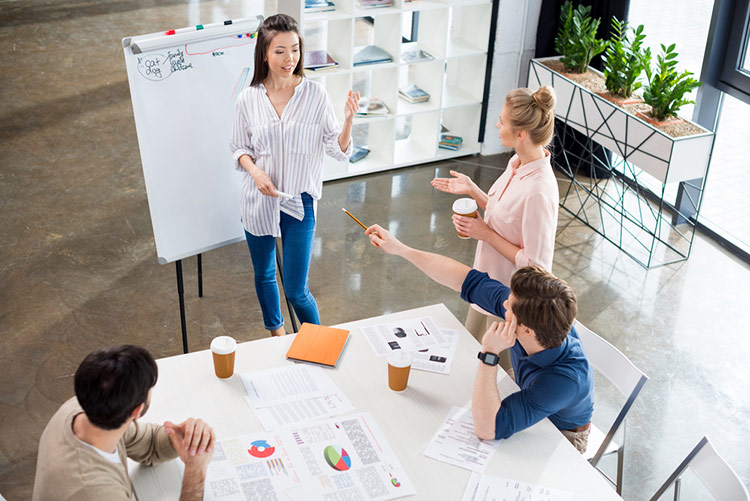 Now more than ever, PR is a critical aspect of running a business. Much of this is due to the nature of the Internet. In a few clicks, your customers can google up plenty of reviews, opinions, and commentary around your brand.
That's great when all of those posts are raving and positive. But things can get brutal if you do not proactively deal with upset (and highly vocal) people. In addition to this, news of data breaches, product recalls, and other disasters now spread like wildfire. As a PR professional, your job is to manage these things, ensuring that your company's reputation is saved. But it's not crisis mode every day. So your career will also involve plenty of fun chores like attending and organizing events, building relationships with the press, influencers, and celebrities and perhaps even appearing on television with some public statements.
Anyhow, to get that great PR job, you'll need to demonstrate strong communication skills. And that starts with your cover letter – your quick main pitch, succinctly communicating your core value proposition to the organization.
How do you craft one? Easy! Follow the tips below and check our stellar, PR cover letter sample for additional inspiration!
Focus on Accomplishments
Take a look at the job ad. Make a note of the desired skills and qualifications. Then, make a quick table showing how a certain skill connects with one of your accomplishments. For example:
Influencer marketing -> Organized an Instagram campaign with 10 influencers that resulted in a 30% follower increase and over 100,000 organic impressions.
Press release writing and distribution -> Have a well-maintained database of 100 journalists and industry publishers.
Don't worry if you can't come up with an example for every skill. The idea is to highlight a few successes that are directly relevant to the job posting. For instance, you can cherry-pick some success stories in social media marketing or general marketing too.
ADVICE FROM OUR EXPERT
---
Do your research! Detail how your experience can contribute to their recent clients or campaigns. This will show your ability to conduct market research, and set you far above the other candidates.

Mary Ford
Executive Career Coach
Do Some Company Research
Your goal here is to understand how the previous PR manager formed company messaging and handled their communications. Further, reviewing the company's website and social media will provide you with a glimpse into their corporate culture and preferred tone of voice. Mimic it in your letter. Businesses range from very traditional and conservative to very progressive. Your writing style should resonate with the employer.
Choose the Right Keywords
Scoop the company's website and job posting for relevant keywords and catchphrases to sprinkle in your resume and your cover letter. Adding these will help you get past the initial software screening. Besides, it's an easy way to personalize your job application to the employer. Peruse several other cover letter examples from adjacent niches (journalism, marketing, sales, etc.) to further diversify your keyword list.
Don't Be Shy To Sell
The employer will be looking for two things:
How your skills are a match for their needs
How well you can sell yourself.
After all, presenting yourself with a great marketing message will demonstrate that you can probably do the same for their organization. So don't beat around the bush and prominently tell what makes you the ideal hire. Be bold!
Public Relations Cover Letter Sample in .docx Format
Now for the main event. Take a look at the sample letter provided below. It is a great example of the kind of PR cover letter that is sure to grab the attention of any hiring manager.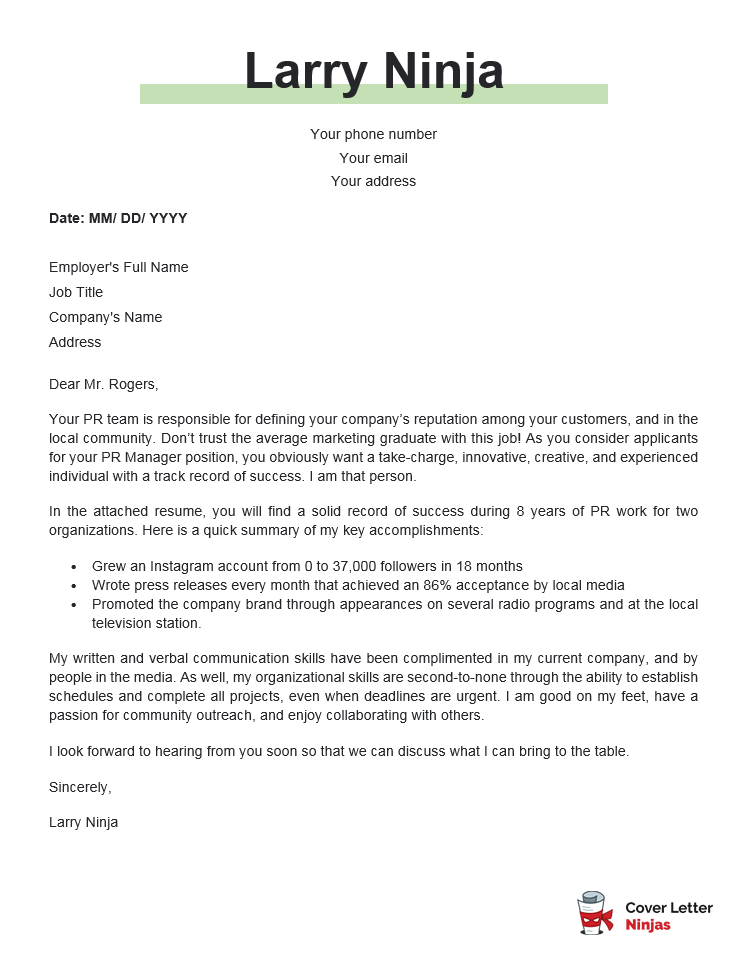 Download example (Word version)
A Public Relations Cover Letter Example – Text Format
Dear Mr. Rogers,
Your PR team is responsible for defining your company's reputation among your customers, and in the local community. Don't trust the average marketing graduate with this job! As you consider applicants for your PR Manager position, you obviously want a take-charge, innovative, creative, and experienced individual with a track record of success. I am that person.
In the attached resume, you will find a solid record of success during 8 years of PR work for two organizations. Here is a quick summary of my key accomplishments:
Grew an Instagram account from 0 to 37,000 followers in 18 months
Wrote press releases every month that achieved an 86% acceptance by local media
Promoted the company brand through appearances on several radio programs and at the local television station.
My written and verbal communication skills have been complimented in my current company, and by people in the media. As well, my organizational skills are second-to-none through the ability to establish schedules and complete all projects, even when deadlines are urgent. I am good on my feet, have a passion for community outreach, and enjoy collaborating with others.
I look forward to hearing from you soon so that we can discuss what I can bring to the table.
Sincerely,
Larry Ninja
Final Tip: Mention a Real-Life Example
Are there any PR events this potential employer has dealt with in the past few years? Did they handle some negative press badly? Even better, have they earned some positive attention from the media? Bring this up when you write your letter. Write that you admire their PR team's handling of the issue. Maybe give some insights into what you would do in a similar situation. You'll leave the hiring manager with some great insights. You'll also impress them with your research and understanding.