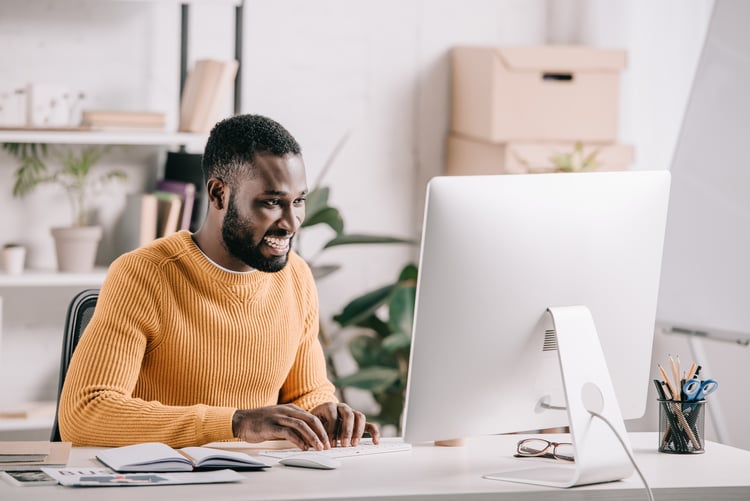 People today are just as likely to interact with a business on a social media platform as they are through a website or over the phone. What's more, people turn straight to social media platforms for product or service information.
For example, 83% of Instagram users discovered new relevant products via the platform. Another 80% also uses the published content to decide on their purchase. As a social media manager, you probably already know all those stats.

But it's a great reminder of why your services are so important for businesses. Besides, companies are now actively expanding into new platforms — Tiktok, Reddit, Snapchat, Clubhouse. They need more "helping hands" and you are in a position to become that "saver".
The only problem is that you'll need to show that you are a pro (not some average social media follower) and know exactly how to generate positive buzz around the promoted brands. The perfect place to do so is your cover letter. And we have you covered here!
Cover Letter Sample for a Social Media Manager in .docx Format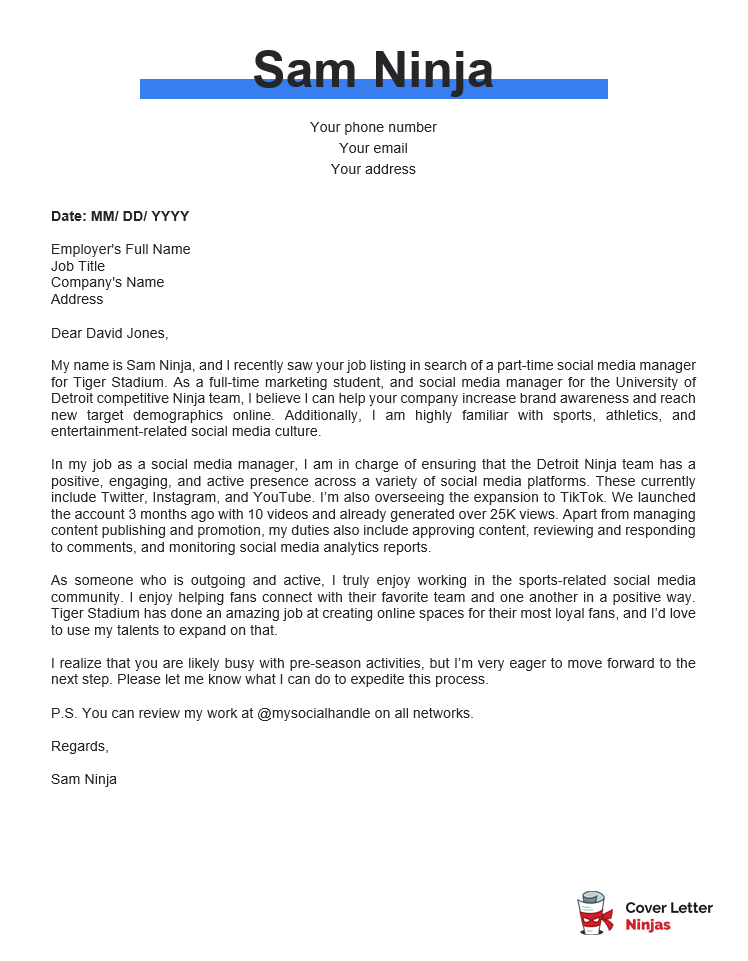 Download example (Word version)
Social Media Manager Cover Letter Example – Text Format
Dear David Jones,
My name is Sam Ninja, and I recently saw your job listing in search of a part-time social media manager for Tiger Stadium. As a full-time marketing student, and social media manager for the University of Detroit competitive Ninja team, I believe I can help your company increase brand awareness and reach new target demographics online. Additionally, I am highly familiar with sports, athletics, and entertainment-related social media culture.
In my job as a social media manager, I am in charge of ensuring that the Detroit Ninja team has a positive, engaging, and active presence across a variety of social media platforms. These currently include Twitter, Instagram, and YouTube. I'm also overseeing the expansion to TikTok. We launched the account 3 months ago with 10 videos and already generated over 25K views. Apart from managing content publishing and promotion, my duties also include approving content, reviewing and responding to comments, and monitoring social media analytics reports.
As someone who is outgoing and active, I truly enjoy working in the sports-related social media community. I enjoy helping fans connect with their favorite team and one another in a positive way. Tiger Stadium has done an amazing job at creating online spaces for their most loyal fans, and I'd love to use my talents to expand on that.
I realize that you are likely busy with pre-season activities, but I'm very eager to move forward to the next step. Please let me know what I can do to expedite this process.
P.S. You can review my work at @mysocialhandle on all networks.
Regards,
Sam Ninja
Tips For Writing a Social Media Manager Cover Letter
Now that you've read an example letter, check out these tips for writing and styling your cover letter.
Add The Right Keywords
The truth is that hiring managers rarely read resumes or cover letters from start to finish. Instead, they tend to quickly scan the document looking for certain keywords, related to the position. Think "social media listening", "influencer marketing", "content creation", "video editing", etc.

You can improve your chance of getting an interview by strategically incorporating relevant keywords in your cover letter too.

Here's how you find them:
First, mine the job listing for keywords that match your skills and experience.
Next, consider adding other keywords that are relevant to social media management.
These might include names of social media platforms, analytics tools, content management platforms, even various types of social media engagement. But don't overdo that, alright? Your cover letter should still have a nice organic flow.
ADVICE FROM OUR EXPERT
---
As with many digital jobs, engaging with a target audience is key as a Social Media Manager. Use your cover letter to explain how your professional background and understanding of audience demographics position you to successfully build, manage, and scale social platforms.

Claire Webber
Career Consultant, CPCC, CPRW
Mention a Relevant Project
It's good to mention your duties and skills in your cover letter. Unfortunately, your qualifications are not always convincing by themselves. Unless you "pad" them with a good example.
Similar to the above cover letter sample, briefly mention a project you are currently working on and the results you've achieved so far. As your marketing manager to provide some extra contextual data too. So that you could show that you are not just good with brand positioning, but your actions also drive traffic and conversions.
Use Some Hard Numbers
Social media management may not be hard science since a lot of creativity and experimentation goes into concocting a winning strategy. Still, the results you achieve are often measured in very concrete numbers. Use these to illustrate what makes you hireable.
In the example letter above, the writer doesn't just mention a project they were in charge of. They also address the fact that they already amassed 25K views on Tiktok.
Share Your Most Relevant Skills
As a social media manager, you probably know a lot of different things — from hashtag research to content production, paid advertising, and influencer marketing. But there's no way you can pack everything into your cover letter. Nor you should try to do so.
Prioritize your most relevant skills. Read the job listing, and research the company as a whole. Determine which requirements they deem the most important for a successful candidate, then bring those up at the beginning of your cover letter.
Final Tip: Connect With The Company
Businesses don't simply hire employees based on their skills or experience. Personality and cultural fit are major factors as well. Employers want to know that you will fit in well with your co-workers and that you understand their branding.
After all, you will be in charge of how they are presented to the public through social media. Use a line or two in your letter to write about what you've learned about the company, and how you feel their values and culture align with your career goals and personality.