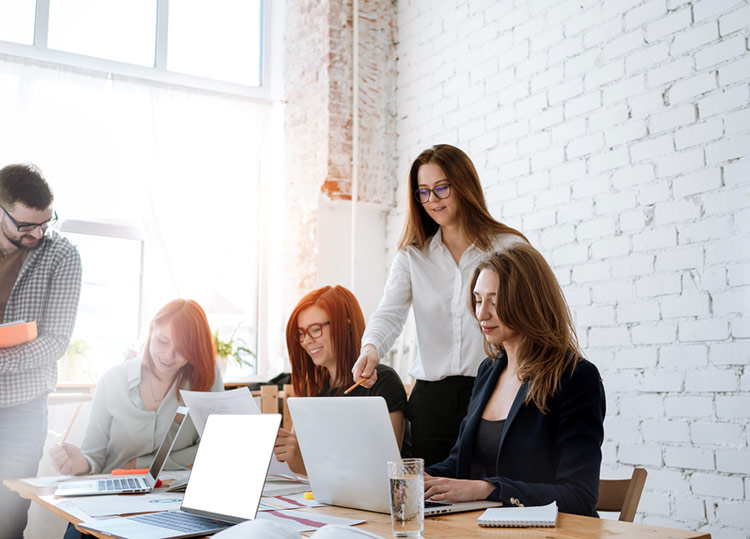 'No. I'm a program manager, not a project manager.' If you've ever had to make this gentle correction, you must have worked in the IT domain for awhile.
Of course, someone getting your job title wrong seems like a pretty small thing when you know that you get to do interesting work in any number of industries. Your skills are in high demand because you keep businesses running smoothly.
Now it's time to land your dream job. In this post, you will find tips for writing a compelling cover letter. Be sure to check out our program manager cover letter sample as well.
Think at High Level For Your Cover Letter and Low Level For Your Resume
Your cover letter and resume should answer two important questions:
Cover letter: Are you a skilled manager who will fit in well with our organization, and accomplish our objectives?
Resume: Do you possess the specific skills and competencies we need to manage a specific program?
As you write your cover letter, don't go into deep detail about the software you've used, methodologies, or other tools of the trade. Save that level of low-level detail for your resume. Instead, briefly mention the most important hard skills, but stick to your management style and accomplishments.
ADVICE FROM OUR EXPERT
---
Get to the point of why you are the best candidate. Since program managers need to prioritize tasks, evaluate data and address concerns in a short timeframe, critical skills to highlight in the cover letter include problem-solving and time management.

Debi Douma-Herren
Senior Certified HR Professional & Career Coach
Prove Your Achievements
Most employers do not want to know what you've worked on. They want to know what you have accomplished. More importantly, they want proof that you can lead in ways that have a concrete impact.
For example, Instead of saying that you successfully managed all the marketing for a medical software package, detail what that success really means. Did you exceed sales goals? If so, by how much? Did you save money over previous marketing efforts? How much were those savings?
Describe Your Management Style
Corporate culture is key. Most companies want to know that the new manager will fit into the organization, and will be able to provide effective leadership that motivates workers and boosts productivity.
Thus, do some background investigations on the company you are applying to. Then, find a way to describe your management style so that they know you will fit in when you are brought on board.
Here's an example of that:
"I believe the key responsibilities of a program manager are to hire well, provide training, and ensure that staff members are empowered as your mission suggests. My experience is that teams are most productive when management shows faith in their abilities and delegates, rather than micromanages."
Name Your Key Accomplishment
If you could list one important accomplishment from your current job, what would it be? Answer that question in your cover letter. And do it in a way that is relevant to the needs of that company.
For example, you might write:
'In my current position as a program manager at Acme Chemical, I am most proud that every project manager under me met or exceeded their budget and productivity goals."
List Job and Industry Experience
If you don't have a significant amount of management experience, you can pad things a bit by also talking about your overall industry experience. Remember: most companies value competency and understanding in addition to management skills.
For example, a program manager with 2 years of management experience and 5 years of experience as a software developer could be more valuable to an organization than somebody with 5 years of management experience and no software development expertise at all.
Cover Letter Sample for a Program Manager in .docx Format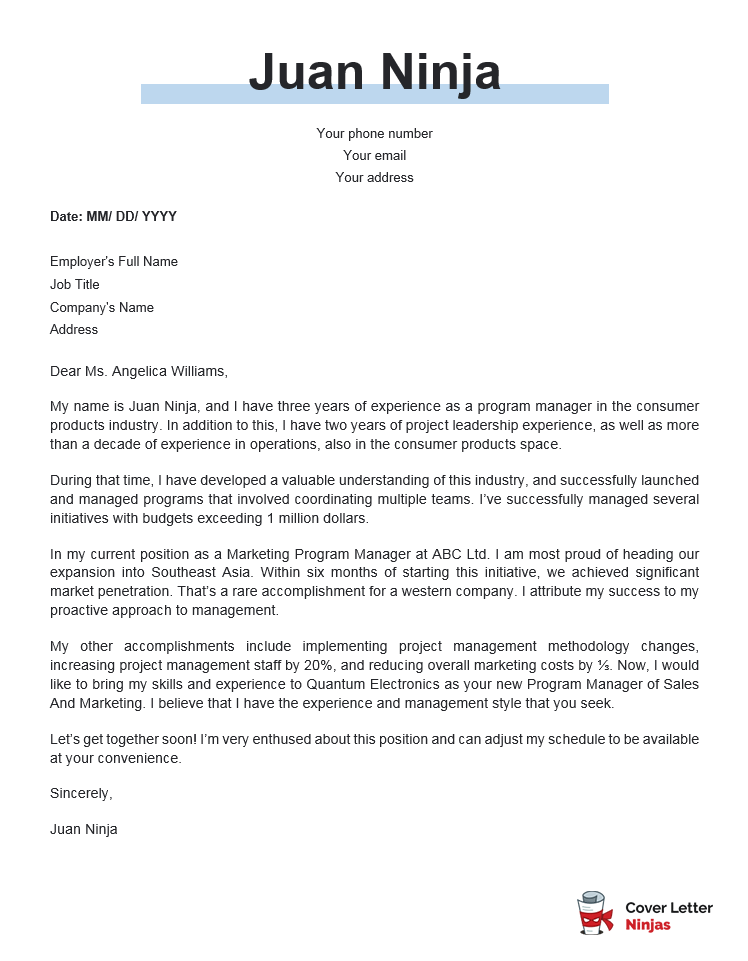 Download example (Word version)
Program Manager Cover Letter Example – Text Format
Dear Ms. Angelica Williams,
My name is Juan Ninja, and I have three years of experience as a program manager in the consumer products industry. In addition to this, I have two years of project leadership experience, as well as more than a decade of experience in operations, also in the consumer products space.
During that time, I have developed a valuable understanding of this industry, and successfully launched and managed programs that involved coordinating multiple teams. I've successfully managed several initiatives with budgets exceeding 1 million dollars.
In my current position as a Marketing Program Manager at ABC Ltd. I am most proud of heading our expansion into Southeast Asia. Within six months of starting this initiative, we achieved significant market penetration. That's a rare accomplishment for a western company. I attribute my success to my proactive approach to management.
My other accomplishments include implementing project management methodology changes, increasing project management staff by 20%, and reducing overall marketing costs by ⅓. Now, I would like to bring my skills and experience to Quantum Electronics as your new Program Manager of Sales And Marketing. I believe that I have the experience and management style that you seek.
Let's get together soon! I'm very enthused about this position and can adjust my schedule to be available at your convenience.
Sincerely,
Juan Ninja
Final Tip: Describe Your Day
You can communicate your skills and management style by providing a brief description of your typical workday. By shaping your narrative this way, you can combine the elements of storytelling with information about your experience. What a great way to present yourself to a hiring manager who may feel as if they've been reading the same cover letter over and over again!