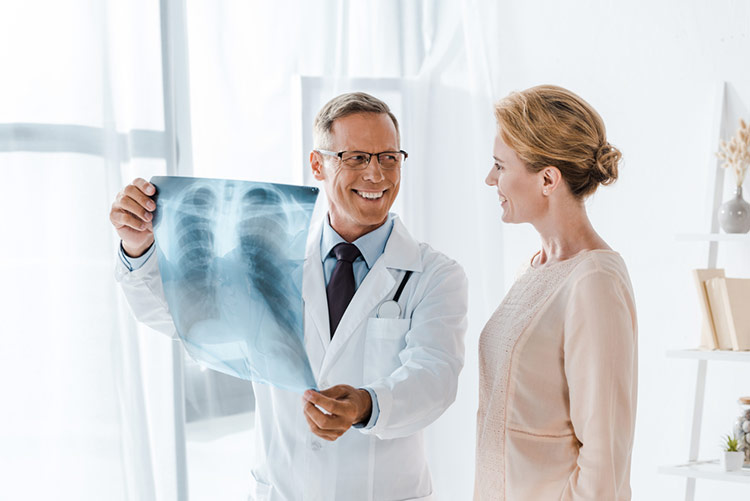 The process of searching for a job as a doctor is a bit unique. Many physicians rely on their academic and professional networks, others use the help of recruiters, specializing in the healthcare domain. Some will use academic and medical journals. However, that doesn't mean that it isn't important for physicians to have the standard job seeker paperwork.
A great resume and cover letter are great tools for anybody, including doctors. In the paragraphs below, we'll include several tips for job-seeking, and writing tips for your doctor's cover letter. Keep reading to the end where we will have a complete physician cover letter sample.
Introduce Yourself and Share Your Connection
The first paragraph of your cover letter should contain an introduction and a brief listing of your specialty and relevant qualifications. Then, you should share how you came to learn about the position. If you have a connection in common with the clinic or hospital, mention that. If you learned about the job through a recruiter or job listing, indicate that as well. The point is to introduce yourself, and then create a sense of familiarity with the hiring manager.
Indicate Why You are Interested in The Position
There are many valid reasons that you might be looking for a job. Having recently finished medical school is one. So is relocating due to your spouse or partner's job. You might also be interested in working for a team that practices a form of medicine that interests you or to be associated with a very reputable hospital or clinic. Whatever your reason is, it will help the reader understand your goals and motivations better if you let them know.
Just be certain to include something that indicates an interest in patient care, and becoming a valuable member of a medical team. Remember that you want to give them a reason to want you on their team as well.
Update Your Connections and References
If it has been a while since you have searched for a job, your contacts may be out of date. If so, it's time to go through your email contacts, social media friends, and LinkedIn contacts. Make sure that you have the right contact information for anyone that you might use as a reference, or as a networking contact in your job search.
This is also the perfect time to reach out to your network. Let people know you are searching for a job. You may be surprised at the assistance you get. Also, if you have not reached out to your alumni network, you should do that as well.
ADVICE FROM OUR EXPERT
---
Since medicine is one of the most competitive fields, your cover letter needs to show how you are the "complete package". Make sure to spend time showing your superior patient care along with your medical background and education.

Mary Ford
Executive Career Coach
Emphasize Your Soft Skills
Your technical skills and your capabilities as a practitioner should be well documented. You can cover much of this in the work history portion of your resume or CV. In addition to this, your school records, and references will likely fill in the blanks. What you will want to do in your cover letter is to focus on your soft skills.
Why is this important? Because so many hospitals and clinics are taking a more holistic approach to patient treatment, physicians must be well-rounded. The days of doctors being dry clinicians with little to no need for social skills is long over. It's imperative that you are a good communicator, understand the importance of customer service, and can work as part of a team. Time management skills are also key.
Cover Letter Sample for a Physician in .docx Format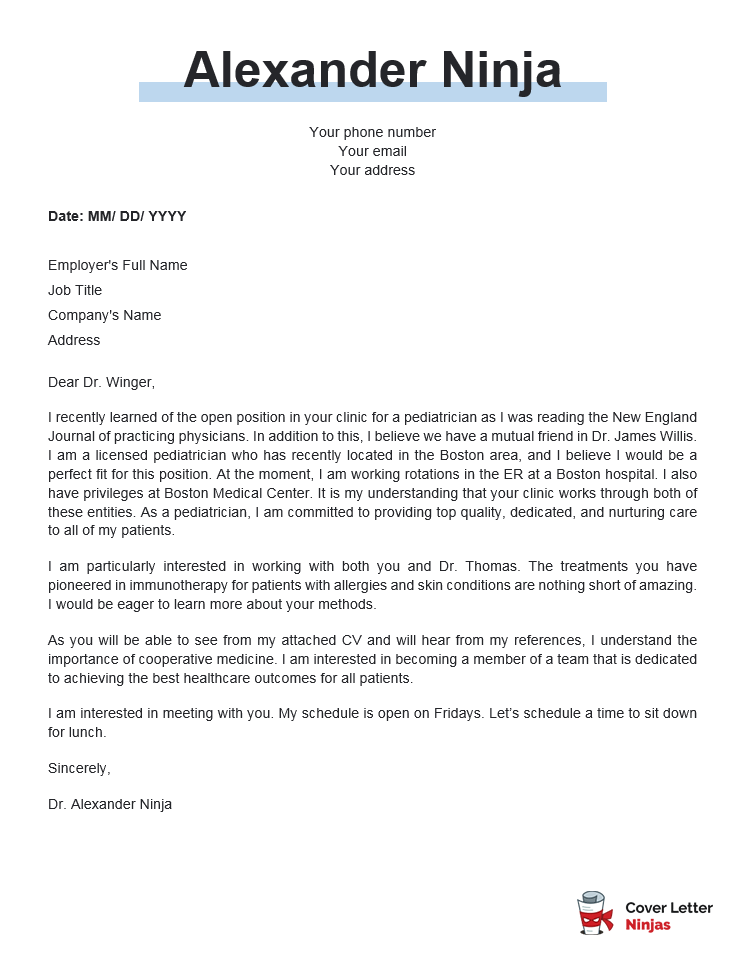 Download example (Word version)
Physician Cover Letter Example – Text Format
Dear Dr. Winger,
I recently learned of the open position in your clinic for a pediatrician as I was reading the New England Journal of practicing physicians. In addition to this, I believe we have a mutual friend in Dr. James Willis. I am a licensed pediatrician who has recently located in the Boston area, and I believe I would be a perfect fit for this position. At the moment, I am working rotations in the ER at a Boston hospital. I also have privileges at Boston Medical Center. It is my understanding that your clinic works through both of these entities. As a pediatrician, I am committed to providing top quality, dedicated, and nurturing care to all of my patients.
I am particularly interested in working with both you and Dr. Thomas. The treatments you have pioneered in immunotherapy for patients with allergies and skin conditions are nothing short of amazing. I would be eager to learn more about your methods.
As you will be able to see from my attached CV and will hear from my references, I understand the importance of cooperative medicine. I am interested in becoming a member of a team that is dedicated to achieving the best healthcare outcomes for all patients.
I am interested in meeting with you. My schedule is open on Fridays. Let's schedule a time to sit down for lunch.
Sincerely,
Dr. Alexander Ninja
Final Tip: Make Sure Your Content Is Free From Errors
It may not seem like the most pressing thing, but when you proofread and edit your cover letter, you show important attention to detail. It's an indication to the hiring manager that you take the application process seriously. It could be a small thing that helps you to stand out from the other applicants.
Need Extra Guidance? Check More Medical Cover Letters: