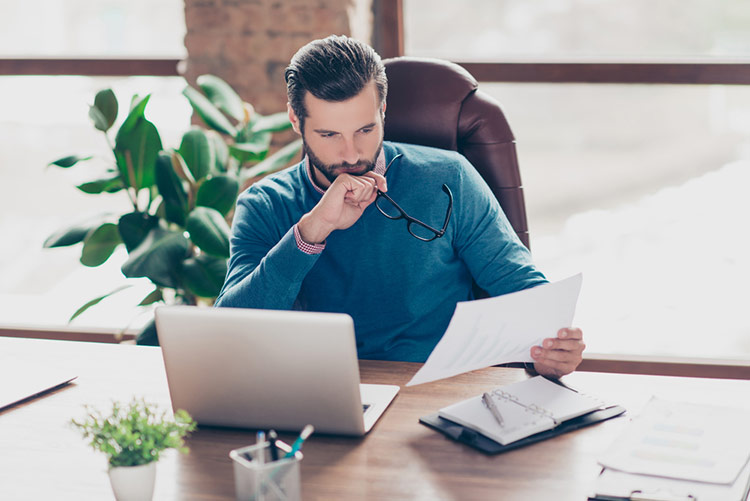 A financial analyst provides sound insights and advice to businesses and high-net-worth individuals. Their job is to help the people and entities they work with build wealth, reduce financial liability, and ensure that they make smart financial decisions. And since not all of us are good with numbers, good financial analysts don't stay on the job market for too long.
On the other hand, finance is also a crowded and competitive field. Many accounting, business, and finance managers seek to begin their careers as financial or junior financial advisors. Moving up the career ladder, things become even more competitive. This is why you need every advantage when you apply to a prestigious company.
To help you in this hot pursuit, we have provided several cover letter writing tips, followed by a financial analyst cover letter sample.
Start With a Great Hook (AKA Money)
A great financial analyst helps their client or employer make more dollars, save more money, or grow more money. Thus, to immediately get the attention of the hiring manager, lead off with something you've done to really impact the bottom line. Here's an example:
'Recently I was asked to find a way for Dogtown Chemical to cut operating expenses by 20%. Within a month, I had implemented a plan to cut their expenses by more than 40%. I'd like to do the same for your brand.'
Be certain that the details you lead with are relevant to the position. You wouldn't want to mention cost savings if your primary job will be growing income or vice versa.
ADVICE FROM OUR EXPERT
---
The best analysts are seen as advisors and consultants to the business. Set yourself apart by focusing on the impact of your work, and not your experience with generic analyst tools.

Mary Ford
Executive Career Coach
Detail Why You Are Passionate and What Your Skills Are
Once you've written a great intro, spend the next paragraph giving more information about yourself. What is it about working as a financial analyst that motivates you? What skills do you bring to the table that are relevant to the position for which you are applying?
Here's an example:
"As a student at Brigham Young University, I majored in both Finance and Information Science. My goal was to pursue my interests in both finance and technology. In my work as a financial analyst, I have been able to do just that. My experience and education in finance have allowed me to conduct revealing financial audits and provide sound advice to both individuals and businesses. My technical background has given me access to and understanding of a variety of financial tools and data modeling software."
Talk About Corporate Culture and Values
Today, hiring managers place a big emphasis on the "cultural fit". This is because people hired are more likely to be successful, dedicated employees if they fit into the company culture. In addition to this, having shared values with your coworkers is also important to "blend in" and show yourself as a good team player.
Likewise, as an employee, you will be happier working for a company that has values in line with your own, and that offers a work environment that matches your style. Before you apply, do a bit of research. Find out what you can about the mission, work environment, and other details. Then, explain how you are an ideal fit.
Close With Confidence
Don't let your self-doubt slip in. Close on a positive note with a quick call-to-action, indicating just what you expect to happen next. For example:
"How about grabbing a cup of coffee at 2 pm, next Tuesday? I will be in your neighborhood and would love to make a personal introduction."
Also, you can check other cover letter examples we've published for more ideas.
Cover Letter Sample for a Financial Analyst in .docx Format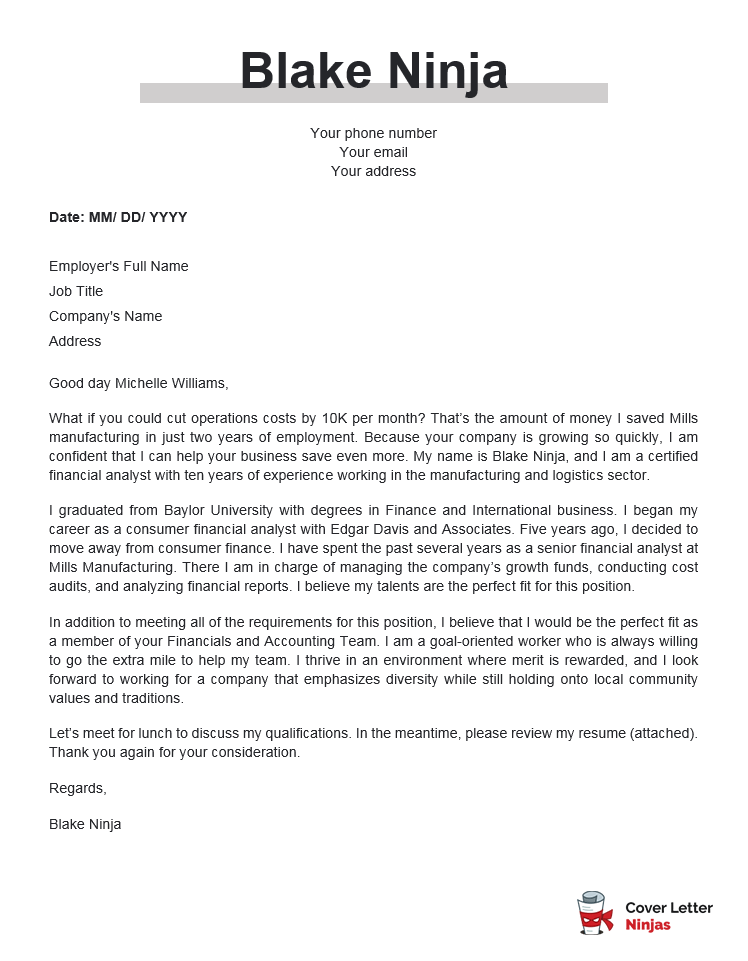 Download example (Word version)
Financial Analyst Cover Letter Example – Text Format
Good day Michelle Williams,
What if you could cut operations costs by 10K per month? That's the amount of money I saved Mills manufacturing in just two years of employment. Because your company is growing so quickly, I am confident that I can help your business save even more. My name is Blake Ninja, and I am a certified financial analyst with ten years of experience working in the manufacturing and logistics sector.
I graduated from Baylor University with degrees in Finance and International business. I began my career as a consumer financial analyst with Edgar Davis and Associates. Five years ago, I decided to move away from consumer finance. I have spent the past several years as a senior financial analyst at Mills Manufacturing. There I am in charge of managing the company's growth funds, conducting cost audits, and analyzing financial reports. I believe my talents are the perfect fit for this position.
In addition to meeting all of the requirements for this position, I believe that I would be the perfect fit as a member of your Financials and Accounting Team. I am a goal-oriented worker who is always willing to go the extra mile to help my team. I thrive in an environment where merit is rewarded, and I look forward to working for a company that emphasizes diversity while still holding onto local community values and traditions.
Let's meet for lunch to discuss my qualifications. In the meantime, please review my resume (attached). Thank you again for your consideration.
Regards,
Blake Ninja
Final Thoughts – Edit Ruthlessly
Editing and proofreading are often afterthoughts. In your case, this task should take top priority. By ensuring that your letter is free from sloppy mistakes, misspellings, and weak statements, you show your attention to detail and accuracy – the two top valued qualities in the financial industry.
Need More Inspiration? Check Other Cover Letter Examples from Finance: