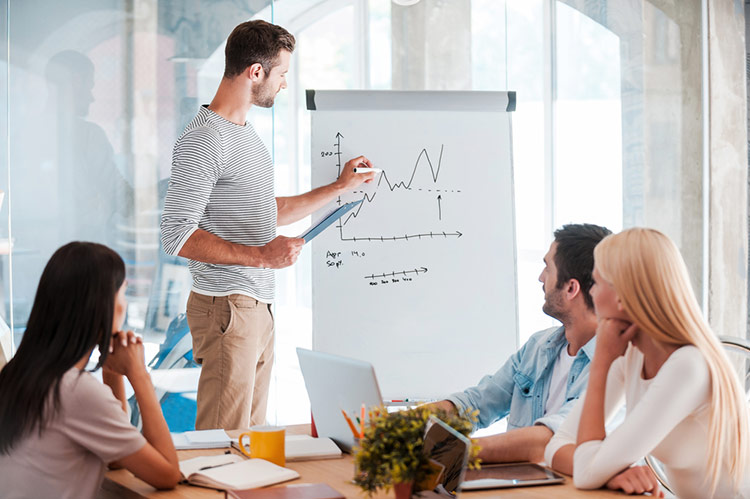 A business analyst is a "corporate investigator". They help their employers find the right information and solutions to complex problems by analyzing what's working and what's not and communicating the solution to another team (or the client). As you might imagine communication skills are key, so is an understanding of both business and technology. These are just a few things that you must convey to potential employers as you apply for jobs.
To help you get started, here are some tips for writing your cover letter, and conducting your business analyst job search. In the end, you'll also find a business analyst cover letter sample to use as a reference for writing.
Be Clear and Concise
One of the most important duties of a business analyst is to communicate well with both technical staff members (e.g. software developers) and business users (e.g. a product manager). In a sense, it's a bit like speaking two different languages. You have to ensure that both groups understand what they need to, and act as a bit of a "glorified interpreter". Because of this, your written and verbal communication skills must be impeccable.
Your cover letter is the place to showcase these skills. Write in a way that shows you are capable of communicating clearly and concisely. Get to the point. Avoid flowery language. Don't use jargon unless it is absolutely necessary. Then, if you do provide an appropriate explanation that can be understood by a non-technical reader.
ADVICE FROM OUR EXPERT
---
Business Analysts can make a huge impact in organizations and have the advantage of quantifying results. When describing achievements, focus on positive changes in time, percentages or dollar amounts. The employer will want those changes for their business!

Debi Douma-Herren
Senior Certified HR Professional & Career Coach
Use Numbers and Other Data to Quantify Your Achievements
As a business analyst, your value to a company is in the results you can deliver. These might include increasing sales, reducing workload, increasing efficiency, or saving money. However, in order to really convince the hiring authorities of your capabilities, you'll need to be specific. For example, if you were involved in a project that involved automating some sales process, and the result was increased sales, share the specific percentage or dollar amount.
Highlight Your Most Important Skills
Your cover letter shouldn't repeat the points in your resume. Instead, it should address your interest in the position, highlight some accomplishments, and focus on just a few of the most important skills required. Do not lay out your skill set in total. Simply pick a handful of the most important skills to mention in your cover letter.
Make The Most of Any Project Experience
Business analysts are key team members in a variety of projects. The more familiar you are with concepts such as Agile and Scrum the better. If you have any sort of experience participating in software development or other projects, include this in your cover letter, and in your resume. This will be valuable for you, especially if you are somewhat inexperienced as a business analyst.
Place Your Most Attractive Attributes at The Top of Your Resume
Busy hiring managers don't often have time to read through your entire resume or cover letter. Instead, they'll scan looking for the most important points and keywords. The top of your resume, in particular, will get the most attention. That is where you should put your most relevant and marketable skills.
If you are experienced, start your resume with a professional summary. Use that to describe your capabilities and achievements.
If you are new to the workforce, go with a functional resume format. There, you can use a simple objective statement followed by a list of your skills and competencies.
Cover Letter Sample for Business Analyst – Text Format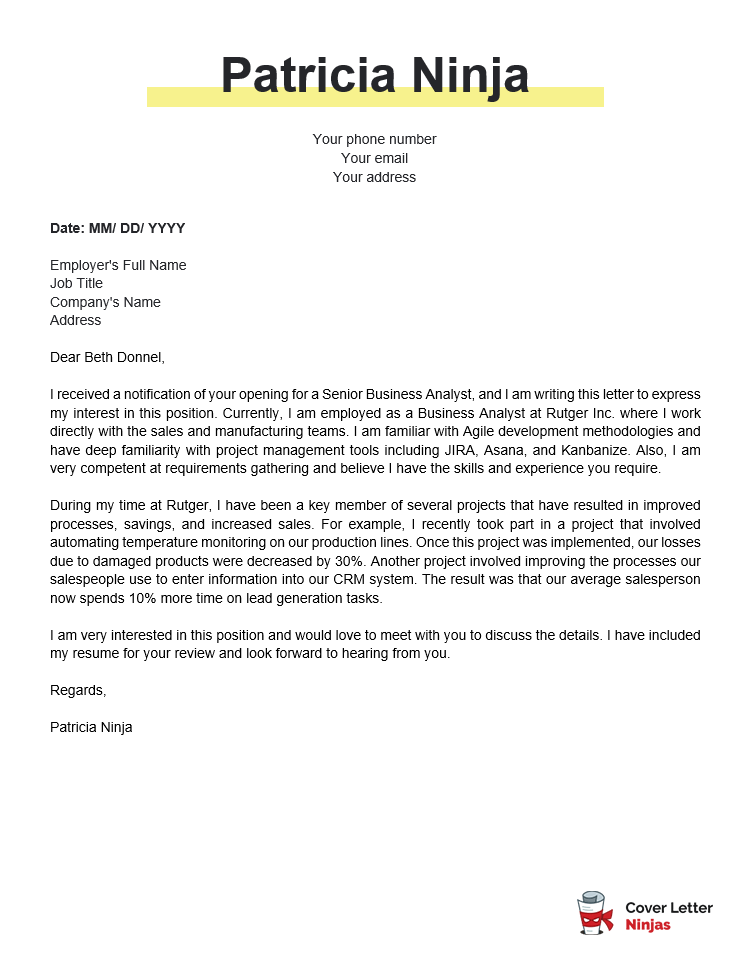 Download example (Word version)
Business Analyst Cover Letter Example – Text Format
Dear Beth Donnel,
I received a notification of your opening for a Senior Business Analyst, and I am writing this letter to express my interest in this position. Currently, I am employed as a Business Analyst at Rutger Inc. where I work directly with the sales and manufacturing teams. I am familiar with Agile development methodologies and have deep familiarity with project management tools including JIRA, Asana, and Kanbanize. Also, I am very competent at requirements gathering and believe I have the skills and experience you require.
During my time at Rutger, I have been a key member of several projects that have resulted in improved processes, savings, and increased sales. For example, I recently took part in a project that involved automating temperature monitoring on our production lines. Once this project was implemented, our losses due to damaged products were decreased by 30%. Another project involved improving the processes our salespeople use to enter information into our CRM system. The result was that our average salesperson now spends 10% more time on lead generation tasks.
I am very interested in this position and would love to meet with you to discuss the details. I have included my resume for your review and look forward to hearing from you.
Regards,
Patricia Ninja
Final Tip: Always Try to Find a Connection
If you learned about the position through a network connection, mention that in your letter. It will give the recipient a frame of reference, and if the referral is reliable, help you gain a bit of competitive advantage.
If not, you can always position yourself as a bit of an "insider" by mentioning a piece of recent corporate news in your letter or addressing something that was said by the company's leadership. You can easily find a "talking" point on the employer's social media or blog.