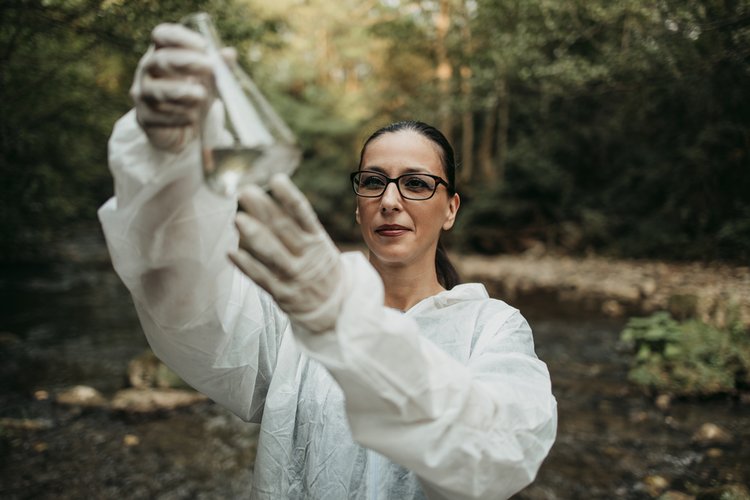 Environmental scientists use a combination of scientific methodology and practical field experience to improve our living conditions. They also strive to ensure cleaner air and water and protect various forms of wildlife. An environmental science may also work to mitigate environmental damage or to understand the impacts of pollutants over time.
Interest in this field has certainly increased as the public becomes more concerned with the state of the planet. Further, this can be an exciting job for people who enjoy being outdoors and interacting with nature. That said, while such jobs are expected to grow by 8% year-over-year, you are still elbowing with a lot of other qualified people. So you need to present yourself as a worthy applicant. Your cover letter is an important part of this. To help with your journey, we've got some amazing tips and a great environmental science cover letter sample.
ADVICE FROM OUR EXPERT
---
An often-overlooked responsibility for an environmental scientist is their involvement in writing grants for a project. If this type of work is included in the job description, include your grant writing experience in the cover letter to catch the recruiter's eye.

Debi Douma-Herren
Senior Certified HR Professional & Career Coach
Make Your Letter Goal-Oriented
What is the organization you are applying to try to accomplish? What are their project and organizational goals? How will someone in your role contribute to that? Try to research answers to this question beforehand.Then, acknowledge them in your letter and show how you'll work towards achieving these if you get hired. Here's an example of how this may look:
"I know the Nevada Department of Natural Resources is currently attempting to address a rapid reduction in biodiversity in the eastern portion of the state. To assist with those efforts, I would use my field experience to analyze inland waterways. Once those reports were completed, I would work closely with officials to create a strategy to stem the loss of biodiversity over the next ten years."
Deconstruct The Job Description
It seems simplistic, but the best approach is to simply base your cover letter on the job description provided to you. Even a relatively brief description will usually contain loads of information about the position, qualifications, and needs of the organization. As you read the listing, try to answer the following questions:
How many years of experience are required?
What degree or certification do I have?
Are there any tools or technologies listed?
Where will I be working?
What will the responsibilities of this position be?
Now, as you write your letter, answer these questions. This will ensure you address every point and requirement mentioned in the job listing. You can also see how to expertly do that from other cover letter examples.
Explain Your Interest in The Organization
It's important to mention why you're applying for the job. Specifically, what is it about this organization that makes you want to work with? Also, how did you find out about the position?
When you can answer the question, 'why us?' in your letter, you come off as a much more sincere applicant. Also, if you are submitting a cold pitch or unsolicited job inquiry email, you need to explain how you learned about the company as well as why you are interested. Here's an example of that:
"I recently attended a presentation in which you demonstrated the work you were doing to reduce soil erosion and contamination. I was very impressed with your accomplishments. Because my research background covers similar ground, I wanted to reach out to discuss any openings you may have for a lead researcher."
Detail Your Readiness and Flexibility
Are you willing to travel extensively? What about working outside in varying weather conditions? Some environmental scientists may even live outside. How soon can you start, especially if you need to relocate? Is working weekends something you are willing to do?
In the last paragraph or so of your letter, answer these questions. Let the hiring manager know when you would be available to start, your schedule of availability, and any accommodations you would be willing to make to do the job.
Environmental Science Cover Letter Sample in .docx Format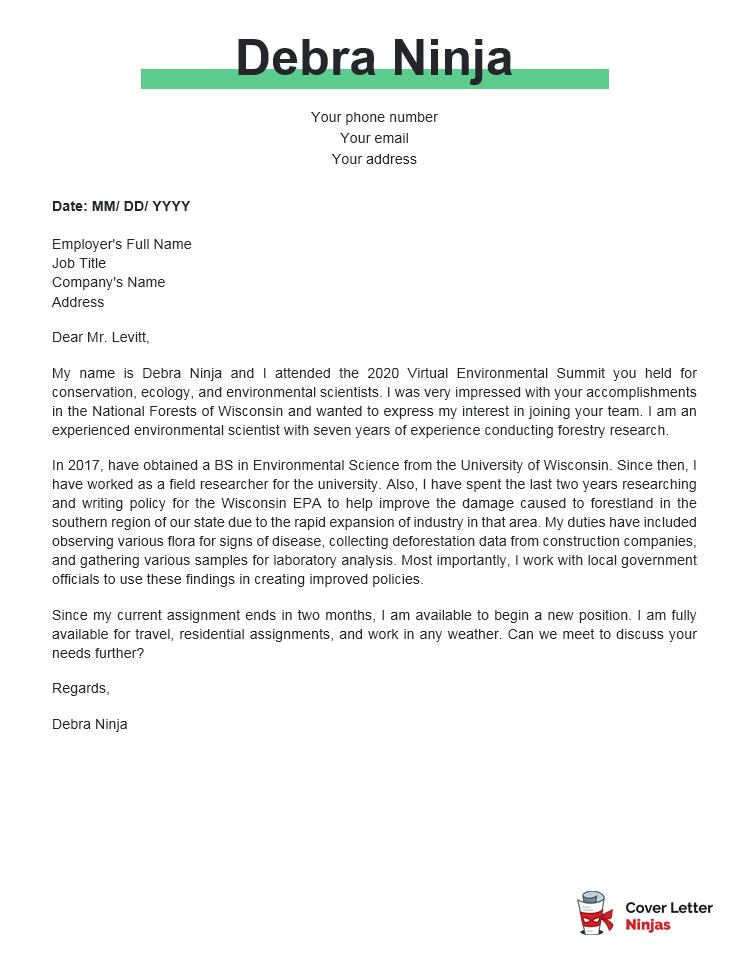 Download example (Word version)
Environmental Science Cover Letter Example – Text Format
Dear Mr. Levitt,
My name is Debra Ninja and I attended the 2020 Virtual Environmental Summit you held for conservation, ecology, and environmental scientists. I was very impressed with your accomplishments in the National Forests of Wisconsin and wanted to express my interest in joining your team. I am an experienced environmental scientist with seven years of experience conducting forestry research.
In 2017, have obtained a BS in Environmental Science from the University of Wisconsin. Since then, I have worked as a field researcher for the university. Also, I have spent the last two years researching and writing policy for the Wisconsin EPA to help improve the damage caused to forestland in the southern region of our state due to the rapid expansion of industry in that area. My duties have included observing various flora for signs of disease, collecting deforestation data from construction companies, and gathering various samples for laboratory analysis. Most importantly, I work with local government officials to use these findings in creating improved policies.
Since my current assignment ends in two months, I am available to begin a new position. I am fully available for travel, residential assignments, and work in any weather. Can we meet to discuss your needs further?
Regards,
Debra Ninja
Final Tip: Write to a Wide Audience
It's important for anyone applying for a job in science or biotechnology to know that not every hiring manager has the same background. Be sure to avoid using jargon or tech terms. Instead, write in a style that is easily understood by someone who has an administrative background. This way you'll ensure that your letter lands properly with them!