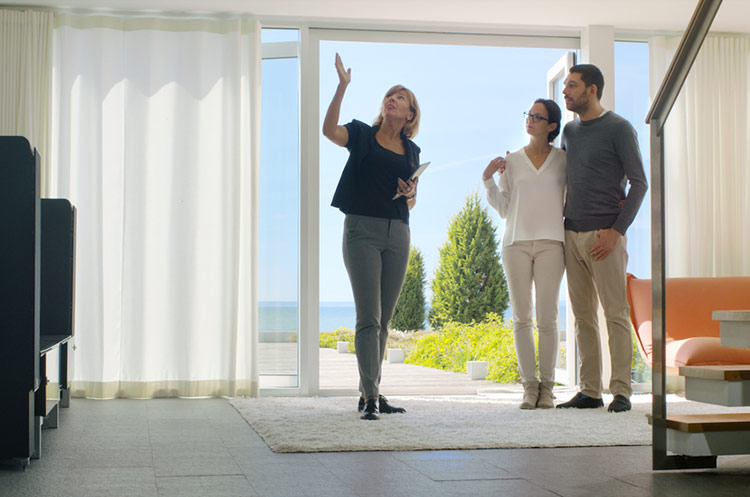 A property manager works hard to ensure that rental homes, apartments, vacation rentals, even corporate rentals are well-maintained. Also, they may also be responsible for reviewing applications, collecting rents, and conducting showings. This is a great job for a high-energy, extroverted person who likes to be kept busy with a variety of tasks.
If you have the skills it takes to do this job, your next step is to create a great cover letter. To help with that, we've created a list of helpful tips, and written an educational property manager cover letter sample.
Emphasize Your Ability to Deal With Tenants
Can you delicately handle a tenant who is dangerously behind on rent, and in danger of eviction? What about a very critical, but also very important, tenant who expects things to be absolutely perfect? Have you ever served a tenant with an eviction?
Property management is a job that requires a combination of communication skills, customer service skills, diplomacy, and assertiveness. That is why the ideal property manager can keep the vast majority of tenants happy, even if it means tolerating difficult people. On the other hand, property owners also value a manager who recognizes a problematic tenant and can handle those situations with professionalism.
ADVICE FROM OUR EXPERT
---
As a Property Manager, you will most likely be interfacing directly with current and prospective tenants. Not only will you be responsible for daily property operations, but you will also be engaging with tenants when issues arise. Use your cover letter to demonstrate your high capacity for communication, problem resolution, and conflict mitigation, even amidst challenging interpersonal environments.

Claire Webber
Career Consultant, CPCC, CPRW
Share Your Most Relevant Skills
Some property managers spend the majority of their time wearing a toolbelt and conducting various repairs. Others are more administrative and prefer to focus on the admin and marketing side of things, rather than be in the field. Read each job listing closely to identify the most important skills for each available job. Then, customize your cover letter to emphasize those skills.
Example One:
"I have the skills required to be a hands-on property manager. I can use basic hand tools and have my own set. My experience includes light landscaping, lawn maintenance, HVAC repair, and handyman work. In my current position, I can perform the majority of needed repairs myself, only hiring outside contractors for the most complicated situations."
Example Two:
"I am currently a property manager over 11 residential and commercial properties. My key responsibilities include maintaining contracts with maintenance companies, collecting rents, paying invoices, and scheduling showings. I have expertise in MS Excel, 360 WorkPlace, and Buildium property management software."
Use Bottom Line Numbers
Ultimately, your key responsibility is to ensure that each property remains as profitable as possible for the owner. You accomplish this by ensuring that you are adept at ensuring that rents are paid on time, retaining good tenants, keeping maintenance costs down, even executing marketing campaigns to attract new tenants. This requires some baseline financial and bookkeeping skills.
The best way to do this is to share real numbers that are reflected in the bottom line. Here are a few examples:
Reduced rental delinquencies by 15%
Renegotiated a contract with a landscaping company to save over 10K monthly on maintenance fees.
Created an email marketing campaign that led to 200 requests for property showings in the first month.
Communicate Your Availability
There are no such things as regular hours for property managers. The needs and expectations of each company can vary widely. That's why it's important to clarify exactly when you will be available to work. Be sure that your letter answers the following questions:
Are you willing to be part of an on-call rotation?
How soon can you arrive at the property if there is an emergency?
Will you consider living on-site?
Cover Letter Sample for a Property Manager – .docx Format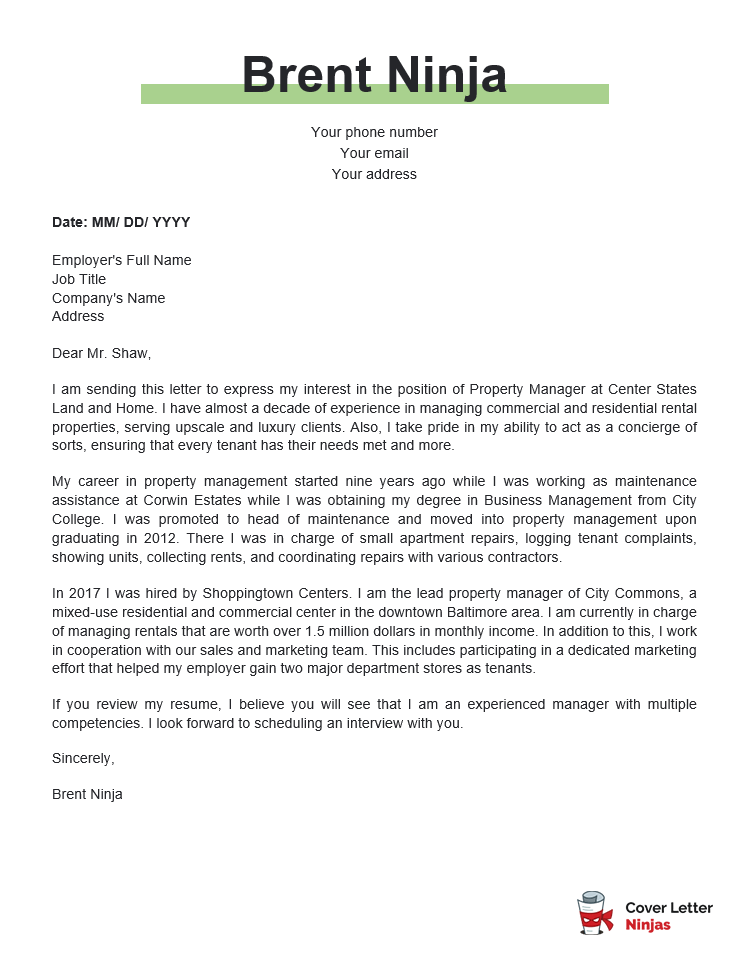 Download example (Word version)
Property Management Cover Letter Example – Text Format
Dear Mr. Shaw,
I am sending this letter to express my interest in the position of Property Manager at Center States Land and Home. I have almost a decade of experience in managing commercial and residential rental properties, serving upscale and luxury clients. Also, I take pride in my ability to act as a concierge of sorts, ensuring that every tenant has their needs met and more.
My career in property management started nine years ago while I was working as maintenance assistance at Corwin Estates while I was obtaining my degree in Business Management from City College. I was promoted to head of maintenance and moved into property management upon graduating in 2012. There I was in charge of small apartment repairs, logging tenant complaints, showing units, collecting rents, and coordinating repairs with various contractors.
In 2017 I was hired by Shoppingtown Centers. I am the lead property manager of City Commons, a mixed-use residential and commercial center in the downtown Baltimore area. I am currently in charge of managing rentals that are worth over 1.5 million dollars in monthly income. In addition to this, I work in cooperation with our sales and marketing team. This includes participating in a dedicated marketing effort that helped my employer gain two major department stores as tenants.
If you review my resume, I believe you will see that I am an experienced manager with multiple competencies. I look forward to scheduling an interview with you.
Sincerely,
Brent Ninja
Final Tip: Show That You Understand The Clients
Property owners want to be confident that you will find the right approach to their clientele. For example, they may be hesitant to hire someone who has only managed a small apartment complex to work in a high-end gated community. That's why your letter should include some details about the economic status of the tenants you've served.