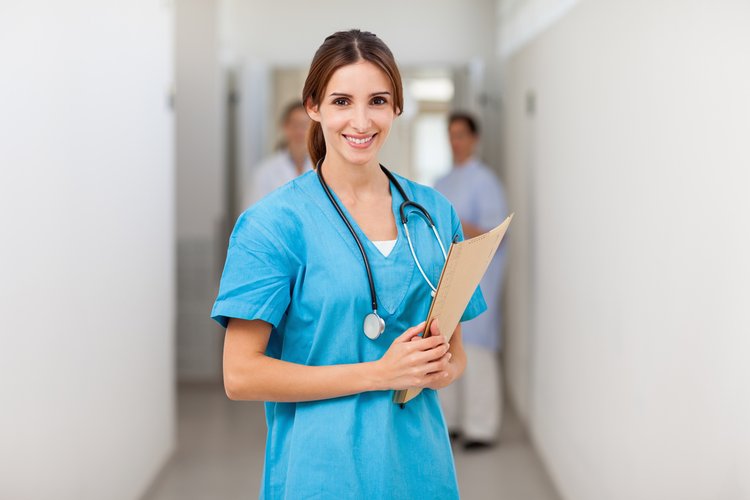 How do clinics, medical offices, and hospitals ensure they can serve their patients efficiently? Many of them employ experienced nurse practitioners to assist with a range of patient duties.
These are nurses with advanced education and training, who can:
Conduct patient examinations
Diagnose conditions
Prescribe treatments and medications
Provide both direct patient education and community education
In this piece, we are providing useful tips for potential nurse practitioners to help them write cover letters to apply for the jobs they seek, and a nurse practitioner cover letter sample.
Share a List of Your Most Important Qualifications
There's no doubt that your education and experience has left you with a laundry list of capabilities, skills, and certifications. So now is the perfect time to showcase these. Don't bury these important attributes in a paragraph. Instead, use a bulleted list. This way you will draw the reader's eyes to the qualifications that are most likely to help you get the job.
For example:
Delivering care with compassion
Educating citizens on community health concerns
Diagnosing and prescribing treatments for conditions in patients of all ages
Communication and teamwork
Managing health delivery systems
Triage and case prioritization
ADVICE FROM OUR EXPERT
---
Just as a patient would want to be treated by an educated professional with a passion for their work, hiring managers seek to identify applicants with the same values. Rather than merely repeating facts listed on your resume, use your cover letter to share what motivates you and why you're the most equipped professional for the role.

Claire Webber
Career Consultant, CPCC, CPRW
Write an Impressive Opening Paragraph
The quality of your first paragraph will determine whether the reader bothers with the rest of your application. Thus, write a clear cover letter opening that immediately leaves a good impression.
Here's a simple formula for that. First, briefly introduce yourself. Secondly, specify the job you are pursuing. Then tell, why you think you are qualified. Lastly, for an added touch, consider hyperlinking your name to your LinkedIn profile.
You can also browse other cover letter examples of on our website for some extra opening tips!
Explain Why You Are a Good Fit
After a quick primer at the beginning of your cover letter, continue with a more in-depth explanation. As you write, try to answer these questions:
Why are you pursuing this position?
Why do you think you will be successful if you get the job?
What is it that makes you the best candidate for the position?
Also, remember to focus on the needs of the potential employer. What do you have to offer that will meet their needs? For example:
"I worked as a nurse in the United States Air Force. I was deployed twice to provide the necessary medical support to combat troops. In addition to that, I have worked in the VA hospital system for nearly a decade. Not only do I understand the unique medical needs of former service members, but I can also use my direct experiences as a veteran to provide compassionate care with empathy."
Use Nursing Power Words
Power words are words and phrases that evoke a positive emotional response. You can use them in your nursing cover letter to help the hiring authority visualize your expertise and enthusiasm. For example, you may want to incorporate the next power words:
Assessed
Advocated
Diagnosed
Assigned
Secured
Reviewed
Analyzed
Delegated
Practiced
Monitored
Interpreted
Directed
You can also glean some important power words from the job listing itself. This is the perfect place to learn the words and phrases that reflect the skills and experience they are looking for.
Nurse Practitioner Cover Letter Sample in .docx Format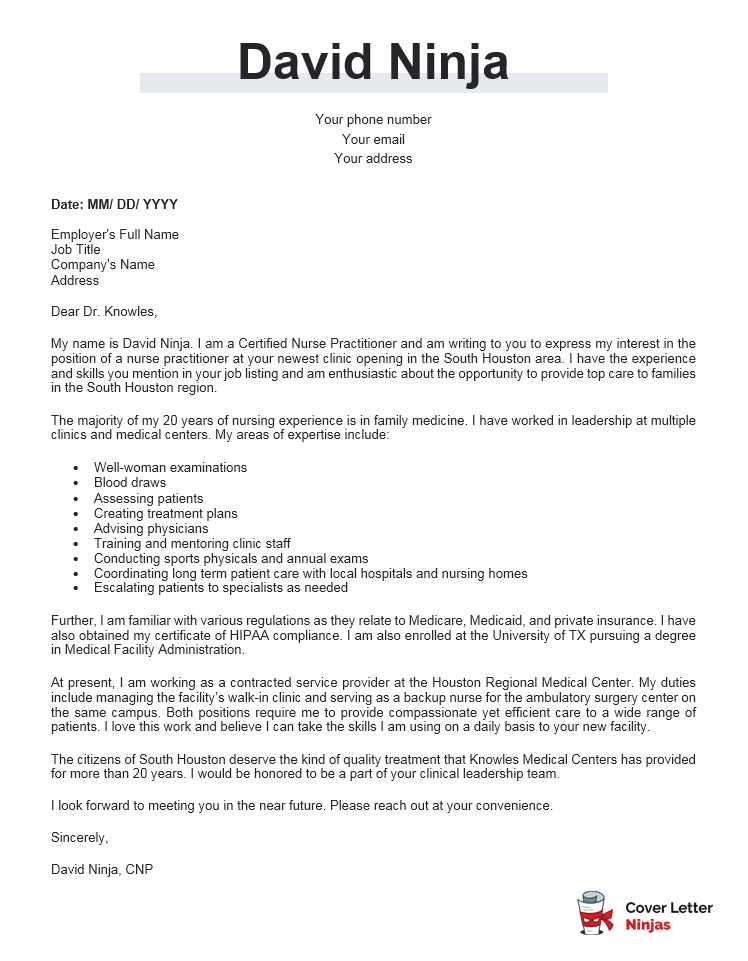 Nurse Practitioner Cover Letter Example – Text Format
Dear Dr. Knowles,
My name is David Ninja. I am a Certified Nurse Practitioner and am writing to you to express my interest in the position of a nurse practitioner at your newest clinic opening in the South Houston area. I have the experience and skills you mention in your job listing and am enthusiastic about the opportunity to provide top care to families in the South Houston region.
The majority of my 20 years of nursing experience is in family medicine. I have worked in leadership at multiple clinics and medical centers. My areas of expertise include:
Well-woman examinations
Blood draws
Assessing patients
Creating treatment plans
Advising physicians
Training and mentoring clinic staff
Conducting sports physicals and annual exams
Coordinating long term patient care with local hospitals and nursing homes
Escalating patients to specialists as needed
Further, I am familiar with various regulations as they relate to Medicare, Medicaid, and private insurance. I have also obtained my certificate of HIPAA compliance. I am also enrolled at the University of TX pursuing a degree in Medical Facility Administration.
At present, I am working as a contracted service provider at the Houston Regional Medical Center. My duties include managing the facility's walk-in clinic and serving as a backup nurse for the ambulatory surgery center on the same campus. Both positions require me to provide compassionate yet efficient care to a wide range of patients. I love this work and believe I can take the skills I am using on a daily basis to your new facility.
The citizens of South Houston deserve the kind of quality treatment that Knowles Medical Centers has provided for more than 20 years. I would be honored to be a part of your clinical leadership team.
I look forward to meeting you in the near future. Please reach out at your convenience.
Sincerely,
David Ninja, CNP
More Relevant Nursing Cover Letter Examples:
Final Tip: Prove You Have a Commitment to Advancement
Remember: the field of medicine is constantly evolving. Thus, any nurse who wishes to further their career must actively seek to learn new skills and treatments. If you are continuing your education, mention that in your cover letter!