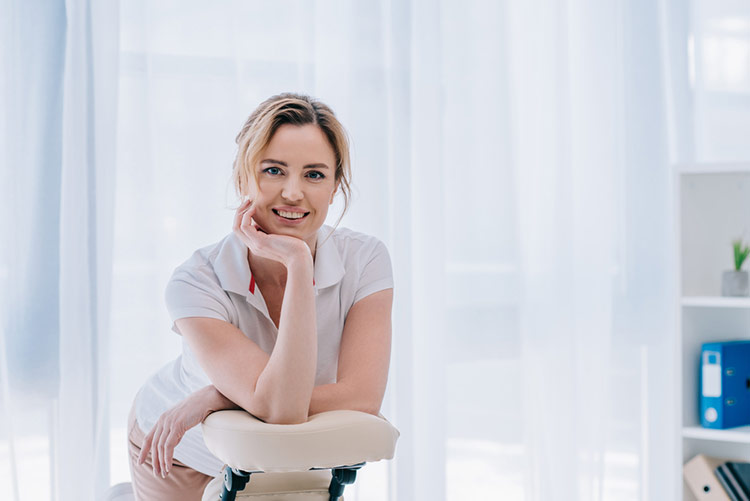 A massage therapist works with clients to improve their health and well-being. They use touch, heat, oils, moisture, even aroma to manipulate muscles and other soft tissue. Their services are in demand at spas, nursing homes, physical therapy centers, and elsewhere. Further, a skilled therapist can earn a significant amount of money.
However, none of this can happen until you land the right job. If you have relevant training and experience, you're almost there. Now you've got to create a resume and cover letter. Here, we'll focus on the latter with some tips and a massage therapist cover letter sample.
Include a Brief But Specific Testimonial
Do you receive positive feedback from your boss or customers? That's great! Mention the praise of your customer service skills in your cover letter with a short example. Just remember that specific praise is best. You're not going to impress anyone with some generic remark like, "My boss says I'm great." Instead, try an example like this:
"I recently received a great email from my manager. She complimented me on my ability to make first-time massage clients feel right at home."
Show Your Most Important Skills in Bullet Points
Read the job requirements carefully, and extract what the most important requirements are. Then, match these with your skills. Include these in your resume. Make them stand out to the reader even more, by using a bulleted list. The key here is to keep it short. You don't need to include every one of your competencies, especially if they are from related industries like cosmetology or health coaching. Just add the most relevant ones.
Put The Focus on Your Accomplishments
You'll want to explain what you do each day in your current position. However, don't look at this as a list of your duties. Instead, keep the focus on what you accomplish. Remember that hiring managers are less concerned with what you do than they are the results of what you do. Here are some examples of this:
Helped athletes improve injury recovery time by an average of 20%.
Upsold spa services to one of every three customers.
Achieved a customer satisfaction rating of 95%.
Introduced 50 new clients to the benefits of massage within six months.
ADVICE FROM OUR EXPERT
---
Make sure to read the qualifications of the job description very carefully to understand if the employer is seeking a massage therapist with specific certifications, specialties or experience. If so, cite examples to address these specific qualifications.

Debi Douma-Herren
Senior Certified HR Professional & Career Coach
Show That You Understand The Customer
You'll find a very different atmosphere from one spa or center to another. This is often because each place has its target customer. The experience at a facility that specializes in sports massage will be much different from a spiritual wellness center that offers holistic treatments, yoga, and gemstone treatment. Adjust the content and tone of your letter accordingly.
Demonstrate Your Enthusiasm For Growth
If you're willing to learn and grow, this is a very interesting field. A dedicated massage therapist can find nearly limitless opportunities to learn different techniques, refresh old skills, and branch out into different areas. For example, physical therapy or rehabilitation. There's also the matter of continuing education units that massage therapists must obtain every year to maintain their licenses. You can demonstrate this willingness to grow your skillset like this:
"I have completed all of my required continuing education units for the year. In addition to this, I obtained a certification in aromatherapy. I'm also working through a local wellness center to become a Reiki practitioner. Finally, I am completing coursework to learn how to better serve disadvantaged communities through touch-based therapies."
Massage Therapist Cover Letter Sample in .docx Format
Now, let's put some of the tips above into a working example. Feel free to take this letter, and use it as a framework for your own. Hopefully, it provides some help and a bit of inspiration.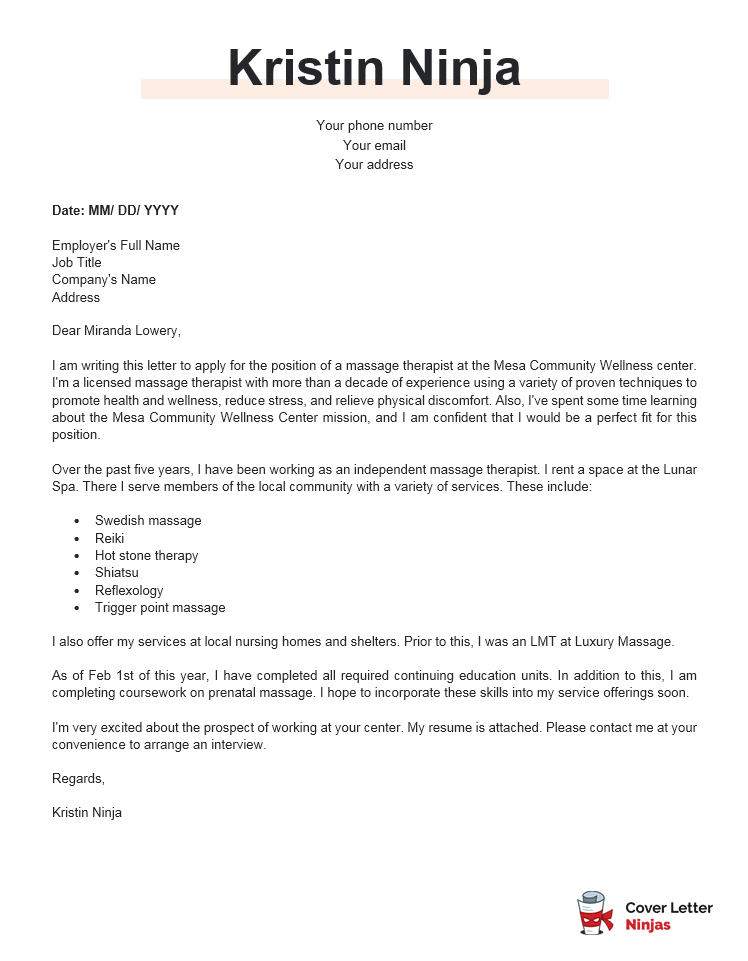 Download example (Word version)
Massage Therapist Cover Letter Example – Text Format
Dear Miranda Lowery,
I am writing this letter to apply for the position of a massage therapist at the Mesa Community Wellness center. I'm a licensed massage therapist with more than a decade of experience using a variety of proven techniques to promote health and wellness, reduce stress, and relieve physical discomfort. Also, I've spent some time learning about the Mesa Community Wellness Center mission, and I am confident that I would be a perfect fit for this position.
Over the past five years, I have been working as an independent massage therapist. I rent a space at the Lunar Spa. There I serve members of the local community with a variety of services. These include:
Swedish massage
Reiki
Hot stone therapy
Shiatsu
Reflexology
Trigger point massage
I also offer my services at local nursing homes and shelters. Prior to this, I was an LMT at Luxury Massage.
As of Feb 1st of this year, I have completed all required continuing education units. In addition to this, I am completing coursework on prenatal massage. I hope to incorporate these skills into my service offerings soon.
I'm very excited about the prospect of working at your center. My resume is attached. Please contact me at your convenience to arrange an interview.
Regards,
Kristin Ninja
Final Tip: Show Your Front Office Capabilities
You can help yourself stand out from other applicants if you point out your front office skills. Remember that your employer benefits if you can upsell services, make appointments, or sell memberships. So hint to your sales abilities in this department within your letter.