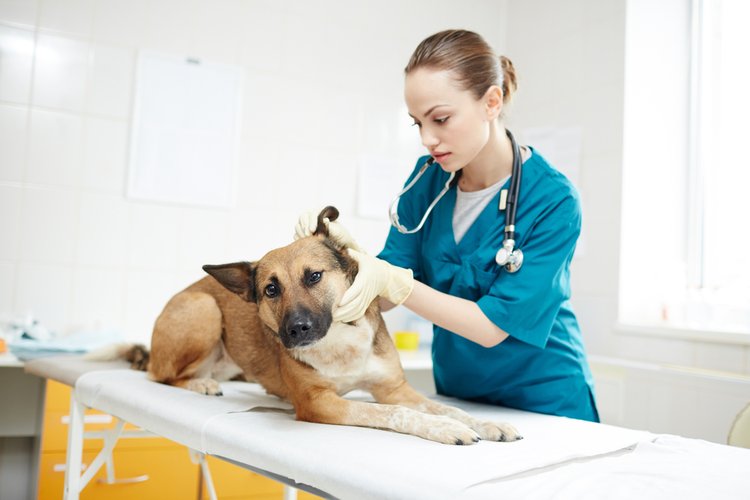 Veterinarians, vet techs, and assistants take care of sick animals, treat injuries, and provide preventative care. They also educate pet owners on how they can make their fluffy friends as happy and healthy as possible. Clearly, it's a rewarding career for someone who cares about animals. However, landing the ideal job can be tricky.
One of the most common challenges you will face is standing out amongst other qualified applicants. To help with this, we are providing you with several cover letter tips, and a veterinary cover letter sample. Let's dig in!
Keep Your Address a Secret
Did you know that one study showed that hiring managers were biased against people with a long commute? That's just one reason to leave your address off of your cover letter. The other is that it's no longer considered to be a necessary part of your heading. Just provide your city and state. That will be sufficient!
Be Specific About Your Passions
You love caring for animals. That's great, but so does every other applicant. The hiring manager at the veterinary clinic, zoo, shelter, or animal hospital wants to see how your specific passions and experience align with their needs.
For example, do you have experience working with livestock? Have you worked as a surgical veterinarian, or for a large animal hospital? Lead off with details about the kind of veterinary work you do, and match that with their requirements.
ADVICE FROM OUR EXPERT
---
While the goal of a powerful cover letter is to inform and engage prospective employers, consider the unique professional "story" you have to share. Your background, determination to make a difference, and passion for the wellbeing of animals is a noble calling. Choose a cover letter writing style that highlights your specific impact within the industry, with a laser focus on your past experience, core strengths, and target areas of growth.

Claire Webber
Career Consultant, CPCC, CPRW
Showcase Your People Skills Too
There's an old joke that people choose to be veterinarians because they'd rather work with animals than people. Of course, that's not really the case. Working with animals means working with their owners. More importantly, it also means working with people who are often stressed, and facing difficult decisions. As a vet, your job is to communicate with compassion and to educate your human customers too.
You'll also have to work with a team of other vets, techs, and front office staff. That's why you need strong communication skills too. You'll also have to show that you are willing to step in when the clinic is overloaded or understaffed. So mention some baseline customer service skills too.
Nudge The Reader Towards Your Resume
The best-case scenario is that someone is so impressed by the cover letter that they reach for the phone to call you for an interview. The second best, and more likely, is that they will want to read your resume. So leave a little prompt in your cover letter, nudging the reader to check out your resume too!
For example, speak about your skills in somewhat vague terms. Imagine that you are a surgical veterinarian. Your cover letter might say:
'I have performed several delicate surgeries during my time at Barrett's Small Animal Hospital. Feel free to check out my resume to read about a few of my most notable cases.'
Use a Template To Improve Readability
You have enough on your hands writing a compelling cover letter. Don't add to your work by worrying about design and layout. Instead, use one of our free cover letter templates as a tool to help with that. This way, you can just focus on writing a great letter!
Cover Letter Sample for a Veterinarian – .docx Format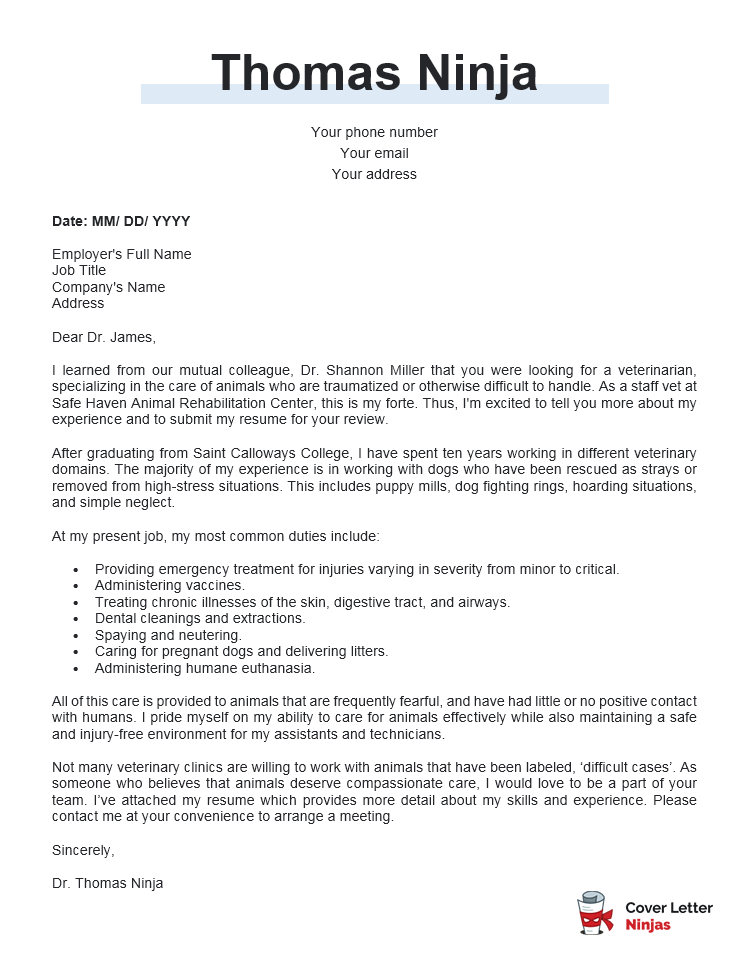 Download example (Word version)
Veterinary Cover Letter Example – Text Format
Dear Dr. James,
I learned from our mutual colleague, Dr. Shannon Miller that you were looking for a veterinarian, specializing in the care of animals who are traumatized or otherwise difficult to handle. As a staff vet at Safe Haven Animal Rehabilitation Center, this is my forte. Thus, I'm excited to tell you more about my experience and to submit my resume for your review.
After graduating from Saint Calloways College, I have spent ten years working in different veterinary domains. The majority of my experience is in working with dogs who have been rescued as strays or removed from high-stress situations. This includes puppy mills, dog fighting rings, hoarding situations, and simple neglect.
At my present job, my most common duties include:
Providing emergency treatment for injuries varying in severity from minor to critical.
Administering vaccines.
Treating chronic illnesses of the skin, digestive tract, and airways.
Dental cleanings and extractions.
Spaying and neutering.
Caring for pregnant dogs and delivering litters.
Administering humane euthanasia.
All of this care is provided to animals that are frequently fearful, and have had little or no positive contact with humans. I pride myself on my ability to care for animals effectively while also maintaining a safe and injury-free environment for my assistants and technicians.
Not many veterinary clinics are willing to work with animals that have been labeled, 'difficult cases'. As someone who believes that animals deserve compassionate care, I would love to be a part of your team. I've attached my resume which provides more detail about my skills and experience. Please contact me at your convenience to arrange a meeting.
Sincerely,
Dr. Thomas Ninja
Final Tip: Mention Continuing Ed
The tech and tools that vets use are constantly changing, so do overall treatment best practices. That's why most in-demand veterinary specialists are constantly updating their skill sets. If you're taking classes, recently attended a conference, or otherwise learning new skills and technologies, place that information in the spotlight!