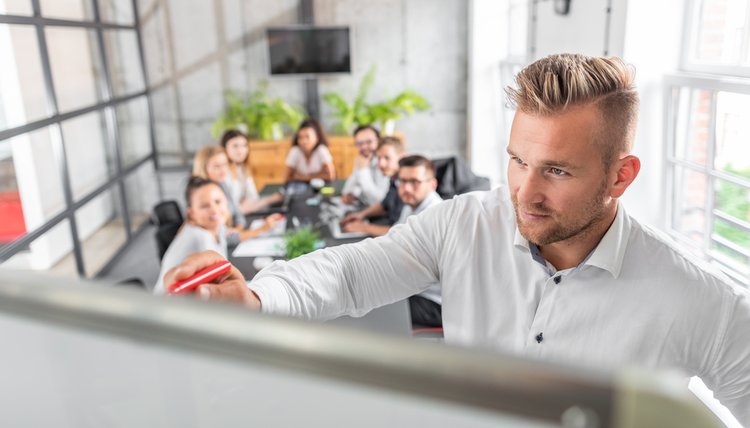 You are creative, savvy in all things social media, plus an amazing writer. In short, you have all the skills you need to be a successful communications manager. Now, it's time to convince others of this. You've found the ideal job opportunity and you are ready to make a great first impression.
Remember: your cover letter is your way of introducing yourself to the person in charge of hiring. You must write a letter that showcases both your core competencies and your personality. Help has arrived! This quick post contains actionable tips that you can use right away. There's even a great communications manager cover letter sample you can use for inspiration. Let's dive in!
Write an Opener That Leaves No Doubts About Your Skills
You could begin with the common greeting introducing yourself and mentioning your interest in the position. Unfortunately, that's a bit insipid. Remember that recruiting coordinators and other HR staff spend only a few seconds on each application package. So don't waste time. Instead, open with an example of your most advanced skills or best accomplishments. Here's a good one: 
"As Director of Communications of Nevada General Hospital, I've created and implemented our COVID-19 related communications strategy. I'm proud to say that we have a 95% consumer approval rate as a result. Also, I'd love to bring the same skills and experience to Northrup Health Partners as your new Communications Manager."
Show Bottomline Results
Be careful about making claims without proof. Avoid using fuzzy terms such as 'improved' or 'succeeded'. Those are subject to quite a bit of interpretation and are essentially meaningless without quantification. Use real numbers instead. Take a look at a few examples of this:
Increased engagement with local media by 25%
Boosted web traffic to new product pages by an average of 35%
Motivated new donors to give over 1.2 million dollars over three months.
The above sounds staunch, right? By making all of your examples more concrete and data-backed, you are helping the hiring manager to better imagine you as a successful, accomplished communications manager.
ADVICE FROM OUR EXPERT
---
When applying for a Communications Manager, pay close attention to the job details. Hitting the right chords in the cover letter to match your experience to what they are looking for is key. Include your ability to manage projects and keen skills in aligning the brand messaging through multiple channels.

Debi Douma-Herren
Senior Certified HR Professional & Career Coach
Highlight Your Leadership Skills
Remember that you aren't applying for a staff position. Much of your work will take place across departments. Thus, your ability to strategize, manage a team, and work with various stakeholders are extraordinarily important. So are the media connections you have hopefully developed over the years. Hence, add an example or two of the successes that you led. Avoid those where you simply played a role as a team member. Here are some power words that evoke a sense of leadership:
Strategized
Negotiated
Hired
Trained
Led
Coordinated
Conceived
Nurtured
Evaluated
Spearheaded
Motivated
Advocated
Energized
Guided
Enlisted
Here's a quick blurb to show how you might highlight your leadership skills and experience:
"As head of the communications team for the city of Grovertown, I spearheaded a crisis communications strategy after a controversy led to the resignation of several city employees. To coordinate this effort, I enlisted the support of local media figures and concerned citizens. In return, polling showed that trust in the local government increased by 33%."
Communications Manager Cover Letter Sample in .docx Format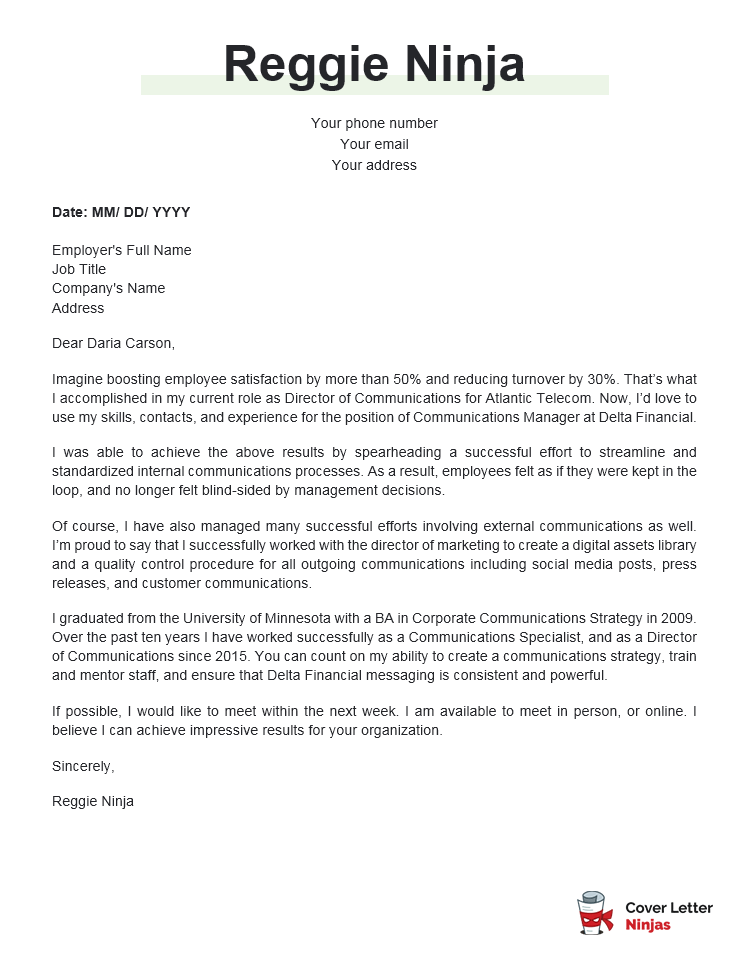 Download example (Word version)
Communications Manager Cover Letter Example – Text Format
Dear Daria Carson,
Imagine boosting employee satisfaction by more than 50% and reducing turnover by 30%. That's what I accomplished in my current role as Director of Communications for Atlantic Telecom. Now, I'd love to use my skills, contacts, and experience for the position of Communications Manager at Delta Financial.
I was able to achieve the above results by spearheading a successful effort to streamline and standardized internal communications processes. As a result, employees felt as if they were kept in the loop, and no longer felt blind-sided by management decisions.
Of course, I have also managed many successful efforts involving external communications as well. I'm proud to say that I successfully worked with the director of marketing to create a digital assets library and a quality control procedure for all outgoing communications including social media posts, press releases, and customer communications.
I graduated from the University of Minnesota with a BA in Corporate Communications Strategy in 2009. Over the past ten years I have worked successfully as a Communications Specialist, and as a Director of Communications since 2015. You can count on my ability to create a communications strategy, train and mentor staff, and ensure that Delta Financial messaging is consistent and powerful.
If possible, I would like to meet within the next week. I am available to meet in person, or online. I believe I can achieve impressive results for your organization.
Sincerely,
Reggie Ninja
More Relevant Cover Letter Examples
Final Tip: Watch Your Framing
Don't make the mistake of spending too much time talking about your aspirations and expectations. Remember: your goal is to highlight how you can use your leadership and communications skills to get better results for your potential new employer. So shift the focus to what they are getting from hiring you.