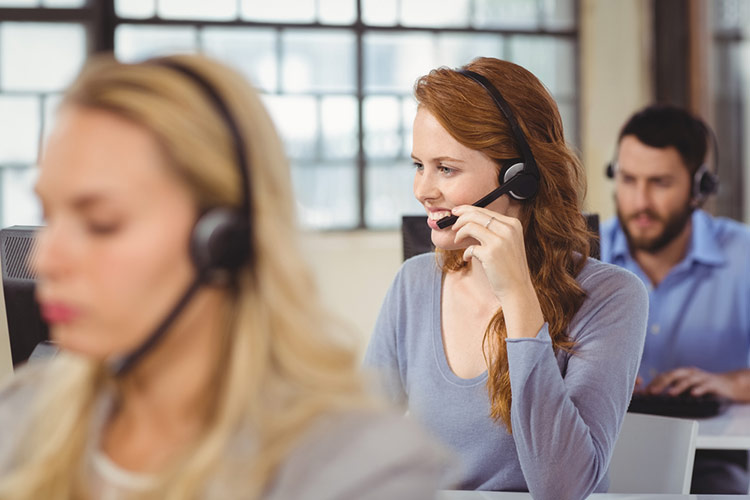 If you've noticed an increase in call center job listings, that should come as no surprise. The global pandemic has prompted a lot of customers to switch to digital shopping and services. Plus, forced a lot to settle all the pre-sales and after-sales issues on the phone. All of that led to an increased demand for call center workers. Even better, a lot of these jobs are flexible, perfect for students and part-timers.
All you need to do now is put together a great application packet. If your resume is on point, you are off to a great stop. Now, it's time to take care of your cover letter. Below are several essential writing tips and a call center cover letter sample.
Start With a Strong Industry-Specific Elevator Pitch
There's a big demand for call center employees. At the same time, there are also hundreds of job applicants. To draw attention to your persona, you gotta start your customer service letter with a strong opening.
What makes a great opening for a cover letter? A succinct elevator pitch that will make the hiring manager think, this person has exactly what I'm looking for. For most call center jobs, that's relevant experience. You could try something like this:
"I have 3 years of experience as a B2B call Center employee, with a 98% customer satisfaction rating."
Use Action Words to Spruce Up Your Writing
As you compose your cover letter, don't be passive. Add action verbs and words to make your writing more persuasive. Don't just list your duties — show how you helped the customers reach their goals.
For instance, instead of saying that you "answered the phone", be more elaborate and demonstrate how well you did your job. An effective call center worker analyzes customer problems, provides recommendations, researches solutions, provides answers, and resolves problems. You may have even escalated issues that you determined to be too complex.
ADVICE FROM OUR EXPERT
---
When creating a cover letter for call center opportunities, consider using power verbs such as "engages," "communicates," "prioritizes," and "multi-tasks" to convey the necessary skillsets required for these roles. Leveraging powerful language in your cover letter can further demonstrate your high capacity for attending to customer needs within fast-paced environments.

Claire Webber
Career Consultant, CPCC, CPRW
Now, imagine the difference between a cover letter that uses these words and phrases, and one that simply says you took phone calls from customers.
No Experience? Highlight Transferable Skills
Even if you don't have call center experience, you probably have some other skills that can be beneficial in this role, obtained at other entry-level positions such as a receptionist, cashier, hotel-front desk, or office assistant. These may include:
The ability to memorize and follow procedures.
Computer skills.
A clear speaking voice.
The self-discipline and intelligence to understand a product or service thoroughly.
Patience and empathy.
Analytical and problem-solving skills.
In your letter, showcase how you've applied one or more of these traits. Consider this:
"I currently work as an emergency room technician. This job frequently involves dealing with people who are upset and frustrated. To maintain a calm environment, I work hard to show empathy and assist patients in finding solutions that work for them.
Make Your Case at The End
Too many people close their cover letters by stating that they are interested in the job. Well, why should the employer care what you are interested in? Instead, talk about something that does concern them. Specifically, what can you bring to the table on your first day of work? Remember, if you were in sales this would be where you were closing the deal. Here's an example:
" I would love to bring my knowledge of the aviation industry, and customer service experience to Jackson Aerospace. I'm confident that I will be able to improve metrics and better customer relationships."
Call Center Cover Letter Sample in .docx Format
Here's a great working example of a cover letter written by an experienced call center applicant.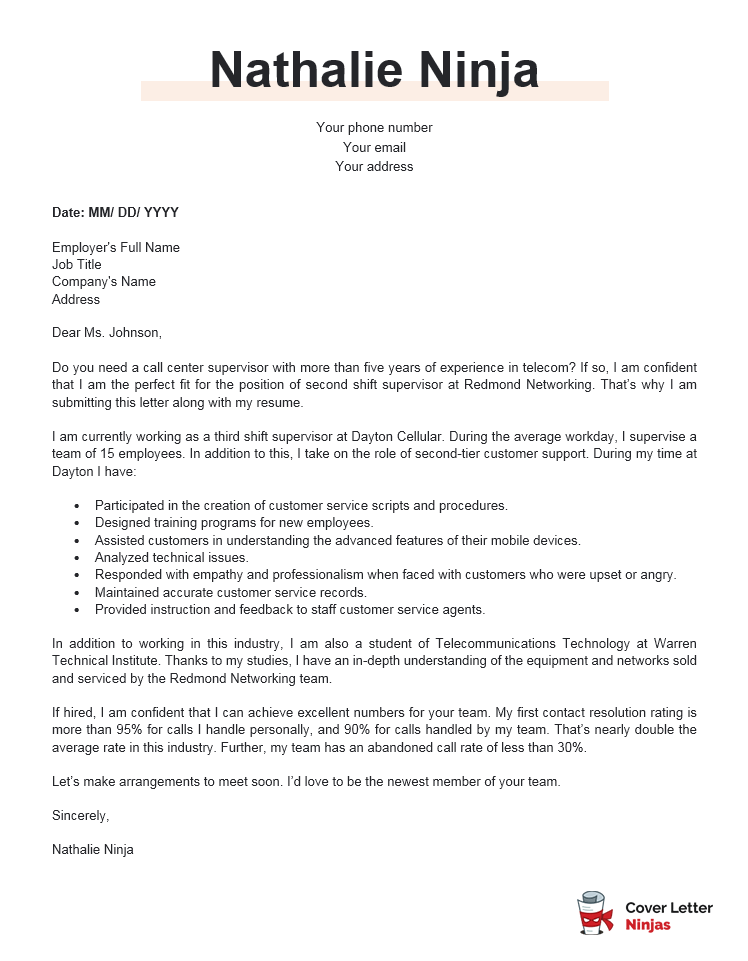 Download example (Word version)
Call Center Cover Letter Example – Text Format
Dear Ms. Johnson,
Do you need a call center supervisor with more than five years of experience in telecom? If so, I am confident that I am the perfect fit for the position of second shift supervisor at Redmond Networking. That's why I am submitting this letter along with my resume.
I am currently working as a third shift supervisor at Dayton Cellular. During the average workday, I supervise a team of 15 employees. In addition to this, I take on the role of second-tier customer support. During my time at Dayton I have:
Participated in the creation of customer service scripts and procedures.
Designed training programs for new employees.
Assisted customers in understanding the advanced features of their mobile devices.
Analyzed technical issues.
Responded with empathy and professionalism when faced with customers who were upset or angry.
Maintained accurate customer service records.
Provided instruction and feedback to staff customer service agents.
In addition to working in this industry, I am also a student of Telecommunications Technology at Warren Technical Institute. Thanks to my studies, I have an in-depth understanding of the equipment and networks sold and serviced by the Redmond Networking team.
If hired, I am confident that I can achieve excellent numbers for your team. My first contact resolution rating is more than 95% for calls I handle personally, and 90% for calls handled by my team. That's nearly double the average rate in this industry. Further, my team has an abandoned call rate of less than 30%.
Let's make arrangements to meet soon. I'd love to be the newest member of your team.
Sincerely,
Nathalie Ninja
Final Tip: Use Data
Call center managers are often under real pressure to meet or exceed certain metrics. That's why they don't do well with generalities. Be clear about your accomplishments by sharing detailed examples with meaningful numbers. For example, 'many customers I assist purchase upgrades' is not as impactful as 'three out of five customers I assist choose to upgrade their service plan.' Quantify your achievements and you'll be golden.