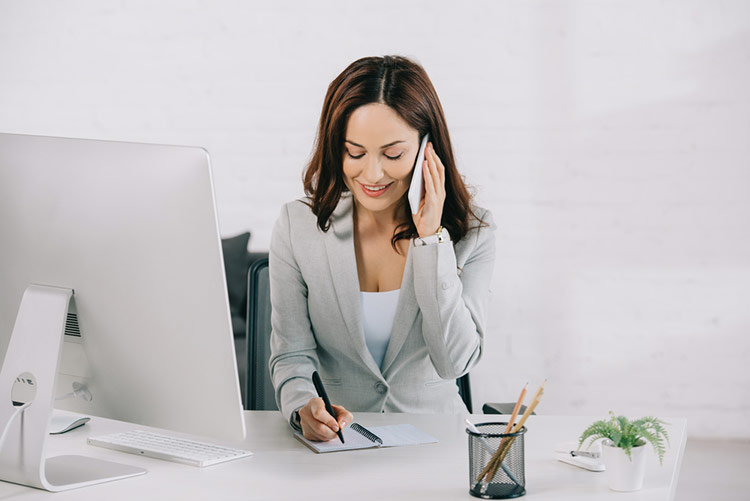 There are many great reasons to become an office assistant. This is an entry-level job with plenty of learning opportunities. You'll work in a comfortable environment, and the job of an office assistant is often the first step in a satisfying career in business.
So how do you land that great job as an office assistant? Step one is writing a great cover letter. Before you begin, check out the tips below. Then, take a look at our office assistant cover letter example.
Show Your Organizational Skills With a Well-Structured Letter
As an office assistant, you'll perform jobs such as data entry, research, filing, ordering supplies, and other admin tasks. To do these things successfully, you need to position yourself as an organized and detail-oriented candidate.
How do you communicate these skills in a cover letter? Use the following checklist:
Included the appropriate header for a business letter.
Address the person receiving the letter by name.
Introduce yourself in the first paragraph.
Provide an interesting hook, showing that you are a great fit for the job.
Share your qualifications in the second paragraph.
In the third paragraph, express interest, and request to meet for an interview.
Use short sentences.
Write in the active voice.
Use bullet points and white space for readability.
Close the letter with 'sincerely' or something similar.
Attach your resume or CV.
ADVICE FROM OUR EXPERT
---
Evaluate the core competencies required for the position you're applying for and incorporate language that creates cohesion between your experience and your new opportunity. A powerful cover letter is the perfect medium to provide the reader with additional insight to your value by providing examples of relevant performance successes in the past.

Claire Webber
Career Consultant, CPCC, CPRW
List Your Skills According to The Job Description
Most job listings for an office assistant will contain the specific technical skills they need you to have. These might include being able to use Microsoft Office 360, have familiarity with Google Docs or the ability to handle a multi-line phone system. Sometimes the job listing may require you to have a certain typing speed. Mention your qualifications that match these requirements. The best place for this is in the second paragraph.
It also makes sense to browse related positions such as an administrative assistant or receptionist to pick up some extra keywords for your cover letter and showcase the versatility of your experience.
Don't Rehash Your Resume
Your resume is the place for details about your education and work history. Your cover letter should emphasize how qualified you are, that you are interested in the position, and that you have the right character for the position.
Pay Close Attention to Grammar and Spelling
For many people, a job as an office assistant is their first job in a professional environment. If you are an entry-level candidate especially, you need to prove that you will work with the needed level of professionalism. Get off on the right foot with your potential employer by writing professionally, and double-checking your spelling and grammar before you submit your letter.
Watch Out For "Gotchas"
These days, it's fairly common for job listings to include very detailed instructions for job applicants. There are two reasons for this. The first is that applications are often handled in a very specific way. To be considered, you need to submit your cover letter and resume exactly as specified. For example, one listing might request that you email a response with your resume attached. Another may require you to visit a website and upload your cover letter and resume as documents.
There's another reason for this. Hiring managers will provide very specific instructions to see if you pay attention to detail, and can follow directions. So, read each job listing carefully. Then be certain that you submit your application as directed. It may seem like a small detail, but it absolutely matters.
Show an Interest in The Company
It only takes a few minutes on Google to find useful information about the company at which you are applying. Take that time to learn a bit about what the company does, their history, and any other interesting tidbits. Weave a few of these details into your letter to show you have made more than a minimal effort to learn something.
Cover Letter Sample For An Office Assistant in .docx Format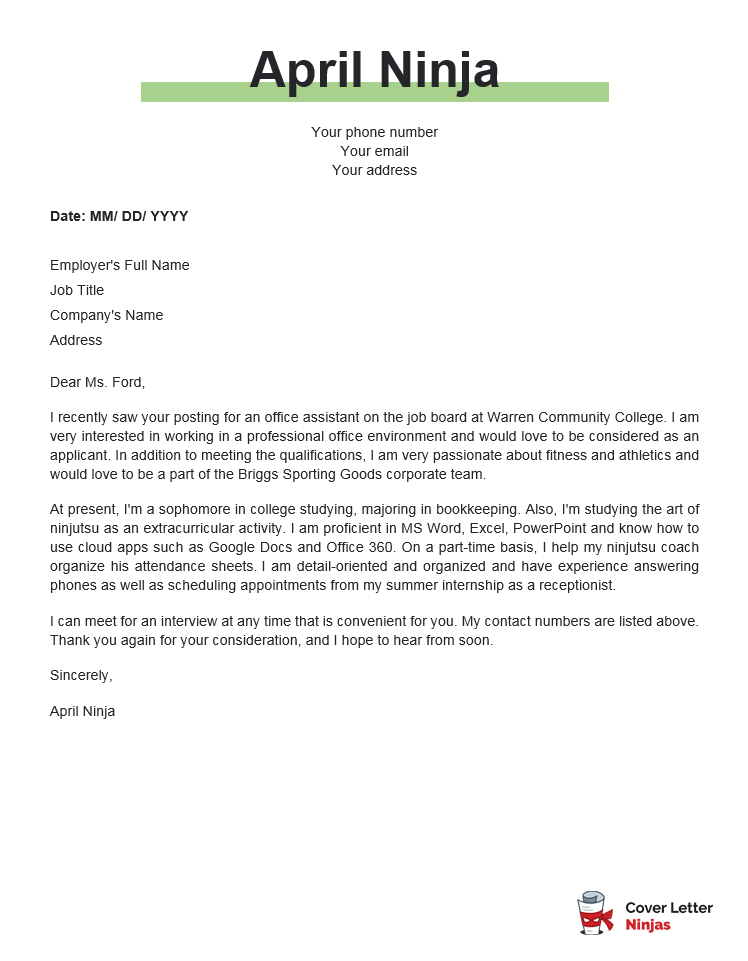 Download example (Word version)
Office Assistant Cover Letter Example – Text Format
Dear Ms. Ford,
I recently saw your posting for an office assistant on the job board at Warren Community College. I am very interested in working in a professional office environment and would love to be considered as an applicant. In addition to meeting the qualifications, I am very passionate about fitness and athletics and would love to be a part of the Briggs Sporting Goods corporate team.
At present, I'm a sophomore in college studying, majoring in bookkeeping. Also, I'm studying the art of ninjutsu as an extracurricular activity. I am proficient in MS Word, Excel, PowerPoint and know how to use cloud apps such as Google Docs and Office 360. On a part-time basis, I help my ninjutsu coach organize his attendance sheets. I am detail-oriented and organized and have experience answering phones as well as scheduling appointments from my summer internship as a receptionist.
I can meet for an interview at any time that is convenient for you. My contact numbers are listed above. Thank you again for your consideration, and I hope to hear from soon.
Sincerely,
April Ninja
Final Thoughts
Email cover letters are the way to go today. Before you submit that cover letter, double-check your email address. If it's cutesy or risque, it's time to replace it with a new one. Consider using your .edu address if you attended college, or get a professional Gmail address. Some combination of first name and last name is ideal. The initials are fine as well!