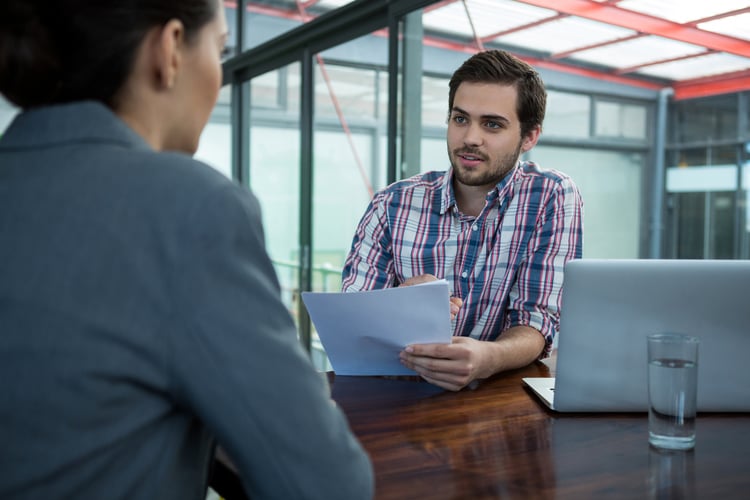 One of the best ways to land a job, especially your first job, is to connect to as many employers as you can. There's no better place to do that than a job fair. Of course, you need to show up armed with a professional appearance, outgoing personality, resume, and cover letter.
But the question is, how do you write a cover letter for job fair events? It's a bit different than sending one for a dedicated job application, but it's something anyone can do with a little help. Start by reading the example letter here and checking out some great tips.
Cover Letter Sample For Job Fair in .docx Format
Here is a great example of a cover letter that a student might take to a university-sponsored job fair.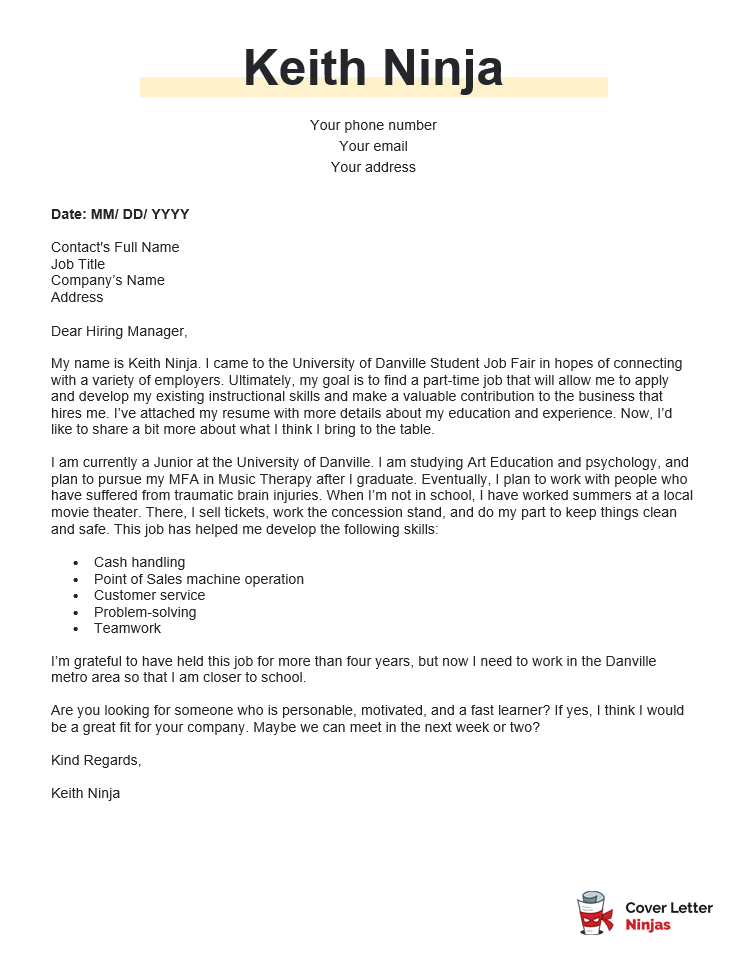 Download example (Word version)
Cover Letter Example For Job Fair – Text Format
Dear Hiring Manager,
My name is Keith Ninja. I came to the University of Danville Student Job Fair in hopes of connecting with a variety of employers. Ultimately, my goal is to find a part-time job that will allow me to apply and develop my existing instructional skills and make a valuable contribution to the business that hires me. I've attached my resume with more details about my education and experience. Now, I'd like to share a bit more about what I think I bring to the table.
I am currently a Junior at the University of Danville. I am studying Art Education and psychology, and plan to pursue my MFA in Music Therapy after I graduate. Eventually, I plan to work with people who have suffered from traumatic brain injuries. When I'm not in school, I have worked summers at a local movie theater. There, I sell tickets, work the concession stand, and do my part to keep things clean and safe. This job has helped me develop the following skills:
Cash handling
Point of Sales machine operation
Customer service
Problem-solving
Teamwork
I'm grateful to have held this job for more than four years, but now I need to work in the Danville metro area so that I am closer to school.
Are you looking for someone who is personable, motivated, and a fast learner? If yes, I think I would be a great fit for your company. Maybe we can meet in the next week or two?
Kind Regards,
Keith Ninja
How to Write a Cover Letter for a Job Fair: Tips
As you can see, this cover letter is a bit different from other cover letter examples we provide for specific positions.
That's because you are not really sure whom you'd click with during the fair. So how do you write a generic cover letter that still makes a solid impression? Here are our tips.
Start With a Generic Outline
Go to the job fair with an open mind. You never know. A company you've never heard of turns out to be the perfect match for you. Of course, since you're casting so wide, it's hard to be specific.
In any other case, you would write a cover letter that was specifically tailored for a single company. When you attend a job fair, you'll be meeting a range of people and sharing your cover letters and resumes with many different companies. So, personalization really won't work. Instead, you'll need to write a one-size-fits-all cover letter.
Start with a general outline:
Think about a certain industry you plan to target
Consider which of your skills and experiences will be the most stand-out
Put down a high-level overview of these
Add a punchy cover letter opening
Round up with a concluding paragraph, offering to check your resume, connect on LinkedIn, or contact you for more details.
ADVICE FROM OUR EXPERT
---
You may not know which positions you will come across at a job fair. This means you will need to have an effective general cover letter. Since the recruiter may see many documents that day, get their attention with a memorable opener by sharing a key accomplishment you achieved.

Debi Douma-Herren
Senior Certified HR Professional & Career Coach
Show Your Personality
There may be hundreds, even thousands of attendees at a job fair. Chances are, the hiring managers accepting applications will probably not remember you. That's why you have to stand out.
Write in a way that is friendly and personable. Talk about your work style, and discuss your ideal work environment. Show how you would be a desirable employee and colleague. Share a unique personal fact or two to really make a mark.
List Your Skills
Think of your hard and soft skills that will be valuable to any employer in a range of Industries. Make a list of those and add them to your cover letter. Use bullet points to make them stand out similarly to how the writer did in the sample above.
Use Impeccable Spelling and Grammar
Once again, a job fair may generate hundreds of applicants for any position. Use your professionalism and attention to detail to stand out. Your cover letter should be painstakingly edited so there are no spelling or grammar mistakes. Take your time doing this. Invest in grammar and spell-check app.
Final Tip: Do Some Preliminary Research
Don't lose your house to attend a job fair without learning as much as possible about the attending companies. If you can identify which employers are most interesting to you beforehand, you can better plan your time at the job fair. You may be able to find some information about the companies that will be present on the job fair's website, as well as any specific schedules for other activities and events.
New to the Workforce? Check Other Entry-Level Cover Letters