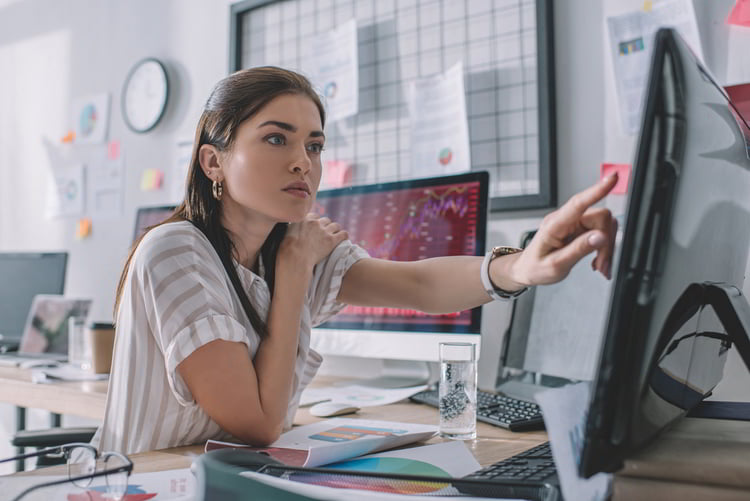 Big data is a big boon for organizations. It is estimated that unstructured and semi-structured data make up 80% of the data collected by enterprises. In the hands of a skilled data analyst, those terabytes get translated into actionable business insights around customer behaviors, business operations, and market trends. It's a pretty interesting role for someone who loves statistics, business analysis, and data modeling tasks, as well as has good attention to detail and presentation skills.
If you're a data analyst, you may already have a resume full of exciting accomplishments and technical skills. But you also need to communicate your experience in a less condensed (and perhaps confusing way). That's what the cover letter is for! Take a look at our quick 'n' effective writing tips, followed by a data analyst cover letter sample.
Sell Yourself in The First Paragraph
The hiring manager has probably received dozens of cover letters for the job. As you can imagine they are busy and in a hurry. Hence, many skim and scan incoming resumes and cover letters instead of properly reading them.
Because of this, it's important to include your biggest selling points in the first paragraph, as well as introducing yourself. This includes:
Your name
The position you are applying for
How you found out about the position
Your more relevant qualifications
If they only read that far, they'll at least know your name, your purpose for applying, and that you're qualified. That could be enough to get you moved to the next stage of the interviewing process.
ADVICE FROM OUR EXPERT
---
With data-driven jobs, it's critical to emphasize your capacity for leveraging data and research to drive new insights. Hiring managers are looking for candidates with advanced analytical and critical thinking skills, so any experience or achievements you can include in your cover letter will help position you as a quality candidate.

Claire Webber
Career Consultant, CPCC, CPRW
Provide a Walkthrough of Your Accomplishments
Data analysts take raw datasets, then clean, organize, and visualize them for wider usage. They then present their findings in an easy-to-grasp way. So that business users could apply those insights to solve pressing organizational problems, devise new strategies, and overall make more informed decisions on all-things-corporate.
In your cover letter, you should clearly communicate what type of intel you can obtain for the employer. Share a brief yet specific example of how your skills helped a company gain a positive outcome. Be sure you quantify the end result so the positive impact is clear.
For example:
"In my current position as a marketing data analyst at Wortham Shipping, I led a project team that converted 5 years of historical marketing data in order to provide much-needed insights to the Chief Marketing Officer. This information was used to drive a new digital marketing strategy that led directly to a 20% increase in sales."
Use a Friendly, Yet Professional Tone
Data analysts are in a unique position. Much of the work you do is very technical. At the same time, you will spend a lot of your workday communicating with non-technical people such as business analysts, line of business managers, and others. Essentially, you are the intermediary between raw data and high-level business insights from the users. 
Hence, you won't be able to avoid tech-speak in your letter completely. After all, you will need to mention some very technical skills you have and list the tools your work with. Still, try to maintain a conversational yet professional tone that is appropriate for a non-tech audience. Remember, if you are unable to write a cover letter in business terms, how will you convey this information to business users on the job?
Data Analyst Cover Letter Sample in .docx Format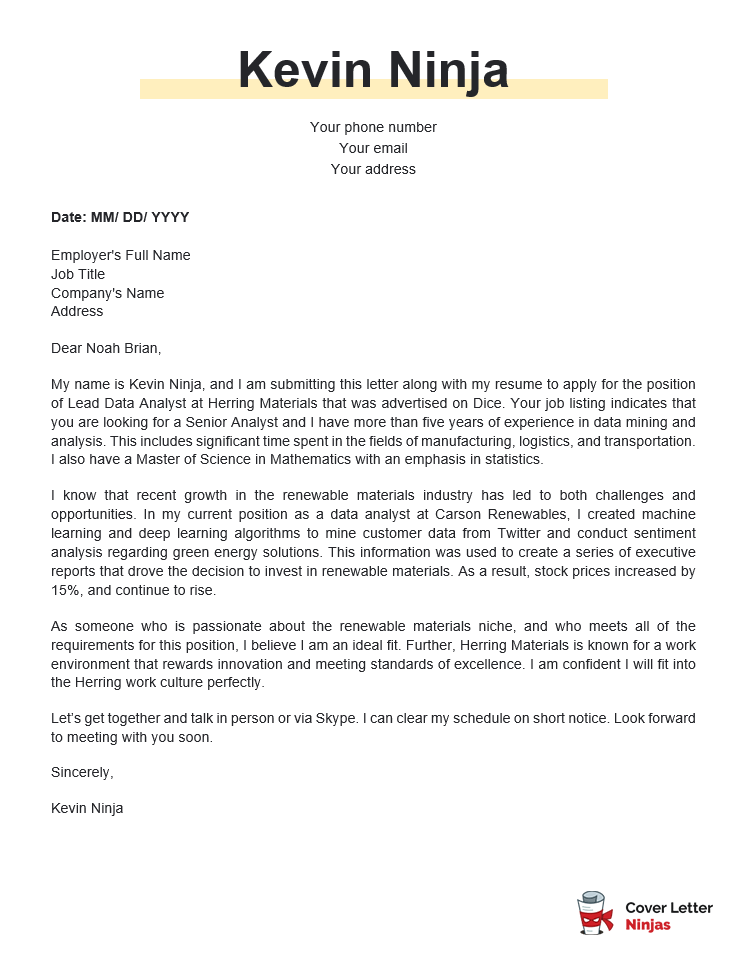 Download example (Word version)
Data Analyst Cover Letter Example – Text Format
Dear Noah Brian,
My name is Kevin Ninja, and I am submitting this letter along with my resume to apply for the position of Lead Data Analyst at Herring Materials that was advertised on Dice. Your job listing indicates that you are looking for a Senior Analyst and I have more than five years of experience in data mining and analysis. This includes significant time spent in the fields of manufacturing, logistics, and transportation. I also have a Master of Science in Mathematics with an emphasis in statistics.
I know that recent growth in the renewable materials industry has led to both challenges and opportunities. In my current position as a data analyst at Carson Renewables, I created machine learning and deep learning algorithms to mine customer data from Twitter and conduct sentiment analysis regarding green energy solutions. This information was used to create a series of executive reports that drove the decision to invest in renewable materials. As a result, stock prices increased by 15%, and continue to rise.
As someone who is passionate about the renewable materials niche, and who meets all of the requirements for this position, I believe I am an ideal fit. Further, Herring Materials is known for a work environment that rewards innovation and meeting standards of excellence. I am confident I will fit into the Herring work culture perfectly.
Let's get together and talk in person or via Skype. I can clear my schedule on short notice. Look forward to meeting with you soon.
Sincerely,
Kevin Ninja
Final Tip: Show That You Know The Company
In the letter above, the writer successfully mentions the challenges that 'Herring Materials' was facing due to the growth of the renewable materials niche. Not only that, but he also details how he solved a similar problem for his current employer. In just a few sentences, he showed that he had researched his potential employer carefully, and detailed how he has directly relevant experience.