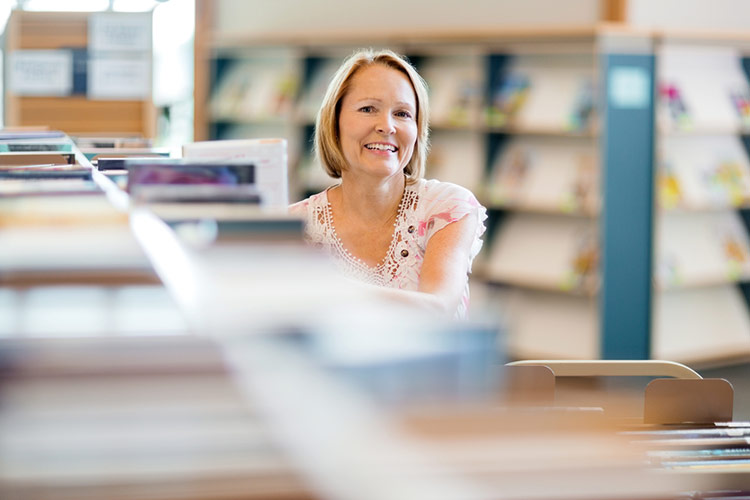 If you work as a librarian, you know that your job is widely misunderstood. You do much more than just re-shelf books and shush patrons. Librarians are expert researchers, avid book lovers and readers, understand the needs of their community, and create library policies to meet the needs of their visitors. That's in addition to setting a budget, hiring and training staff, and maintaining relationships with key stakeholders in the community.
Being a librarian is a rather rewarding job. Now the question is: how do you make your job application stand out? With a compelling and well-written cover letter that shows just how well you'll fit the community. Below are your tips for that, followed by an amazing librarian cover letter sample.
Mention Your Specialty — "Public", "Academic", or "Specialist" Librarian
The format and content of the cover letter you write will change depending on the position you are pursuing. For example, if you want to land a job as an academic or school librarian, you may want to speak more to your understanding of different research methods. Then, you'd include a CV in many cases instead of a resume. For a position at a public library, you may want to place a stronger focus on your social skills and community involvement. For instance, you can mention a children's program you developed at your local library.
Finally, if you're going to work in a special library, focus on subject expertise. A specialist might work in a law library, a museum, a genealogy library, even for a corporation. Ultimately, your letter should speak to both your skills as a librarian and the library's specialty.
ADVICE FROM OUR EXPERT
---
As a librarian, you have a unique opportunity to foster the learning and growth of others. Creating connection points between your experience, target opportunity, and passion for empowering others is an excellent way to promote hiring manager engagement in response to your cover letter.

Claire Webber
Career Consultant, CPCC, CPRW
Research and Volunteer Work is Relevant
Don't get discouraged by your lack of prolific experience. Instead, fall back on the skills and competencies that you've developed through other lines of work. For instance, you can use work on research projects to demonstrate that you understand how the library system works and what constitutes good research.
Have you volunteered as a library assistant in your local community? Be sure to mention that too! Your volunteering experience is a good way to demonstrate that you are service-oriented and connected with the people in your area.
Show Your Tech Skills
If you have the right technical skills, your chances of landing an interview improve significantly. First of all, you should mention your basic proficiency such as:
Knowledge of Microsoft Office business applications
Abilities to use digital databases and conduct research
Familiarity with any digital cataloging software
Also, some progressive libraries, especially close to research facilities and Unis, now come equipped with loads of new tech. So if you happen to know how to operate a 3D printer, set and configure up projectors for visual installations or use RFID tech, give that information a prominent placement in your cover letter.
You should also demonstrate your proficiency in one or more library automation platforms. Most libraries these days will expect you to know:
How to register new users
Creare digital library cards
Check book statuses online and so on.
Cover Letter Sample for a Librarian – .docx Format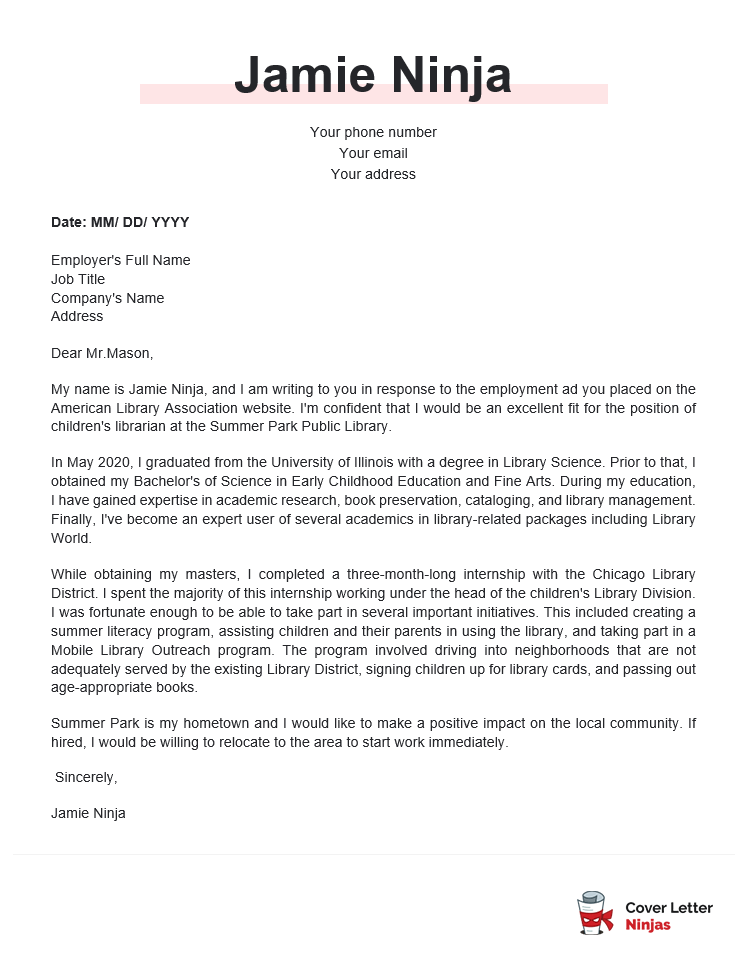 Download example (Word version)
Librarian Cover Letter Example – Text Format
Dear Mr.Mason,
My name is Jamie Ninja, and I am writing to you in response to the employment ad you placed on the American Library Association website. I'm confident that I would be an excellent fit for the position of children's librarian at the Summer Park Public Library.
In May 2020, I graduated from the University of Illinois with a degree in Library Science. Prior to that, I obtained my Bachelor's of Science in Early Childhood Education and Fine Arts. During my education, I have gained expertise in academic research, book preservation, cataloging, and library management. Finally, I've become an expert user of several academics in library-related packages including Library World.
While obtaining my masters, I completed a three-month-long internship with the Chicago Library District. I spent the majority of this internship working under the head of the children's Library Division. I was fortunate enough to be able to take part in several important initiatives. This included creating a summer literacy program, assisting children and their parents in using the library, and taking part in a Mobile Library Outreach program. The program involved driving into neighborhoods that are not adequately served by the existing Library District, signing children up for library cards, and passing out age-appropriate books.
Summer Park is my hometown and I would like to make a positive impact on the local community. If hired, I would be willing to relocate to the area to start work immediately.
Sincerely,
Jamie Ninja
Final Tip: Mention Your Community Ties
Because this is a public-facing job where your ability to meet the needs of the local community is key, you must show you care about the community in which you'll be working. If you include just a few brief statements about your connections to the local community, you will demonstrate that you value and prioritize those connections.