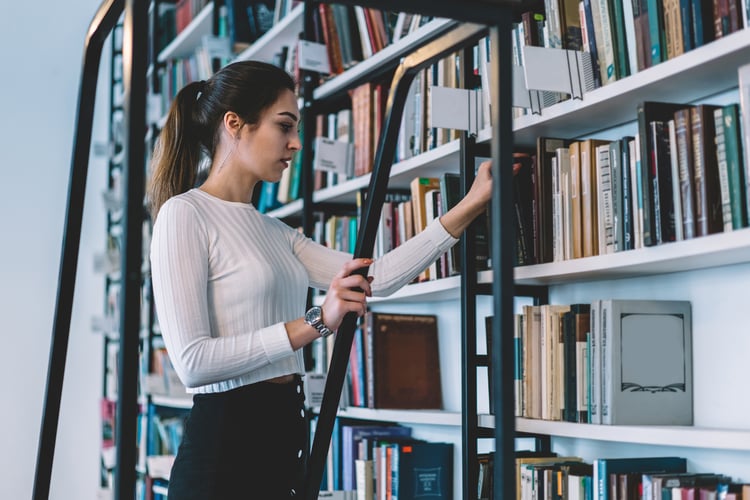 When you go to the library and ask for help doing research, finding a book, paying your overdue fines, or using any of the other valuable resources they have, the person who helps you is a library assistant. These knowledgeable folks are also sometimes referred to as library technicians.
They take care of all the day-to-day work of running a library. This is enjoyable, rewarding work, especially for a booklover. If you'd like to pursue a job as a library assistant, you need to start with a great cover letter.
Not sure where to begin with that? Keep reading! We have a cover letter example for library assistant and some great writing tips.
Cover Letter Sample For Library Assistant in .docx Format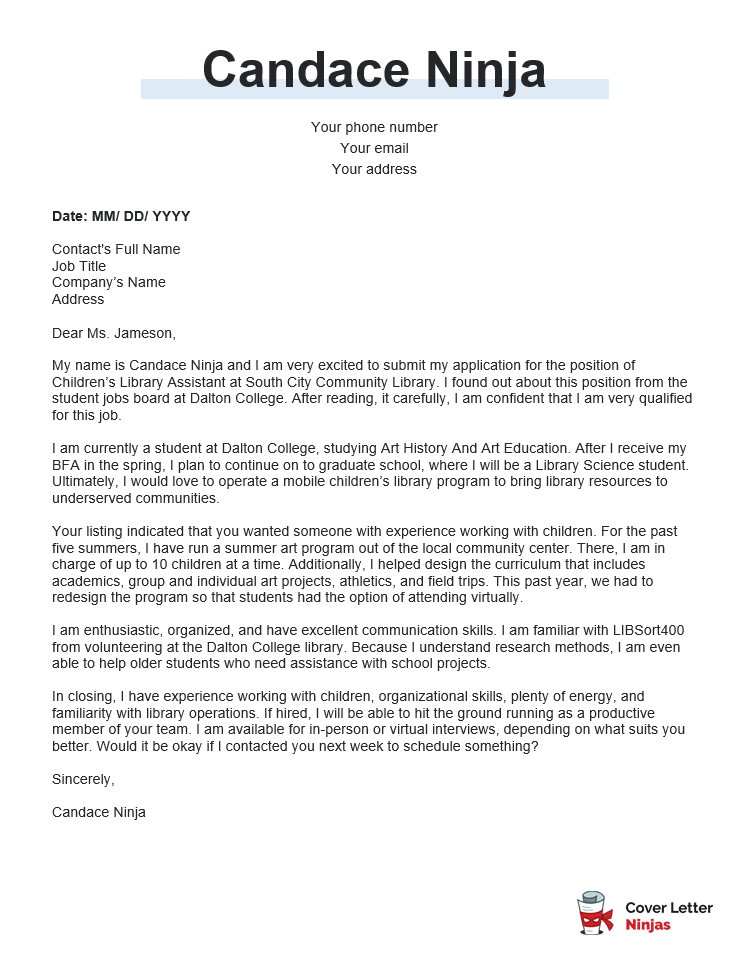 Download example (Word version)
Cover Letter Example For Library Assistant – Text Format
Dear Ms. Jameson,
My name is Candace Ninja and I am very excited to submit my application for the position of Children's Library Assistant at South City Community Library. I found out about this position from the student jobs board at Dalton College. After reading, it carefully, I am confident that I am very qualified for this job.
I am currently a student at Dalton College, studying Art History And Art Education. After I receive my BFA in the spring, I plan to continue on to graduate school, where I will be a Library Science student. Ultimately, I would love to operate a mobile children's library program to bring library resources to underserved communities.
Your listing indicated that you wanted someone with experience working with children. For the past five summers, I have run a summer art program out of the local community center. There, I am in charge of up to 10 children at a time. Additionally, I helped design the curriculum that includes academics, group and individual art projects, athletics, and field trips. This past year, we had to redesign the program so that students had the option of attending virtually.
I am enthusiastic, organized, and have excellent communication skills. I am familiar with LIBSort400 from volunteering at the Dalton College library. Because I understand research methods, I am even able to help older students who need assistance with school projects.
In closing, I have experience working with children, organizational skills, plenty of energy, and familiarity with library operations. If hired, I will be able to hit the ground running as a productive member of your team. I am available for in-person or virtual interviews, depending on what suits you better. Would it be okay if I contacted you next week to schedule something?
Sincerely,
Candace Ninja
How to Write a Library Assistant Cover Letter
Now let's get down to practice and help you create a similarly amazing cover letter! We've got a simple step by step framework for writing:
Start with sharing your value proposition
Include a range of relevant skills
Provide examples
Edit, edit, edit!
Share Your Value Proposition
It's okay to talk about your enthusiasm for the job and future career plans. However, what you really want to show in your cover letter is your value proposition. This is essentially what you bring to the employer right here and right now.
So first of all, focus on answering this question in your cover letter: Your job is to answer the question: "What can you do for us if we hire you?". Note in the letter above, the writer closes by listing her relevant skills and assuring the reader that she is ready to be productive and effective as soon as she is hired. That is her value proposition.
ADVICE FROM OUR EXPERT
---
An often-overlooked qualification for a library assistant position is the ability to use technology effectively and efficiently. Library assistants often need to help patrons with equipment and use computers to check out materials. Highlight what technology you are familiar with and ability to learn technology quickly.

Debi Douma-Herren
Senior Certified HR Professional & Career Coach
Show A Range Of Skills
A librarian is an excellent position for a jack of many trades. The best library assistants are generalists because they must be able to successfully complete a range of tasks and use many skills on any given day. Because of that, feel free to speak out about the wide array of capabilities that you have. 
Some good skills for a library assistant are as follows:
Digital literacy skills (online business software, catalogs, web research, etc)
Interpersonal skills
Teaching/tutoring experience
Organizational skills
Written and verbal communication
Now, this differs from other cover letter advice, where you may be told to focus on just a couple of skills. Here, you want to show that you can do a little of everything.
Give Some Examples
When you offer an example or two, you cause the hiring manager to see you completing tasks successfully. Further, it gives you the opportunity to really speak about your enthusiasm and abilities at the same time. This is particularly helpful if you don't have much experience.
Consider the example above. There, the writer details the skills she used to run a children's summer camp. She made it easy for the reader to see how the work she did would be relevant to working as a children's library assistant.
Edit Carefully
If anyone needs to be literate and well-written, it should be a library assistant. Carefully review your writing and correct any mistakes. Then, read your letter again. Ensure that it is clear and concise, you want it to communicate your talents, experience, and enthusiasm.
Final Tip: Keep The Ball Rolling
Don't let the hiring manager put your application on the back burner. When you finish your letter, make sure you get them thinking about calling you in for an interview. You'll show how interested you are, and help ensure you will move to the next step.