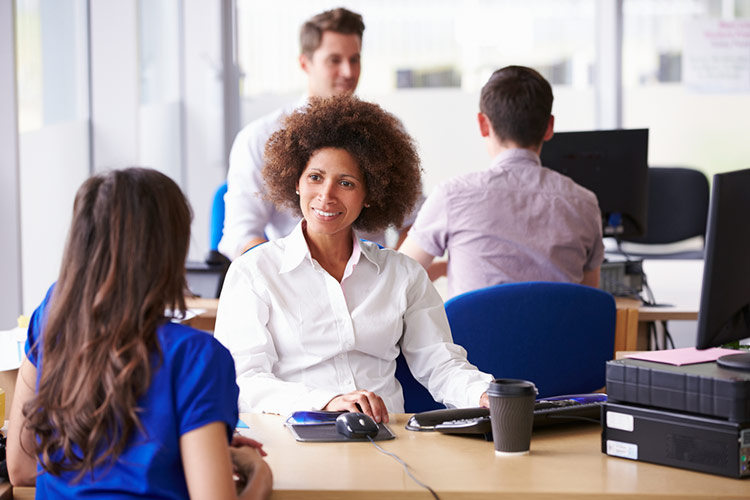 In a college or university, the student services department works to ensure each student has the best chance at success. The student services team is a one-stop-shop for all sorts of assistance, ranging from academic support, disability services, referrals to counseling and other mental health support systems, career services, even food-related assistance. In many cases, student services are also in charge of university events and activities.
As director of student services, you lead all of these efforts. You need a great resume and cover letter to showcase your capabilities. Here, we provide some essential cover letter tips, and a director of student services cover letter sample.
Address The Key Duties of Your Position
This is a position in which your duties can vary significantly from one institution to another. For example, in a small college, the director of student services may be responsible for overseeing academic-related services, health and social services, and student activities. At a large university, athletics and student activities might be handled by another director entirely.
So ensure that you have a clear understanding of the expectations of the position. Then, focus on these in your cover letter. This will help you to eliminate information that isn't relevant, and write a more introduction of yourself.
ADVICE FROM OUR EXPERT
---
As a leader in student services, it's important for your cover letter to articulate your previous experience, relevant training, and passion for higher education; however, do not rely solely on your past success to secure new role. As your new employer will trust your ability to provide student guidance, help give them confidence in your "soft skills" such as integrity, responsibility, and student empowerment.

Claire Webber
Career Consultant, CPCC, CPRW
Show That You Can Delegate Effectively
Your most important skill may be your ability to direct and empower others to do their jobs. Rather than taking on dozens of tasks, the best directors are capable of hiring, training, then delegating to skilled staff members. Use your cover letter to demonstrate how you can manage a team effectively. Here's an example:
"In the past three years as assistant director of student affairs at Clarendon College, I have ensured that every staff member has gone through a proven leadership program. Thanks to these skills, I can entrust my team with any task that falls to them."
Mention Key Initiatives And Your Successes
Consider your current position and experience. Then, carefully cherry-pick 3 to 5 successes for which you are particularly proud. Write about these in your cover letter with a focus on the end results. In other words, instead of saying this:
"I led an effort to replace outdated student assessments."
Try writing this:
"I managed the move from manual to online assessments allowing academic support specialists to increase productivity by more than 15%."
You'll have more success in getting the hiring director to see your efforts as successful if you quantify them with numbers, and frame them with a results-oriented perspective.
Detail How You Fit The School's Culture
No matter where you work, many of your duties will remain consistent. Your job will be to lead a team of professionals to ensure that the needs of students are met. Even so, how you do your job will be influenced by the school culture. After all, ensuring that a student has a successful academic career at a top-ranked business school is going to require a different approach than assisting a non-trad student attending a commuter college.
Use your cover letter to show that you understand the values and climate of the school and that your management style will fit. Here's a brief example:
"I understand that students at Warden Business School are under immense pressure to perform at the highest academic standards. I believe my job is to provide them with the resources to meet those challenges, and I take that responsibility very seriously."
Director of Student Services Cover Letter Sample in .docx Format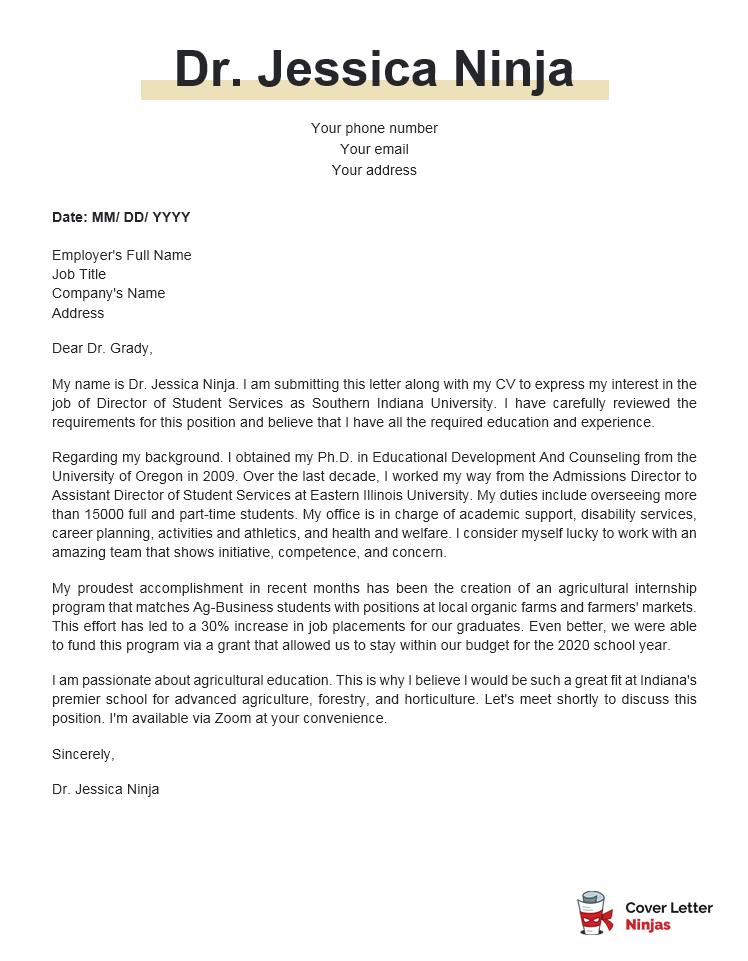 Download example (Word version)
Director of Student Services Cover Letter Example – Text Format
Dear Dr. Grady,
My name is Dr. Jessica Stevens. I am submitting this letter along with my CV to express my interest in the job of Director of Student Services as Southern Indiana University. I have carefully reviewed the requirements for this position and believe that I have all the required education and experience.
Regarding my background. I obtained my Ph.D. in Educational Development And Counseling from the University of Oregon in 2009. Over the last decade, I worked my way from the Admissions Director to Assistant Director of Student Services at Eastern Illinois University. My duties include overseeing more than 15000 full and part-time students. My office is in charge of academic support, disability services, career planning, activities and athletics, and health and welfare. I consider myself lucky to work with an amazing team that shows initiative, competence, and concern.
My proudest accomplishment in recent months has been the creation of an agricultural internship program that matches Ag-Business students with positions at local organic farms and farmers' markets. This effort has led to a 30% increase in job placements for our graduates. Even better, we were able to fund this program via a grant that allowed us to stay within our budget for the 2020 school year.
I am passionate about agricultural education. This is why I believe I would be such a great fit at Indiana's premier school for advanced agriculture, forestry, and horticulture. Let's meet shortly to discuss this position. I'm available via Zoom at your convenience.
Sincerely,
Dr. Jessica Ninja
Final Tip: Don't Forget The Administrative Side of The Job
Don't forget to mention that you are capable of handling the administrative duties that come with this position. Indicate that you can work within a budget, manage communications, and provide appropriate employee guidance.
Lastly, wrap your letter in an attractive cover letter template and send it with confidence!