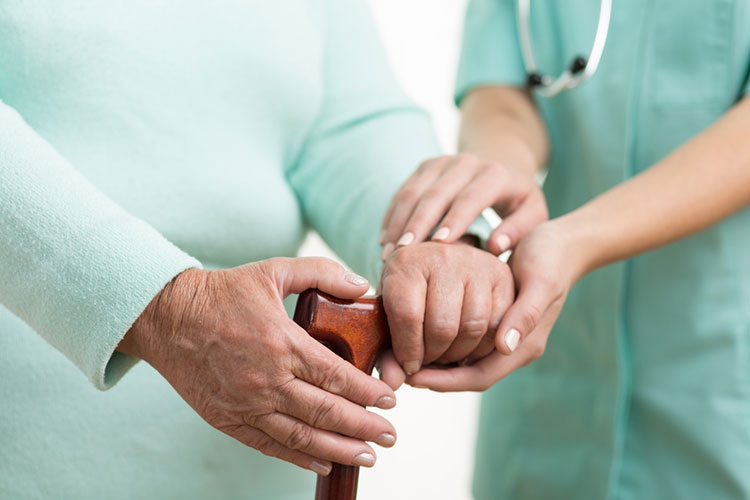 A Certified Nursing Assistant (CNA) administers important care to patients in hospitals, medical clinics, nursing homes, and hospice care centers. They are often the people that patients see day in and day out.
A CNA is often tasked with some of the most labor-intensive work when it comes to patient care. They must also interact with these patients while maintaining a pleasant and friendly demeanor. In many regions, there is a growing demand for CNAs. For some, this is the first step in a rewarding healthcare career. To land the best possible job, you'll need a great resume and cover letter.
This piece will help you to understand what it takes to write a cover letter that gets results. Check out the tips below, then read the CNA cover letter sample provided at the end of the post.
Address The Hiring Authority by Name
Don't open your cover letter with 'Dear Sir or Madam' or 'To Whom It May Concern'. That's lazy and impersonal. Instead, do some research to find the name of the hiring authority. This will personalize your letter and show that you are interested enough to find out who will be making the final decision.
List Your Relevant Skills
Two different Certified Nurse's Aides can have very different skill sets. So be upfront about what you can and cannot do to avoid any potential misunderstandings. For example, a CNA working with disabled patients may know the protocols for moving patients from bed to wheelchair, etc. A CNA who works at an urgent care center may be able to dress wounds and collect information from injured patients. Thus always provide a concise list of your skills in your cover letter. If you have worked in another nursing field, for example as an ICU nurse or an LPN, give that information a prominent placement too.
Show a Commitment to Patient Care
This is the most important part of your letter. Many medical facilities are willing to train you in their methodologies. Some will even help you obtain your license if you are a trainee. What most hiring managers want to know is that you commit to providing the best possible care to patients, even under the most stressful conditions. Consider giving an example of a time when you went above and beyond to ensure that a patient's needs were met.
ADVICE FROM OUR EXPERT
---
Healthcare companies like to advertise their mission statement and core values. (you can usually find this easily on their website!). If you can tie your patient care experience directly to the mission statement, your cover letter will be set apart from the other applicants!

Mary Ford
Executive Career Coach
List Any Relevant Licenses and Certificates
Many job listings will have specific requirements regarding your CNA license and other professional credentials. Mention the relevant ones in your letter. You don't need to go into great detail. Save that for your resume, but list them in case the hiring manager is scanning your cover letter for specific keywords.
Leave Out Any Negatives
If you discuss your previous employer, do so only in the most positive terms. Even if your experience was negative, focus on the skills you picked up and the experience that you gained.
Edit and Proofread Your Letter
Before you send the email that contains your cover letter, you should make sure that it meets the highest standards. As a CNA, you will be expected to pay great attention to detail and take pride in your work. Don't let sloppy mistakes hold you back. Use a spelling and grammar checking tool to double-check your work. You can also have a trusted friend or family member take a second look to be sure that your letter communicates what you want it to. Lastly, compare your letter against samples in other industries to ensure that you have a proper tone and nice information flow.
Cover Letter Example for CNA in .docx Format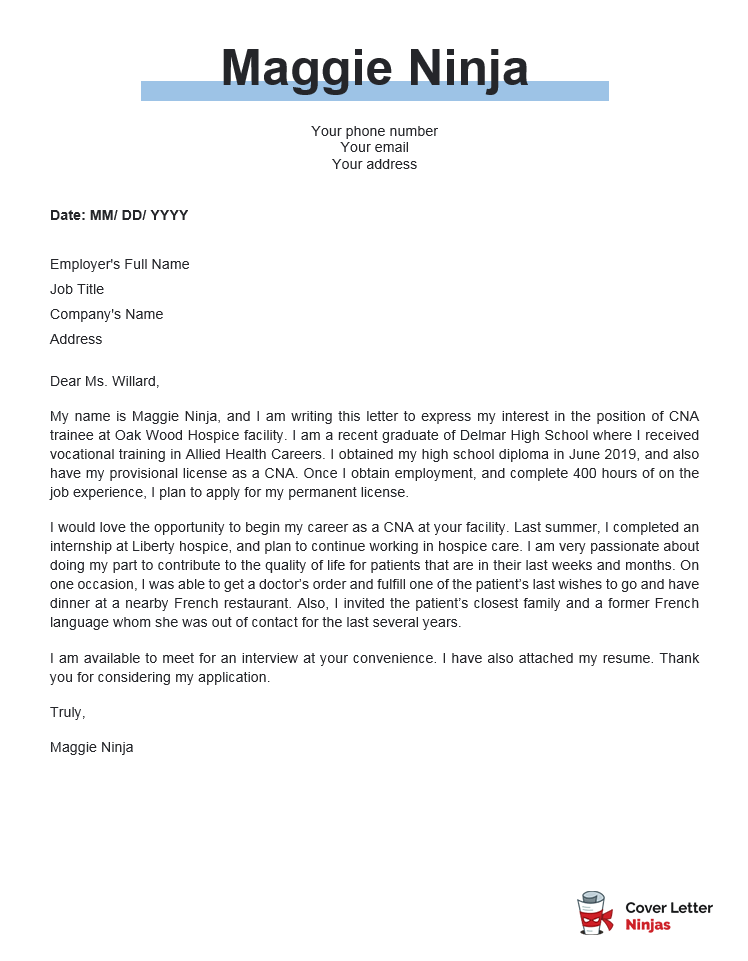 Download example (Word version)
CNA Cover Letter Example – Text Format
Dear Ms. Willard,
My name is Maggie Ninja, and I am writing this letter to express my interest in the position of CNA trainee at Oak Wood Hospice facility. I am a recent graduate of Delmar High School where I received vocational training in Allied Health Careers. I obtained my high school diploma in June 2019, and also have my provisional license as a CNA. Once I obtain employment, and complete 400 hours of on the job experience, I plan to apply for my permanent license.
I would love the opportunity to begin my career as a CNA at your facility. Last summer, I completed an internship at Liberty hospice, and plan to continue working in hospice care. I am very passionate about doing my part to contribute to the quality of life for patients that are in their last weeks and months. On one occasion, I was able to get a doctor's order and fulfill one of the patient's last wishes to go and have dinner at a nearby French restaurant. Also, I invited the patient's closest family and a former French language whom she was out of contact for the last several years.
I am available to meet for an interview at your convenience. I have also attached my resume. Thank you for considering my application.
Truly,
Maggie Ninja
Final Thoughts
A carefully written cover letter that illustrates your skills and concern for patients is a priceless asset in your job search. Be sure to demonstrate your deep commitment to the job along with personal qualities such as empathy and compassion when applying for CNA jobs.