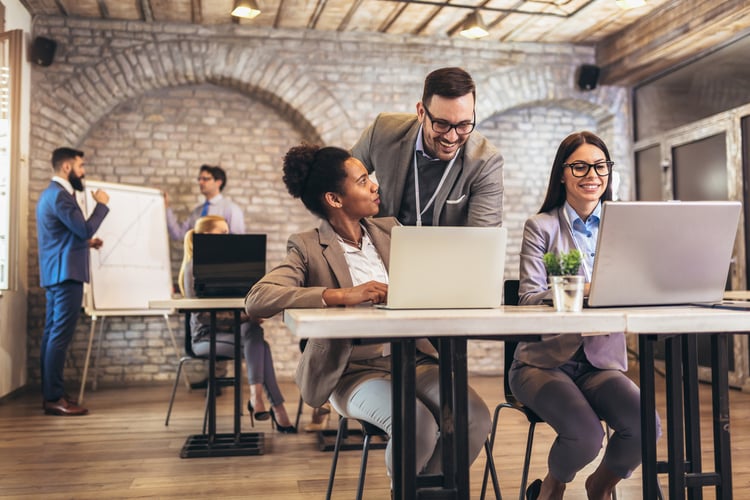 Over the past two years, the IT industry has experienced yet another period of rapid growth. Businesses and consumers alike shifted online in a mere matter of months. Few are now looking back to returning to "analog" operations. So by the end of 2022, the US IT sector is projected to exceed $5.3 billion and keep growing at 5%-6% year on year.
It follows that jobs in IT are aplenty too. This includes non-programming roles like IT support specialists. If you have basic digital literacy skills, paired with a passion for technology and learning, this position might be right up your alley.
IT support specialists provide a broad range of customer services — from basic phone support to more complex technical issue resolution. This role requires an analytical mindset and some good soft skills. You should display both in your cover letter.
In this post, we show you how to write a winning letter by providing a sample IT support cover letter and some bonus writing tips.
IT Support Cover Letter in Word Format
Below is a letter for an entry-level (Tier 1) IT support position in a big tech company.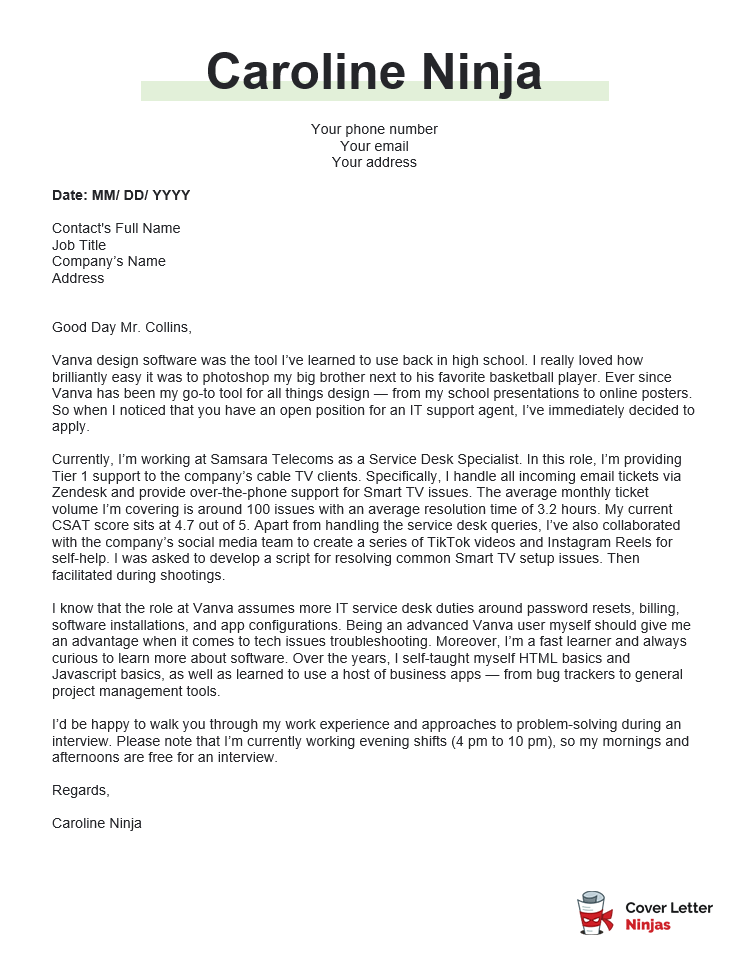 IT Support Cover Letter Example – Text Format
Good Day Mr. Collins,
Vanva design software was the tool I've learned to use back in high school. I really loved how brilliantly easy it was to photoshop my big brother next to his favorite basketball player. Ever since Vanva has been my go-to tool for all things design — from my school presentations to online posters. So when I noticed that you have an open position for an IT support agent, I've immediately decided to apply.
Currently, I'm working at Samsara Telecoms as a Service Desk Specialist. In this role, I'm providing Tier 1 support to the company's cable TV clients. Specifically, I handle all incoming email tickets via Zendesk and provide over-the-phone support for Smart TV issues. The average monthly ticket volume I'm covering is around 100 issues with an average resolution time of 3.2 hours. My current CSAT score sits at 4.7 out of 5. Apart from handling the service desk queries, I've also collaborated with the company's social media team to create a series of TikTok videos and Instagram Reels for self-help. I was asked to develop a script for resolving common Smart TV setup issues. Then facilitated during shootings.
I know that the role at Vanva assumes more IT service desk duties around password resets, billing, software installations, and app configurations. Being an advanced Vanva user myself should give me an advantage when it comes to tech issues troubleshooting. Moreover, I'm a fast learner and always curious to learn more about software. Over the years, I self-taught myself HTML basics and Javascript basics, as well as learned to use a host of business apps — from bug trackers to general project management tools.
I'd be happy to walk you through my work experience and approaches to problem-solving during an interview. Please note that I'm currently working evening shifts (4 pm to 10 pm), so my mornings and afternoons are free for an interview.
Regards,
Caroline Ninja
More Relevant Cover Letter Examples:
Tips for Writing a Cover Letter for IT Support
IT support roles are a perfect fit for people with a curious mind and an affinity for problem-solving. Apart from good logical thinking skills, you must also have excellent attention to detail and memory. After all, you'd be asked to follow a host of standard procedures and scrips to ensure fast, effective, and compliant issue resolution. Your cover letter should demonstrate that you excel at all of the above. Here's how to do that.
Show That You Know the Metrics
IT support people must ensure fast customer issue resolution. Otherwise, a disgruntled customer will go on a public rant somewhere online, which would affect the company. Show that you understand the importance of good customer service by bringing up some of the metrics from your last job.
Popular IT support metrics to mention in a cover letter are:
Customer Satisfaction Score (CSAT)
Average First Response Time
Average Ticket (Issue) Resolution Time
Daily/Monthly/Weekly Ticket Volume
First Contact Resolution (FCR) Rate
Resolution SLA %
You can easily look up your stats in your profile or ask the manager to share some feedback with your numbers.
Display Enthusiasm for Learning
As an IT support agent, you'll need to learn a ton of new stuff — company policies, customer service tools, and the product itself. No one expects you to come and know all the nitty-gritty immediately, but employers will expect you to be a fast and engaged learner. Show that this is who you are by mentioning some of the tools you already know how to use, paired with any extra training you've completed.
Highlight Your Creative Side
All organizations have standard operating procedures (SOPs) for troubleshooting and issue resolution. As an IT support agent, you must follow these. Still, policies often have gaps or inconsistencies. Therefore, it's a good idea to show that you can provide creative solutions to the customer issues, instead of just escalating or re-directing tickets to someone else.
This can be best illustrated with a quick example:
"In my last role, I've retained a high FCR rate of 88% by proposing several resolution options for a customer. In fact, I once helped them identify and resolve a bug in the software — and then reported my findings to the QA team, which fixed it in the new interaction."
Final Tip: Select the Right Tone
As an IT support agent, you'll have to be both professional and amicable when chatting to customers. Some companies prefer a more 'corporate' style of communication. Others err on the conversational side and allow agents to use emojis and slang. Before you file your cover letter, review the company website. Think where their tone of voice sits on the spectrum. Then try to mimic it in your cover letter.