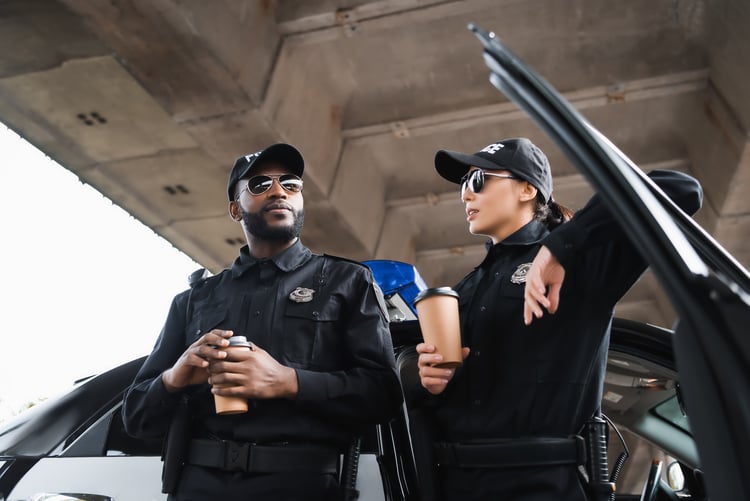 A probation officer works with offenders to help them comply with the conditions of their sentence, and make positive changes in their life. They are responsible for keeping track of their cases, ensuring that everybody under their care complies with the law, and even taking people into custody.
A probation officer helps keep the community safe. They can also help people turn their lives around. This can be a rewarding job, albeit an emotionally taxing one. Show that you are up for this task in your cover letter.
Probation Officer Cover Letter Sample for Word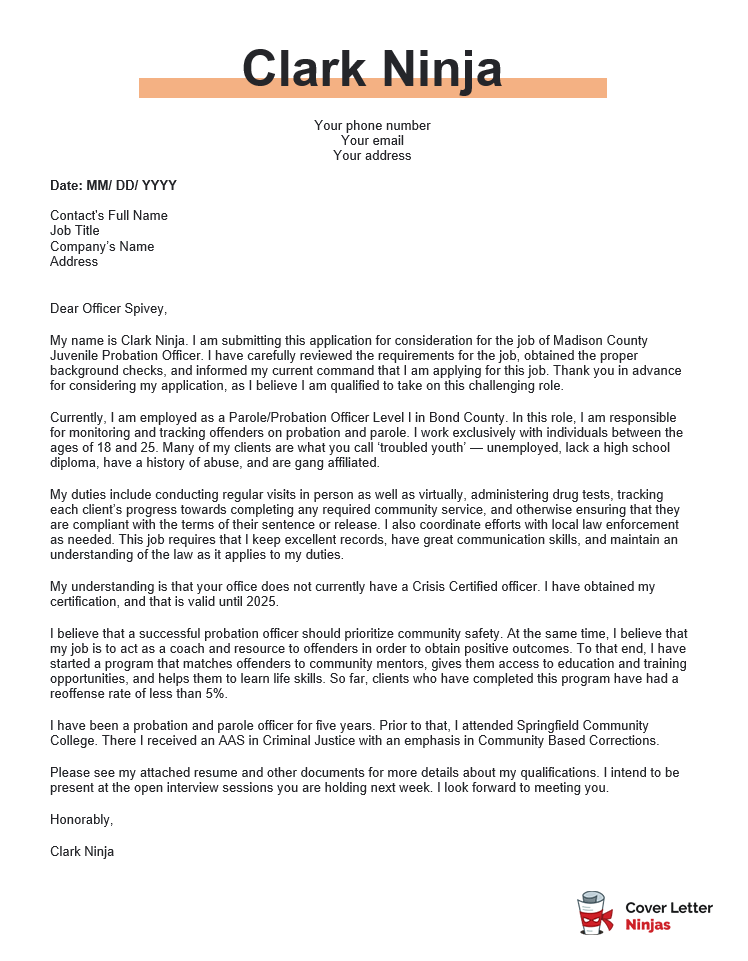 Cover Letter For Probation Officer – Text Format
Dear Officer Spivey,
My name is Clark Ninja. I am submitting this application for consideration for the job of Madison County Juvenile Probation Officer. I have carefully reviewed the requirements for the job, obtained the proper background checks, and informed my current command that I am applying for this job. Thank you in advance for considering my application, as I believe I am qualified to take on this challenging role.
Currently, I am employed as a Parole/Probation Officer Level I in Bond County. In this role, I am responsible for monitoring and tracking offenders on probation and parole. I work exclusively with individuals between the ages of 18 and 25. Many of my clients are what you call 'troubled youth' — unemployed, lack a high school diploma, have a history of abuse, and are gang affiliated.
My duties include conducting regular visits in person as well as virtually, administering drug tests, tracking each client's progress towards completing any required community service, and otherwise ensuring that they are compliant with the terms of their sentence or release. I also coordinate efforts with local law enforcement as needed. This job requires that I keep excellent records, have great communication skills, and maintain an understanding of the law as it applies to my duties.
My understanding is that your office does not currently have a Crisis Certified officer. I have obtained my certification, and that is valid until 2025.
I believe that a successful probation officer should prioritize community safety. At the same time, I believe that my job is to act as a coach and resource to offenders in order to obtain positive outcomes. To that end, I have started a program that matches offenders to community mentors, gives them access to education and training opportunities, and helps them to learn life skills. So far, clients who have completed this program have had a reoffense rate of less than 5%.
I have been a probation and parole officer for five years. Prior to that, I attended Springfield Community College. There I received an AAS in Criminal Justice with an emphasis in Community Based Corrections.
Please see my attached resume and other documents for more details about my qualifications. I intend to be present at the open interview sessions you are holding next week. I look forward to meeting you.
Honorably,
Clark Ninja
Writing Tips For Your Probation Officer Cover Letter
A good cover letter shouldn't run more than one page. That means you have roughly 350 words to summarize the bulk of your work experience and personal traits. If you are struggling to be both informative and brief, take a look at the following writing tips.
Follow Procedure
Most probation officer jobs assume employment either with a federal government agency or as an independent contractor. Because of this, you may be required to follow specific procedures when applying. This may include obtaining permission to apply if you are employed by another agency, getting background checks, or filling out specific forms. Be sure you comply with all instructions in order to move your application forward. Then allocate a sentence or two to clarify that you are compliant.
Do Your Research
Each agency will have unique needs and cater to different segments of the population. Conduct some research on this to learn as much as you can. This will allow you to tailor each cover letter to address those, and explain how you are qualified to add value should you be hired.
For example, the author above mentions their experience of working with the youth. You, on the contrary, might mention your area of expertise — e.g. experience with working with 'white-collar crime committers' or rehabilitating senior citizens who've served long sentences.
Show Your Dedication
A good probation officer cares about the offenders they work with and the community. Be sure to mention anything you have done to show your commitment to assisting those you work with on the job.
For example, you can write something like this:
"Over the past three years, 95% of the people I've curated held the parole. Also, about a half have successfully obtained a new job within 6 months after the release."
Format For Readability
The hiring authority who receives your cover letter may have read dozens of applications prior to yours. Be sympathetic to their eye strain and exhaustion. Ensure that your letter is highly readable.
Use small paragraphs. Include the most important information at the top of your cover letter. Don't go into too much detail. Leave plenty of whitespaces. Choose a font such as Arial or Times New Roman that are easy to read.
Proofread With Care
Take a few moments to read through your letter. Fix any spelling or grammatical issues. Also, have a friend read through it as well. They can give you a very valuable third-party perspective. Specifically, ask them if your letter communicates what you intend it to.
Final Tip: Include Everything You Need
Double-check your application packet. Ensure you have attached background checks, letters of recommendation, and any other documents requested of you.