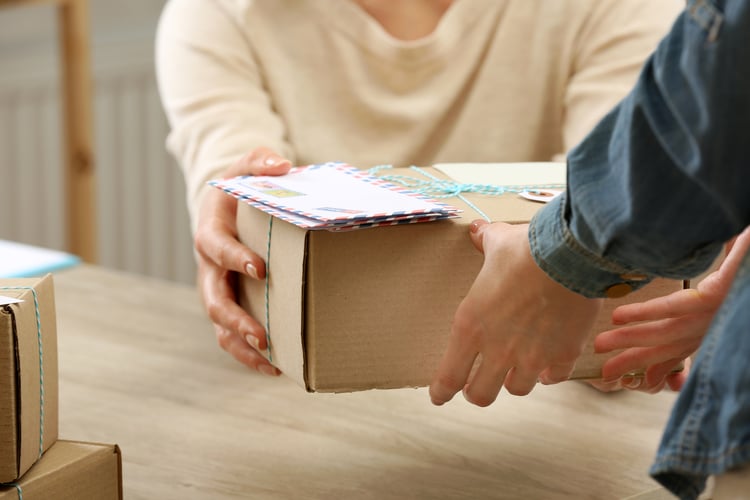 If you want a job with good pay, benefits, and a retirement plan, consider applying at your local post office. There are a variety of positions there, including letter carriers, mail sorters, and clerks. In many cases, professional training is provided.
Also, most post office jobs require just a high school diploma or GED certificate. The average USPS employee makes $61K annually and even more if you get to the senior management-level positions.
But let's not get ahead of ourselves. First, you need to get that foot in the door. Most post office jobs have a very precise application process. You must get every detail right, including your cover letter.
Here, we will provide you with an example cover letter for post office workers, and some other important advice. Feel free to refer to this as a guide.
Cover Letter Sample For Post Office Applicants – .docx Format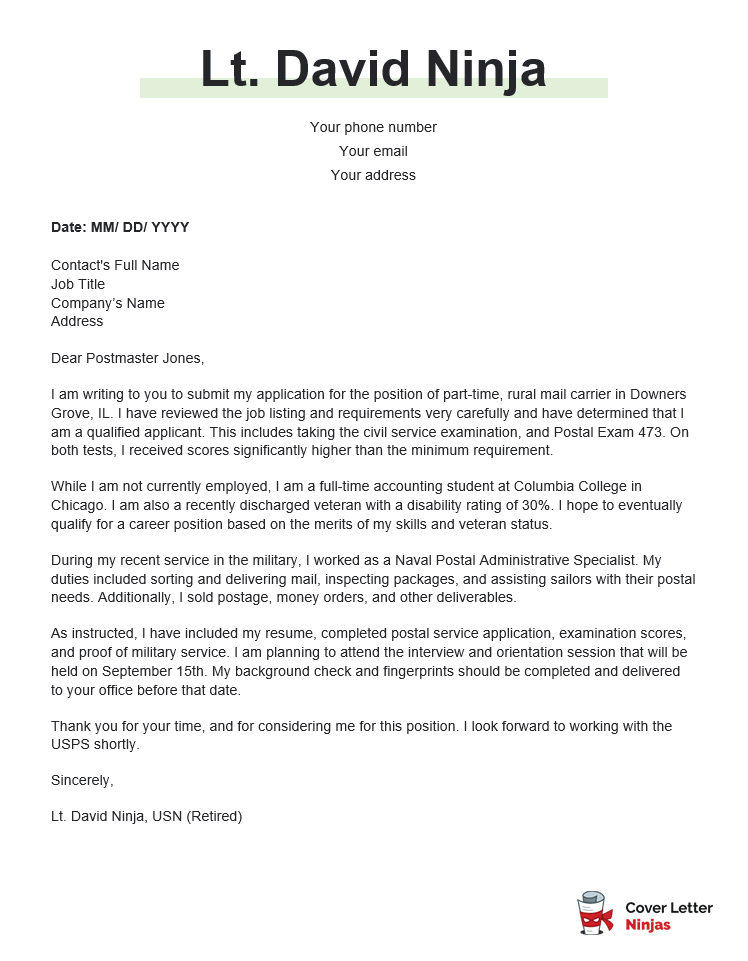 Download example (Word version)
Cover Letter Example For Post Office Applicants – Text Format
Dear Postmaster Jones,
I am writing to you to submit my application for the position of part-time, rural mail carrier in Downers Grove, IL. I have reviewed the job listing and requirements very carefully and have determined that I am a qualified applicant. This includes taking the civil service examination, and Postal Exam 473. On both tests, I received scores significantly higher than the minimum requirement.
While I am not currently employed, I am a full-time accounting student at Columbia College in Chicago. I am also a recently discharged veteran with a disability rating of 30%. I hope to eventually qualify for a career position based on the merits of my skills and veteran status.
During my recent service in the military, I worked as a Naval Postal Administrative Specialist. My duties included sorting and delivering mail, inspecting packages, and assisting sailors with their postal needs. Additionally, I sold postage, money orders, and other deliverables.
As instructed, I have included my resume, completed postal service application, examination scores, and proof of military service. I am planning to attend the interview and orientation session that will be held on September 15th. My background check and fingerprints should be completed and delivered to your office before that date.
Thank you for your time, and for considering me for this position. I look forward to working with the USPS shortly.
Sincerely,
Lt. David Ninja, USN (Retired)
How to Write a Postal Worker Cover Letter
Here are some great tips to help you get through the application process and end up with a thoroughly impressive cover letter!
Follow Instructions
Remember that you are applying for a federal job. There is a very precise application process that you must follow exactly. If you fail to adhere to the application instructions, you could find that your application is immediately disqualified. The instructions will detail when and where to submit your application, the information you are to provide, and other additional steps you need to take. Please don't deviate from this process. Also, check our federal cover letter example if you need more tips and guidance.
ADVICE FROM OUR EXPERT
---
When submitting a cover letter for a post office position, you will want to focus on your personal accountability. These positions do not have close supervision of their day to day tasks so they will want a candidate who can follow through with assignments.

Debi Douma-Herren
Senior Certified HR Professional & Career Coach
Include Everything Required
You will almost certainly need more than a resume and cover letter to be considered for this position. Most job openings with the postal service require that you take and pass at least one exam such as Test 473 for entry-level jobs. You'll also need to present a background check and fingerprints.
Mention Your Qualifying Factors
If you have any postal experience, that's great. You should include that in your cover letter. Additionally, you should learn about any other qualifications that could improve your likelihood of securing the postal job. In this case, the applicant listed their military veteran status, a disability rating, and the fact that they had accumulated college credits. While these don't guarantee that some will be hired, they do increase your chances of being seriously considered.
Be Clear About Your Career Goals
Many postal workers start as temporary, part-time employees. It may take time for a full-time, permanent position to open in the neighborhood. However, if you are interested in long-term, career employment, indicate that in your cover letter. It could lead to your being considered for a position that will lead to full-time employment.
Show That You Are Serious About Pursuing A Position Now
The post office has many positions open at any given time. Some are available to be filled immediately. Others are more competitive as internal employees also look to getting one. You may be on a waiting list for a year or more before you receive that interview call-in. If you want immediate employment, it's easier to express interest in the currently open positions. You can also increase your chances by indicating that you are willing to work flexible shifts, be hired on as a part-time worker, or be designated as a temporary employee.
Of course, if you prefer to wait for your ideal job, that's fine as well. Go ahead and submit your application package for the job you want. When an opening is available, the local staff will contact you with further instructions.
Final Tip: Be Patient
While the work is rewarding and the benefits are spectacular, this is a long application process. Be aware that every step takes time, and the process adheres to a schedule. While you might hear back from other employers in a week or so, expect to wait a month or longer with a federal, USPS application package.