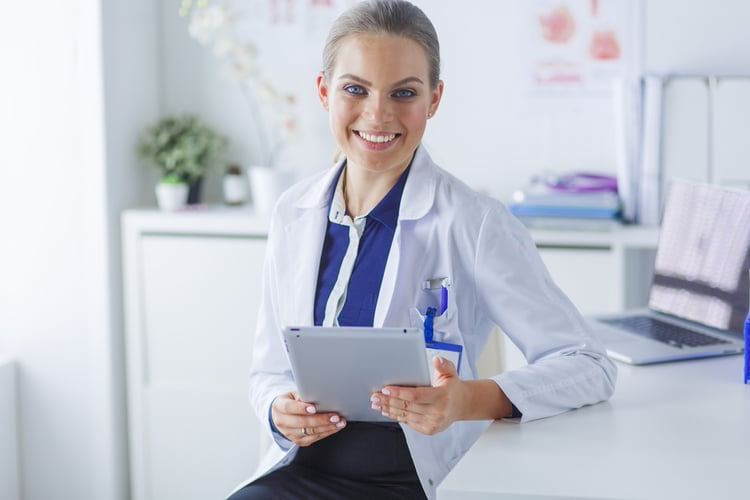 A medical assistant is often the go-to person in a doctor's office, clinic, or hospital. On any given day they provide support to medical personnel and allied staff. Medical assistants take on both clinical and administrative duties. So it can be a great job for an organized person with lots of energy and great attention to detail. Sounds like you?
Great! Thus, your next step is finding an amazing employer that values your skills and compensates you accordingly. To land that sweet gig, you'll have to file a compelling cover letter, alongside your resume.
In this post, we focus on the former. Firstly, browse our bite-sized writing tips. Then check a medical assistant cover letter sample.
Make Your Qualifications Clear From the Get-Go
As you know, the certifications or licenses you possess are imperative for landing an interview. Simply put, if you don't meet the mandatory requirements, most employers won't be able to move forward with your application.
Some of the top certifications for medical assistants include
The Registered Medical Assistant (RMA)
The Certified Medical Assistant (CMA)
The Certified Clinical Medical Assistant (CCMA)
The National Certified Medical Assistant (NCMA)
Any extra specialty licenses
The best thing to do is include the information about your certifications in the first paragraph of your cover letter, alongside your introduction. For example:
"My name is Bethany Ninja. I am a certified medical assistant. In 2019, I obtained my CMA certification from Wyoming Medical Board. I've worked as a medical assistant for years, and have more than 5 years of experience in the healthcare field.
List All Relevant Hard And Soft Skills
Because your duties can vary so widely, you've probably developed a good range of in-demand skills. But don't rush to pack every one of them into your cover letter or else it would sound too overwhelming.
ADVICE FROM OUR EXPERT
---
Roles in the medical field often require strong communication, organizational, and relationship management skills. Use your cover letter to demonstrate how your background prepares you to collaborate with internal teams and patients to provide quality care.

Claire Webber
Career Consultant, CPCC, CPRW
Instead, first group all your skills in the following three categories — clinical skills, technical skills, and soft skills. Then analyze the "Requirements" section of the job listing and add list up your most relevant skills.
Here's a quick promt:
Patient tracking software
HIPAA regulations certified
Patient advocacy
Triage
Basic patient assessment
Blood draws
Written communication skills
Conflict management
Focus on Outcomes
The best healthcare professionals help drive positive outcomes for patients. They are also vested in improving customer service ratings and ensuring effective operations in the medical facility they work in.
In other words, it's not just your day-to-day work that matters, but the results you are capable to achieve. As you write your cover letter, be sure to provide concrete examples of various outcomes you've managed to secure.
The easiest way to do so is to turn your duties into results.
Instead of writing, "Entered patient data into hospital computer systems." State something like this: "Increased the speed at which patients were triaged by ensuring their personal information, and symptoms were properly updated."
Of course, it is always helpful to provide numbers. A percentage does an excellent job of clearly communicating an outcome. Also, be sure to check other cover letter examples for medical professionals to get some more ways for describing your line of work 
Use Powerful Language
When you use powerful language, your reader sees you as a competent, authoritative, and capable professional. Understandably, you'll want to come off as a person who takes initiative, perhaps even has leadership potential.
Here are some words that might work well in your cover letter, or even your resume:
Assessed
Examined
Administered
Directed
Prioritized
Conducted
Researched
Supported
Provided
Cared
Implemented
Verified
Communicated
Cover Letter Sample for a Medical Assistant – .docx Format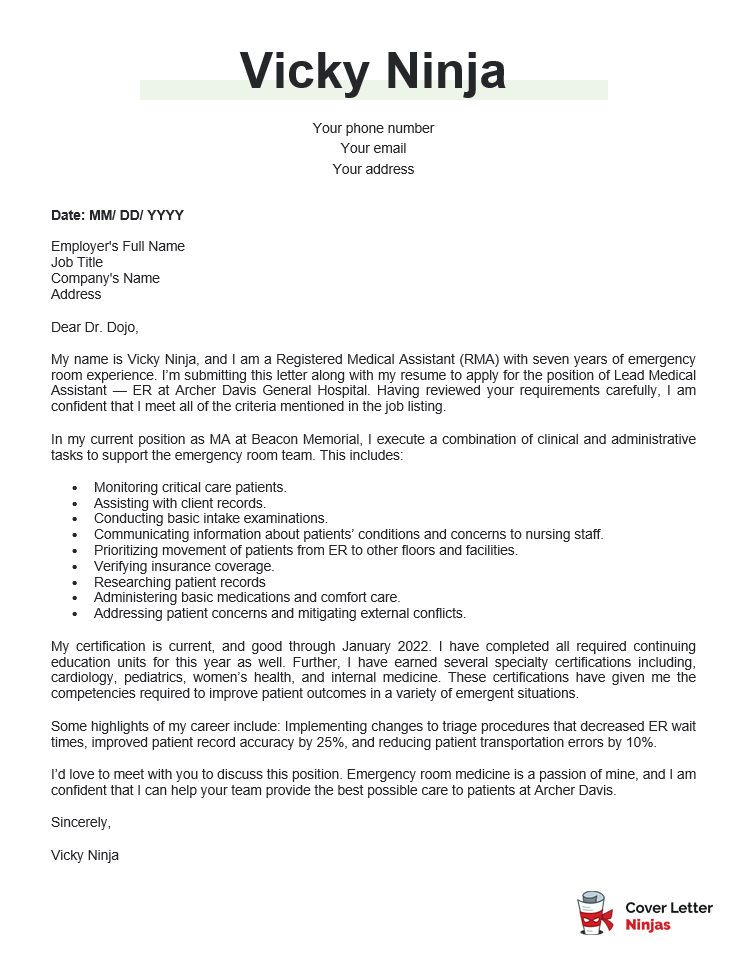 Download example (Word version)
Medical Assistant Cover Letter Example – Text Format
Dear Dr. Dojo,
My name is Vicky Ninja, and I am a Registered Medical Assistant (RMA) with seven years of emergency room experience. I'm submitting this letter along with my resume to apply for the position of Lead Medical Assistant — ER at Archer Davis General Hospital. Having reviewed your requirements carefully, I am confident that I meet all of the criteria mentioned in the job listing.
In my current position as MA at Beacon Memorial, I execute a combination of clinical and administrative tasks to support the emergency room team. This includes:
Monitoring critical care patients.
Assisting with client records.
Conducting basic intake examinations.
Communicating information about patients' conditions and concerns to nursing staff.
Prioritizing movement of patients from ER to other floors and facilities.
Verifying insurance coverage.
Researching patient records
Administering basic medications and comfort care.
Addressing patient concerns and mitigating external conflicts.
My certification is current, and good through January 2022. I have completed all required continuing education units for this year as well. Further, I have earned several specialty certifications including, cardiology, pediatrics, women's health, and internal medicine. These certifications have given me the competencies required to improve patient outcomes in a variety of emergent situations.
Some highlights of my career include: Implementing changes to triage procedures that decreased ER wait times, improved patient record accuracy by 25%, and reducing patient transportation errors by 10%.
I'd love to meet with you to discuss this position. Emergency room medicine is a passion of mine, and I am confident that I can help your team provide the best possible care to patients at Archer Davis.
Sincerely,
Vicky Ninja
Final Tip: Differentiate Your Cover Letter From Your Resume
Think of your cover letter as the brief introduction you engage in at the beginning of a cocktail party. Your resume is then the more in-depth conversation that happens later as the result of that introduction. Use your letter to introduce yourself, share some interesting information about your skills, and show interest in the job. Then, leave the rest to be communicated in your resume.
Need Extra Tips? Check More Medical Cover Letter Examples