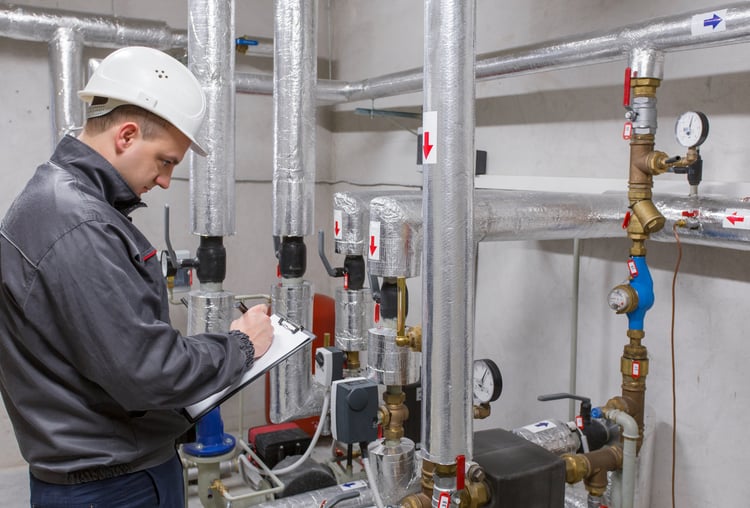 Our world is full of wonderful machinery that helps us accomplish so many things. But, at the same time, every piece of equipment comes with a "shelf-life". And that's where maintenance technicians step in. They use their handiwork skills and a keen eye to ensure that every cog in the system runs as it should.
If you are good at the above you shouldn't struggle much to land a great job. What may be a bit difficult though is writing your cover letter for a maintenance technician position. But that's where we got you covered with a sample letter and extra writing tips!
Sample of Cover Letter for a Maintenance Technician (.docx Format)
This sample is for a maintenance technician, applying for a position at a data center facility.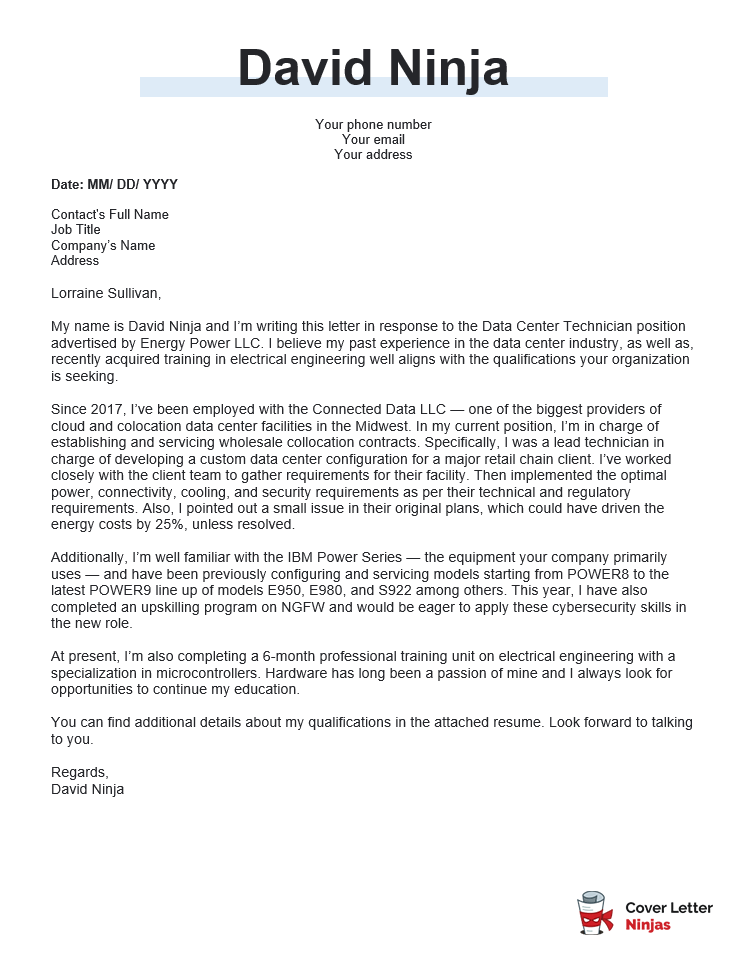 Download cover letter example (.docx)
Cover Letter Example for Maintenance Technician (Text Format)
Lorraine Sullivan,
My name is David Ninja and I'm writing this letter in response to the Data Center Technician position advertised by Energy Power LLC. I believe my past experience in the data center industry, as well as, recently acquired training in electrical engineering well aligns with the qualifications your organization is seeking.
Since 2017, I've been employed with the Connected Data LLC — one of the biggest providers of cloud and colocation data center facilities in the Midwest. In my current position, I'm in charge of establishing and servicing wholesale collocation contracts. Specifically, I was a lead technician in charge of developing a custom data center configuration for a major retail chain client. I've worked closely with the client team to gather requirements for their facility. Then implemented the optimal power, connectivity, cooling, and security requirements as per their technical and regulatory requirements. Also, I pointed out a small issue in their original plans, which could have driven the energy costs by 25%, unless resolved.
Additionally, I'm well familiar with the IBM Power Series — the equipment your company primarily uses — and have been previously configuring and servicing models starting from POWER8 to the latest POWER9 line up of models E950, E980, and S922 among others. This year, I have also completed an upskilling program on NGFW and would be eager to apply these cybersecurity skills in the new role.
At present, I'm also completing a 6-month professional training unit on electrical engineering with a specialization in microcontrollers. Hardware has long been a passion of mine and I always look for opportunities to continue my education.
You can find additional details about my qualifications in the attached resume. Look forward to talking to you.

Regards,
David Ninja
Other Relevant Cover Letter Examples to Check
How to Write a Cover Letter for Maintenance Technician Jobs
Maintenance technicians are employed by a variety of industries — from automotive and construction to tech and manufacturing. So clearly, your background may be different from the one in the above sample. But you can apply the same principles we used to create this sample to write a stellar, personalized cover letter.
Use Proper Formatting
A standard cover letter should be one Word page long and have three distinctive sections:
Opening paragraph
Body (2-3 sub-paragraphs)
Closing statement
Since most cover letters are sent by email these days, it's OK to skip on the official letterhead with your name, full address, and contact details.
Just open up with the HRs name. Can't figure this one out? In that case, go for the next best thing — the neutral "Hello [Company Name]" or "Hello [Company Name] HR Team".
Personalize Based on the Job Description
The one thing every employer wants to see in a cover letter is proof that you've actually read the job description. Remember, some companies can get as many as 100+ applicants for one position. So clearly, they'd first discard those, who have in no way referenced their ability to solve a specific company problem or mentioned a qualification listed in the job description.
Check back the job ad once again. Then select one candidate requirement (e.g. experience with a specific type of equipment) and bring it up in your cover letter. In the sample above, the writer mentions their familiarity with different POWER servers the company uses. Try adding a similar link in your letter too.
Give Hard Facts
Every candidate will tell how "exceptionally experienced" and "vastly talented" they are. But far fewer go on to elaborate on such super relatives. Yet, this is what you should do. Provide the reader with concrete examples of your professional abilities.
You can do so by:
Referencing a specific project you did
Highlighting some accomplishment
Mentioning extra training or certifications
Name-dropping past clients or projects
Listing the hardware and software you know how to operate
Be specific with what tasks you are eager to cover and what type of impact you could make for the employer e.g. save them money, make their customers more satisfied, or their operations more effective.
Final Tip: Show Your Motivation
Many people don't like to appear overly enthusiastic about a position in their cover letters. But dropping mentions such as "I would love to work with you" and "This role is an excellent fit for me" actually improves your chances of landing an interview.
Researchers call the above "ingratiation". Or "flattery" in simple words. When cover letters contain an adequate amount of self-promotion (aka I'm good in what I do), plus some ingratiation ("And I'd love to work for you"), they received a rather positive response from employers.