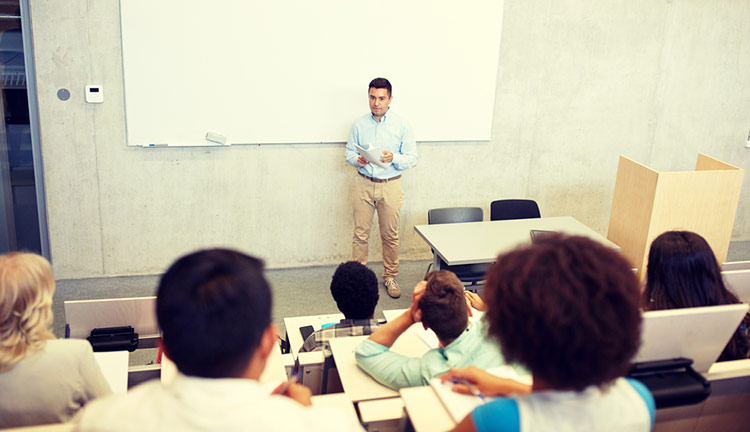 Universities have three types of instructors – tenured, those on the tenure track and those who are designated as "lecturers."
Finding a tenure track position today is tough. And there are some pretty clear reasons for this:
Popularity of major fields is always in a state of flux, and enrollments in those fields can vary from year to year. Bringing in a full-time professor can overload a department.
Universities are not keen on employing tenure-track instructors who then have certain employment rights and benefits. In short, they are more expensive employees. That's why most prefer to hire "lecturers".
That said, if you want to teach at the university level, you are far more apt to get a position as a lecturer. In fact, growth in this sector is steady. And as tenured professors in universities retire, they are replaced by those on the tenure track. These lead to openings for lecturers and adjunct instructors – "trickle-down" is not just in economics.
So if you are ready to start your job search, check out the tips below, followed by a sample cover letter for a lecturer position.
ADVICE FROM OUR EXPERT
---
Remember to not only study the lecturer position for which you are applying, but also thoroughly research the college or university. Emphasize the most important parts of your background that tie into their strategic plans and goals.

Debi Douma-Herren
Senior Certified HR Professional & Career Coach
Where to Find Positions for Lecturers?
You can find openings for university lecturers (also called adjuncts) in a couple of ways:
Most universities post openings on their websites. If you want to stay in a specific geographic area, this would be the place to begin.
Several job boards, such as Indeed, have categories for higher education and have a lot of postings for colleges and universities of all sizes.
You should also network with those you know in your degree field who currently hold university positions and make your desires known.
Start With Preparing a CV
If you have been employed outside of academia, you have probably used resumes for your job-seeking. That's nice, but nor very helpful in this particular.
For academic positions, you will have to prepare a CV, a much more comprehensive document that focuses on your educational, research, and other notable accomplishments. You will also provide far more detail of the positions you have held throughout your career. And all of this will be written in paragraph form, starting with your education, followed by positions in chronological order, beginning with the oldest.
Note: A Master's Degree may be acceptable, but you are far more attractive with a Doctorate. Do not let this stop you from applying though. Lots of universities hire adjuncts with Masters' to teach lower-level courses.
Highlight Your Teaching Experience
Any teaching or training experience you have had should be covered in depth. After all, a lecturer is a teaching position. And the more you can focus on scholarly achievements and activities, the better.
Craft a Cover Letter That will Engage
A compelling cover letter is a must for any position opening, and one for a lecturer is no exception. You want to grab attention and focus on those things in your background that make you an ideal candidate.
Like most cover letters, you need to be brief – no longer than 1 ½ page. One page is preferable.
One important tip as you craft your cover letter: People in higher education settings are far more wedded to formal language usage than those in many other sectors. Be certain that your letter is direct, somewhat conversational, but at all times reflective of exemplary formal writing.
Cover Letter Sample for Lecturer Position in University in .docx Format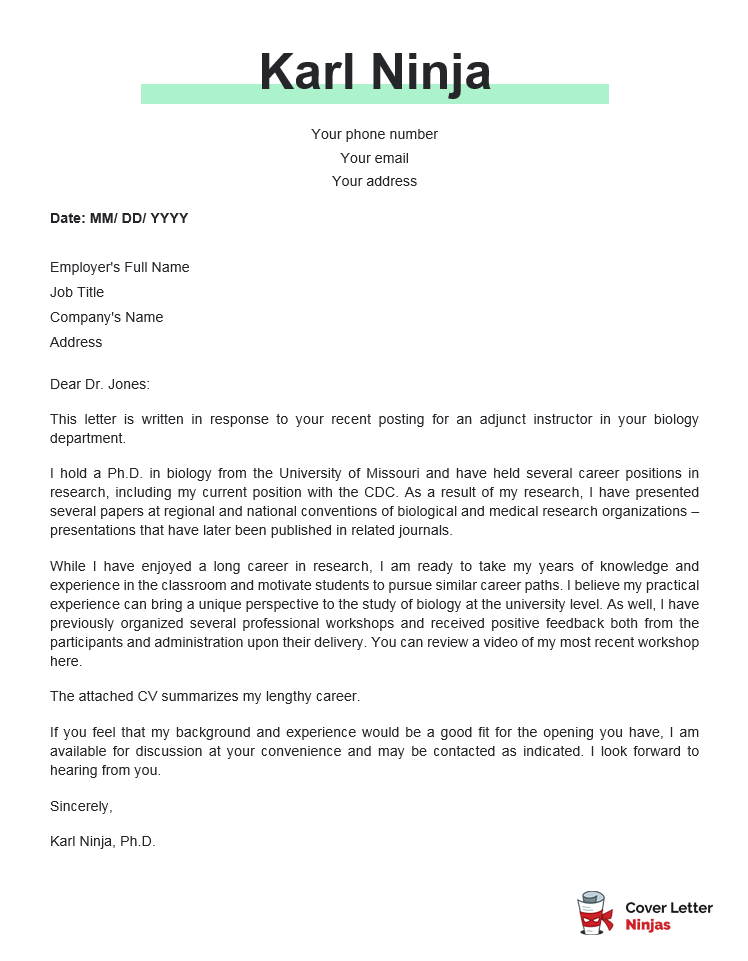 Download example (Word version)
Cover Letter Example for Lecturer Position in University – Text Format
Dear Dr. Jones:
This letter is written in response to your recent posting for an adjunct instructor in your biology department.
I hold a Ph.D. in biology from the University of Missouri and have held several career positions in research, including my current position with the CDC. As a result of my research, I have presented several papers at regional and national conventions of biological and medical research organizations – presentations that have later been published in related journals.
While I have enjoyed a long career in research, I am ready to take my years of knowledge and experience in the classroom and motivate students to pursue similar career paths. I believe my practical experience can bring a unique perspective to the study of biology at the university level. As well, I have previously organized several professional workshops and received positive feedback both from the participants and administration upon their delivery. You can review a video of my most recent workshop here.
The attached CV summarizes my lengthy career.
If you feel that my background and experience would be a good fit for the opening you have, I am available for discussion at your convenience and may be contacted as indicated. I look forward to hearing from you.
Sincerely,
Karl Ninja, Ph.D.
Final Tip: Be Brief, Enthusiastic, and Yet Formal.
Like any position a job seeker pursues, a cover letter is a critical piece of the application package. In this case:
You will have to place a lot of emphasis on how your non-academic career can still relate to classroom teaching and learning.
Focus on any teaching or training you have done, even if it has not been in an actual school environment.
State that your practical experience will bring a unique perspective to the classroom.
Details of your educational background must be included in the cover letter.
And when you are done with all of the above, dispatch your letter with confidence!