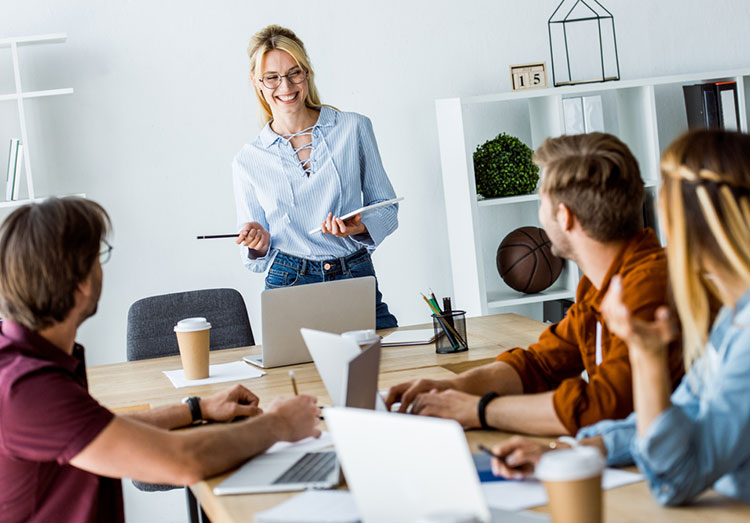 Few jobs require a more wide-ranging skill set than one of a project manager. Specifically, you need to have the technical competencies to oversee the projects assigned to you. In addition to this, you must be able to motivate and supervise your team members, solve problems, and ensure that everyone has the resources they need. Finally, a project manager must communicate with clients, stakeholders, and team manager. This includes managing conflicts, and occasionally delivering bad news.
That said, this can be an exciting field. The pay is higher than average. Many companies view the position of a project manager as a leadership track position. This means you can work your way up the executive ladder quite nicely. All you have to do is to land a job where you are a perfect fit. This starts with your impressive project manager cover letter. To get started, check out the following tips. Then, take a look at the project manager cover letter sample we've included.
Let The Job Description Guide Your Letter
Your cover letter should be heavily influenced by the job listing or job description. Take a look at the qualifications outlined. Then, figure out where your own experience is a match. Include those attributes in your letter. This will ensure that you have included the right keywords and will make it more likely that the company will move forward with your application.
Talk About Your Soft Skills
Of course, you need advanced technical skills to be a good project manager. You also need industry know-how. Most of the other applicants will have these as well. In many cases, it is your soft skills that will allow you to stand out from your competitors. For example, successful projects hinge on good communication between people with various needs and levels of understanding. As a project manager, you must demonstrate that you have the skills to ensure that communication is clear and frequent as it needs to be.
ADVICE FROM OUR EXPERT
---
Organizations often seek project managers that are big picture thinkers, who can strategically execute and coordinate all aspects of a specific project. Ensure your cover letter emphasizes to your experience and passion for creating processes, leading teams, proactivity, and ultimately influencing project flow for the better.

Claire Webber
Career Consultant, CPCC, CPRW
Talk About Your Field Experience as Well
There are project managers in just about every field. Project managers lead engineers, construction workers, research and development teams, software developers, even military troops. To command the respect of your team, they have to believe that you know what you are doing. Nobody wants to deal with a manager who has no field experience.
Show that you can inspire faith in your team. Give an example or two that shows you have experience in your field, and that you can roll up your sleeves and help should your project hit a snag.
Are you just transitioning to a project management role from another domain? Then highlight your transferable skills. This cover letter with no field experience further showcases how to do that masterfully.
Discuss What You Can Do For Them
Keep in mind that companies do not hire people to help them reach their career goals. They hire project managers who they believe can help the organization succeed. Do some research. Learn the goals of the company. Then, show how you can help them meet those goals.
For example, imagine that you are applying to a company that has recently expanded overseas. This would be the perfect time that you have experience as a project manager working with distributed team members. You can even discuss the technologies and methods you use to ensure that international teams work well together.
Edit and Proofread Carefully
Do you plan on mentioning that you pay close attention to detail? You probably shouldn't make that claim if your cover letter is full of run-on sentences, split infinitives, or spelling errors. You must show that you value accuracy and that quality control is a way of life for you. Never send a cover letter that you have not proofread thoroughly. Even better, ask someone you trust to take a second look at your letter to be doubly sure you haven't made any mistakes.
Cover Letter Example for a Project Manager in .docx Format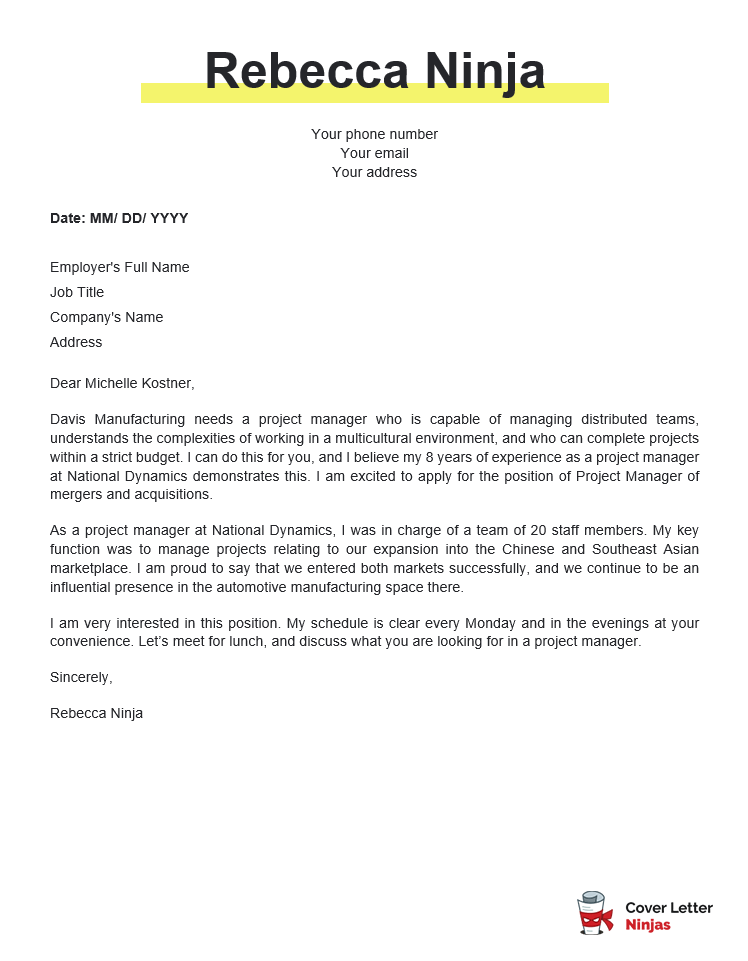 Download example (Word version)
Project Manager Cover Letter Example – Text Format
Dear Michelle Kostner,
Davis Manufacturing needs a project manager who is capable of managing distributed teams, understands the complexities of working in a multicultural environment, and who can complete projects within a strict budget. I can do this for you, and I believe my 8 years of experience as a project manager at National Dynamics demonstrates this. I am excited to apply for the position of Project Manager of mergers and acquisitions.
As a project manager at National Dynamics, I was in charge of a team of 20 staff members. My key function was to manage projects relating to our expansion into the Chinese and Southeast Asian marketplace. I am proud to say that we entered both markets successfully, and we continue to be an influential presence in the automotive manufacturing space there.
I am very interested in this position. My schedule is clear every Monday and in the evenings at your convenience. Let's meet for lunch, and discuss what you are looking for in a project manager.
Sincerely,
Rebecca Ninja
Final Tip: Use Numbers
Quantify your accomplishments with percentages or other data whenever you can. This gives your cover letter the kind of credibility that will truly impress hiring managers. Do be mindful of confidentiality, however, and do not attempt to share any internal corporate data as doing so may seriously backfire you.