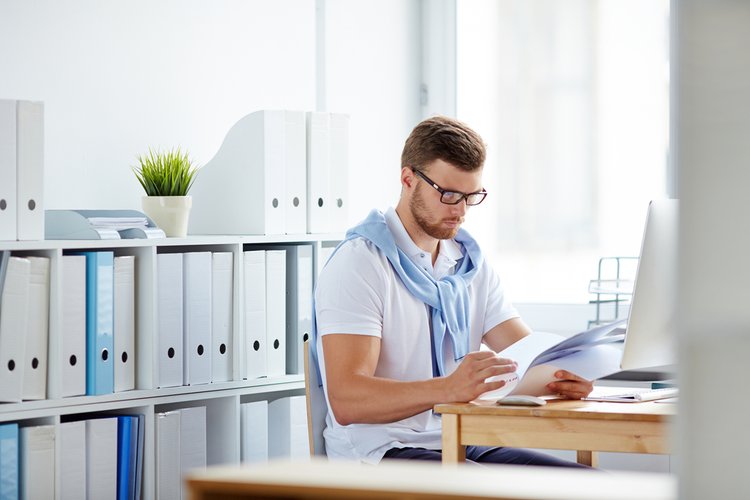 Every business owner or executive knows that keeping people paid appropriately is a mission-critical task. Payroll management is also a complex job that involves understanding company policies and various regulations, entering and tracking data on pay and wages, and troubleshooting any issues that may occur.
If you have these in-demand competencies, it's time to get the job you deserve! Write a compelling cover letter for a new job with our tips and a payroll specialist cover letter sample you can use as a writing aid!
Use The Subject Line to Your Advantage
In many cases, your cover letter is really an email. That's great! Because you then have another "strategic" asset to leverage: a subject line.
A memorable subject line can draw the hiring manager's attention towards your application and thus, get you a step closer to landing a job interview. While other applicants will probably use something generic such as 'Resume For Payroll Specialist' or 'Payroll Specialist Application', be more creative and "advertise" yourself in the email title.
Here are some examples:
Corporate Payroll Specialist — 5 Years Experience
Hospital Payroll Specialist With HRMS Expertise
Payroll Professional — SME Background
Of course, if you have been instructed to write something specific in the subject line, stick with that. Your ability to follow directions is way more important.
ADVICE FROM OUR EXPERT
---
Your cover letter is a valuable tool to help hiring managers understand what makes you an ideal candidate based on your previous experience, background, and skills. Highlight any accomplishments and core skills that demonstrate why you would be an asset to their team, such as your high attention to detail or your understanding of finance and accounting principles.

Claire Webber
Career Consultant, CPCC, CPRW
Choose Your Top Three Skills
Being a payroll specialist requires a variety of accounting and bookkeeping skills. But save the majority of these for your resume. 
As you write your cover letter, focus on the three core competencies that you believe will appeal the most to this particular employer. Here are a few skills to consider:
HRMS (Human Resources Management Software)
Communication Skills
Payroll and Salary Regulations
Organizational Skills
Teamwork
Opt for a mix of hard and soft skills.
Show a Customer-Centric Mindset
People who don't work directly with customers forget that their job still entails customer service. In your case, your customers are employees who need to be paid correctly and on time. Plus, everyone else who needs to have payroll-related questions answered promptly. 
You can showcase that you are focused on delivering great service by doing the following:
Indicate a sense of urgency when solving issues.
Share an example of solving a payroll issue for an employee.
Showcase how you collaborate with various departments.
Mention Important Certifications
Organizations such as the National Association of Certified Professional Bookkeepers offer professional certifications for payroll specialists. In addition to this, you may also be able to obtain certificates of completion or specialization from local colleges and universities. If you have any of these or are in the process of obtaining them, do mention this fact in your cover letter!
Inexperienced? Highlight Your Transferable Skills
What can you do if you don't have a lot of experience as a payroll specialist? You can help potential employers see the value in the skills that you do have. Focus on items that will be useful as you move into a new career, or move from a lower-tier position such as payroll Clerk. For example, you can emphasize that you are good with numbers, proficient at data entry, or that you understand HR policies and procedures.
You can also browse other cover letter examples on our website to see how you can cross-highlight skills from different roles.
Cover Letter Sample for a Payroll Specialist in .docx Format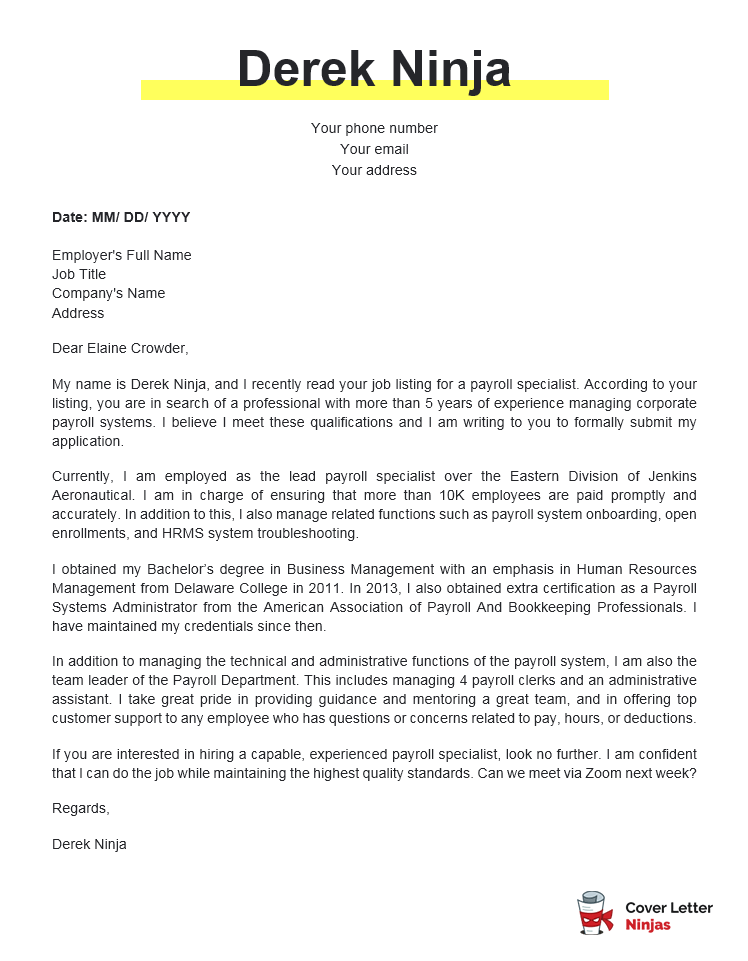 Download example (Word version)
Payroll Specialist Cover Letter Example – Text Format
Dear Elaine Crowder,
My name is Derek Ninja, and I recently read your job listing for a payroll specialist. According to your listing, you are in search of a professional with more than 5 years of experience managing corporate payroll systems. I believe I meet these qualifications and I am writing to you to formally submit my application.
Currently, I am employed as the lead payroll specialist over the Eastern Division of Jenkins Aeronautical. I am in charge of ensuring that more than 10K employees are paid promptly and accurately. In addition to this, I also manage related functions such as payroll system onboarding, open enrollments, and HRMS system troubleshooting.
I obtained my Bachelor's degree in Business Management with an emphasis in Human Resources Management from Delaware College in 2011. In 2013, I also obtained extra certification as a Payroll Systems Administrator from the American Association of Payroll And Bookkeeping Professionals. I have maintained my credentials since then.
In addition to managing the technical and administrative functions of the payroll system, I am also the team leader of the Payroll Department. This includes managing 4 payroll clerks and an administrative assistant. I take great pride in providing guidance and mentoring a great team, and in offering top customer support to any employee who has questions or concerns related to pay, hours, or deductions.
If you are interested in hiring a capable, experienced payroll specialist, look no further. I am confident that I can do the job while maintaining the highest quality standards. Can we meet via Zoom next week?
Regards,
Derek Ninja
Final Tip: Quantify Quantify Quantify!
You can add a lot of credibility to your cover letter by quantifying some of the statements you make. Use numbers! The letter above mentioned the number of employees for whom the applicant managed payroll. You can do the same, or use other data to highlight your experience.