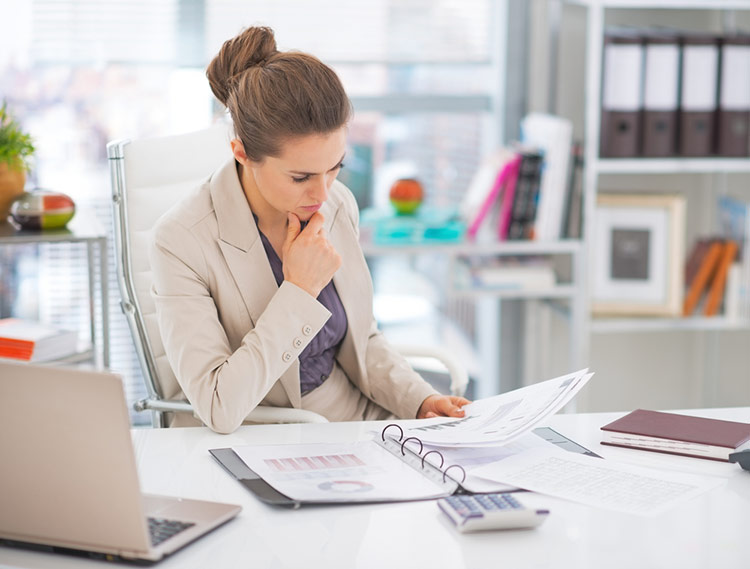 Accountants are meticulous and knowledgeable types. Many have a great memory and a true love for numbers, along with CPA certification that involves a minimum of 2000 hours of employment with a CPA firm and passing the required examinations. Others may just have a relevant degree and years of experience in "doing the books".
What's even better is that once you have enough experience, you can choose to either work for yourself or move to a bigger firm with better pay. In any case, however, you'll need to build up a case for yourself within your resume and a cover letter.
Just how do you write without sounding too stiff or too formal? Glad you asked! Below are several quick tips to help you write an engaging and memorable cover letter, plus an accounting cover letter sample you can use as a writing aid. Let's jump in!
Extend a Firm Virtual Handshake
Intros should happen in the first paragraph. State your name and briefly mention what makes you qualified to apply. In particular, include your areas/specialties within the accountancy field, and mention any certifications. For instance, you may want to specify if you specialize in accounts payable management, medical billing, or bookkeeping in general.
It's All About The Company, Not You
Don't make your cover letter an ode to your personality and your career goals. Most HRs view this as secondary. What they are really interested in is what you can bring to an organization. The best cover letters succinctly paint the picture of how great it would be to have you on board.
Here's an example:
"In my previous role, I helped one of the firm's clients avoid a huge auditory fine by noticing early on a mistake in their calculations and reporting it to their team. The same client extended the contract with the out firm for another 5 years afterward."
Share One Major Achievement
Use the body of your cover letter to further set up the scene and describe what you have previously accomplished (and would gladly do again for the new employer). This may be an amount of money you saved a client over their previous tax years or the proactive help you've offered during a heavy audit.
ADVICE FROM OUR EXPERT
---
Accountants are used to pouring over large documents and searching for meaning. It will be appreciated if your cover letter is straight and to the point. Don't worry about "playing nice" and using lots of filler words or sentences to warm up the reader.

Mary Ford
Executive Career Coach
Avoid Trite Phrases and Expressions
They don't add any value to your writing and make it sound stall and boring. Also, being too overly-grateful and thanking the reader for "kindly taking the time to consider my humble application" rubs most HRs the wrong way. Such sentiment doesn't show that you are respectful and polite. To most recruiters, it suggests that you are very desperate to find a new job. And that's not the impression you'll want to make!
Not a natural writer and feel stuck for words? Read lots of examples of cover letters, even those not in your particular career area. You will gain an understanding of good structures and formats, as well as how candidates present themselves in general.
Errors are a Big No-No
One of the prized qualities for an accountant is their attentiveness to details. If your letter has some spelling or grammar mistakes (even the minor ones like a missing comma), the decision-maker may automatically question how intent you'll be in other aspects of your job. Sloppiness in accounting is a huge no-no.
So make sure that your cover letter looks perfect. Check that you've spelled the contact person's name correctly. Run a spell check with a tool like Grammarly to weed out any minor mistakes. Then re-check your letter again with Hemingway – an editing app that highlights weak or overly complex sentences.
Cover Letter Sample for an Accountant in .docx Format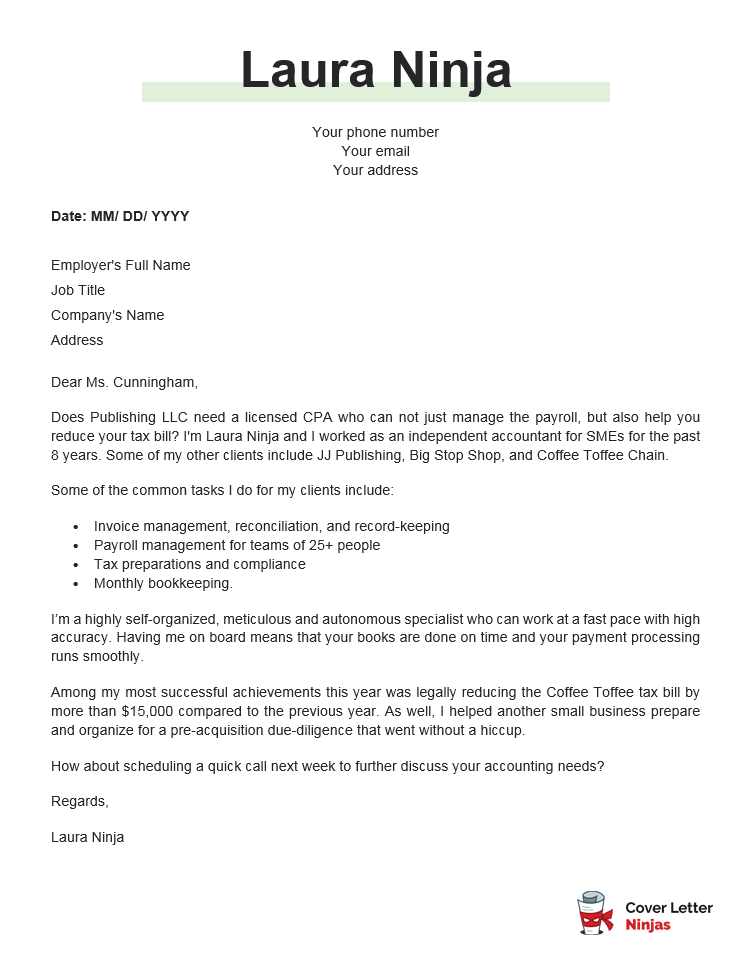 Download example (Word version)
Accountant Cover Letter Example – Text Format
Dear Ms. Cunningham,
Does Publishing LLC need a licensed CPA who can not just manage the payroll, but also help you reduce your tax bill? I'm Laura Ninja and I worked as an independent accountant for SMEs for the past 8 years. Some of my other clients include JJ Publishing, Big Stop Shop, and Coffee Toffee Chain.
Some of the common tasks I do for my clients include:
Invoice management, reconciliation, and record-keeping
Payroll management for teams of 25+ people
Tax preparations and compliance
Monthly bookkeeping.
I'm a highly self-organized, meticulous and autonomous specialist who can work at a fast pace with high accuracy. Having me on board means that your books are done on time and your payment processing runs smoothly.
Among my most successful achievements this year was legally reducing the Coffee Toffee tax bill by more than $15,000 compared to the previous year. As well, I helped another small business prepare and organize for a pre-acquisition due-diligence that went without a hiccup.
How about scheduling a quick call next week to further discuss your accounting needs?
Regards,
Laura Ninja
Final Tip – Focus on What You Can Deliver
Cut straight to the chase and tell the employer what outcomes you can deliver for them. Can you save them money? Can you help them prepare for an audit? What particular need you can fulfill? And you don't really need to guesstimate what that particular company expects from a hire. Most job descriptions usually provide enough hints in the Requirements section.