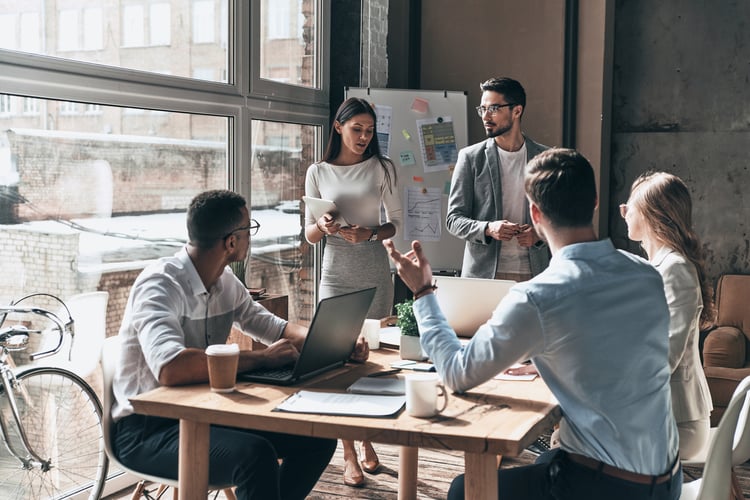 No matter the business or industry, every company relies on one thing for success. They must be able to sell their products and services to survive and thrive.
The sales executive is the person responsible for driving sales, sourcing clients, and ensuring that the sales team has everything they need to succeed. This is a complex position with many responsibilities.
As a sales executive, you deserve a job with a top-tier company. But, that won't happen unless you have a cover letter to include with any application package. Below we have provided a sample cover letter for sales executives along with some excellent writing tips.
Cover Letter Sample for Sales Executive – .docx Format
Here is a powerful example of a cover letter that will get the attention of any hiring manager.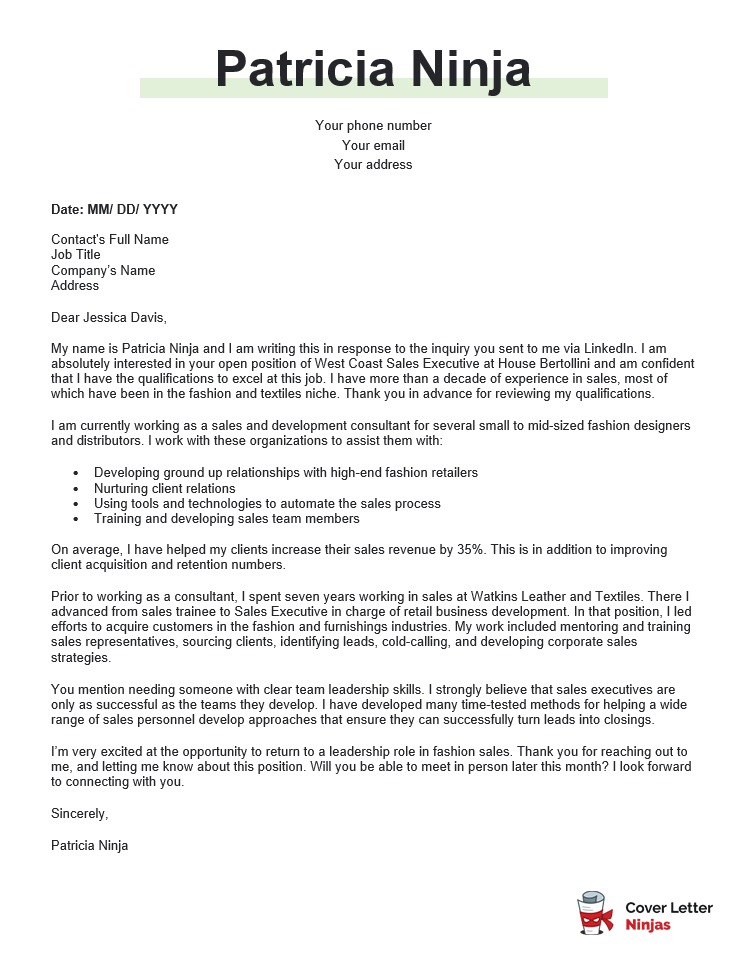 Download example (Word version)
Cover Letter Example for Sales Executive – Text Format
Dear Jessica Davis,
My name is Patricia Ninja and I am writing this in response to the inquiry you sent to me via LinkedIn. I am absolutely interested in your open position of West Coast Sales Executive at House Bertollini and am confident that I have the qualifications to excel at this job. I have more than a decade of experience in sales, most of which have been in the fashion and textiles niche. Thank you in advance for reviewing my qualifications.
I am currently working as a sales and development consultant for several small to mid-sized fashion designers and distributors. I work with these organizations to assist them with:
Developing ground up relationships with high-end fashion retailers
Nurturing client relations
Using tools and technologies to automate the sales process
Training and developing sales team members
On average, I have helped my clients increase their sales revenue by 35%. This is in addition to improving client acquisition and retention numbers.
Prior to working as a consultant, I spent seven years working in sales at Watkins Leather and Textiles. There I advanced from sales trainee to Sales Executive in charge of retail business development. In that position, I led efforts to acquire customers in the fashion and furnishings industries. My work included mentoring and training sales representatives, sourcing clients, identifying leads, cold-calling, and developing corporate sales strategies.
You mention needing someone with clear team leadership skills. I strongly believe that sales executives are only as successful as the teams they develop. I have developed many time-tested methods for helping a wide range of sales personnel develop approaches that ensure they can successfully turn leads into closings.
I'm very excited at the opportunity to return to a leadership role in fashion sales. Thank you for reaching out to me, and letting me know about this position. Will you be able to meet in person later this month? I look forward to connecting with you.
Sincerely,
Patricia Ninja
More Relevant Sales Cover Letter Examples
Sales Executive Cover Letter Writing Tips
Though you are an expert in selling, marketing yourself can always feel hard. Below are several quick tips to help you frame and write your cover letter.
Give Some Examples
You lead your sales team, develop and nurture client relationships, built sales strategies, and more. Yet, simply listing your abilities isn't enough. Instead, provide one or two concrete examples of the work you have done to facilitate sales growth in your organization, and how that has been successful.
Try something like this:
"At Wholesome Foods, I have developed a new go-to-market strategy for a portfolio of food products. The proposed strategy was omnichannel with a focus on distribution through branded, unattended retail kiosks. In 9 months, we secured 15% of the new market."
Add a Bit of Data
Even better, include some real numbers. Note in the example letter above, the applicant quantifies their achievement, by showcasing that their sales clients increased their revenue by more than ⅓ on average. That isn't just impressive, it takes any claims you make from lip service to reality.
ADVICE FROM OUR EXPERT
---
Some companies want a sales executive to support sales by coaching sales professionals while other companies want the role customer facing. When you understand what the organization wants, you can position the cover letter either as a people manager or as a closer with specific examples.

Debi Douma-Herren
Senior Certified HR Professional & Career Coach
Include Industry-Specific Keywords
Applicant tracking software looks for specific keywords to filter out applicants that may not have relevant experience. Additionally, hiring managers scan for these words to gauge whether they should pursue a candidate any further. Thus, make sure that you include plenty of relevant keywords in your letter. You can mine these from the job listing, and from your own industry knowledge.
Here are some skills for a sales executive cover letter:
Analytical mindset
Commercial awareness
Sales strategy development
Market analysis
Negotiation
Interpersonal skills
Leadership skills
Closing skills
Contract negotiation
Lead qualification
Write Like a Leader
You are applying for an executive-level position. Hence, your cover letter should absolutely reflect that. Read your cover letter after you have finished writing it. Do you sound like a confident executive ready to take on the challenges of leadership, or like someone who is pursuing a job as a sales trainee? Write your letter to focus less on duties and more on accomplishments. Present yourself as someone who can lead the company in the right direction, and make decisions that will impact the bottom line.
Final Tip: Polish it Off
The best cover letters are aesthetically pleasing, easy to read, and attractively formatted. When your cover letter looks nice, you start off having already impressed the reader. Of course, cover letter formatting and design may not be your area of expertise. If not, no worries! Simply find a professional cover letter template. This will ensure that you present a polished cover letter. All you have to do is focus on the contents.