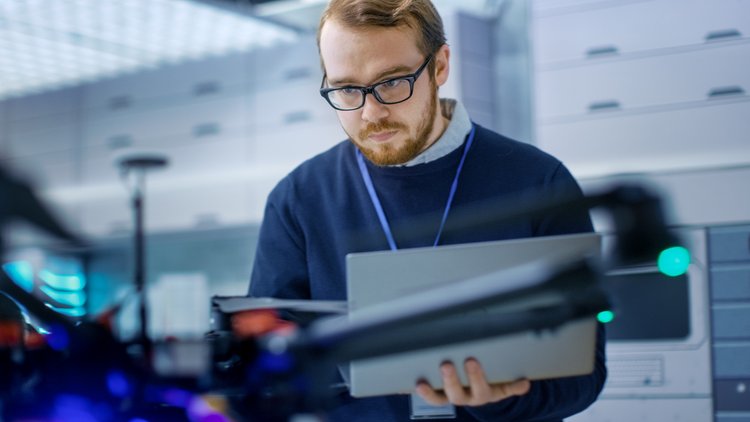 Most university engineering programs will culminate in some sort of internship. Ideally, the one you land will be at a top firm where you can learn, practice your skills, and make valuable connections. As you know, the top internship programs are quite competitive. To get your foot in the door, you must be prepared with a virtually flawless application package.
In this post, we will address one major chunk of this package — your cover letter. First, browse our snack-sized tips, then check out the sample cover letter for an engineering internship we prepared to help you with writing!
Don't Get Wishy-Washy. Express Your Interest in Concrete Terms
One of the most important things you will do in your cover letter is to explain your interest in interning with this particular company. Most applicants will likely write something generic in the vein of 'I want to develop my skills' or 'Your company seems nice'. You don't want to sound just like everyone else, right?
So take this two-phased approach:
Research one particular thing about the company that makes you interest e.g. their product, unique service, corporate commitment, or a particular person you'd like to learn from
Second, detail why the internship program itself is a good fit for you, plus how the organization can benefit from having you on board.
Here's a brief example:
"Dorsey Mechanical Systems is the first company in the state of Georgia to implement solar technologies in its products. Because my minor is in Alternative Energy solutions, I'm excited at the prospect of taking part in your summer internship. I'm also very interested in participating in the opportunity at the Emerging Engineers Summit your company's organizing. Apart from helping with the briefs, I'm also ready to work on-site — greet guests, distribute materials, and introduce the company. I believe that my prior skills as a temp event coordinator would be very helpful to your team."
It's Okay to be a Bit Self-Absorbed
If you were applying for a job, you would be told to focus on what you have to offer, not on your own needs or expectations. This rule doesn't fully apply to internship cover letters Reputable companies understand that an internship is much more about offering development opportunities to new engineers rather than getting free or inexpensive labor.
So it's okay to write about things you would like to learn and what you expect to accomplish through the internship program. In fact, it's ideal that you address your goals and expectations. Doing so can help the company customize your internship program and connect you with the best mentors.
You can also check other cover letter examples to get a better sense of how you should frame your request.
ADVICE FROM OUR EXPERT
---
In your cover letter for an engineering internship, take the time to describe your campus involvements and team collaborations. The reader wants to know about your interpersonal skills in working with others. This is just as important as, if not more important than your academic success.

Debi Douma-Herren
Senior Certified HR Professional & Career Coach
Be Clear About Your Availability
If you're applying for an internship program at a large corporation, chances are you will work full-time in a formal internship program. In many cases, engineering internships are offered 6-, 8-, or 12-week blocks that align with fall, spring, and summer terms. In your cover letter you indicate which terms you are interested in when you can begin and if you are willing to travel or even relocate.
If you are applying to a smaller company, the terms of your internship may be a bit more informal. Still, you should include your dates of availability. If you need your internship schedule to work with your current work or school schedule, mention that as well. Use the following as a sample:
"I graduate in June 2021. If possible, I would like to be considered for the summer 2021 program. I would prefer to intern at the Houston campus. However, I am available to travel to any campus within the United States."
Cover Letter Example For Engineering Internship – .docx Format
Here is a simple cover letter example that exemplifies some of the tips listed above.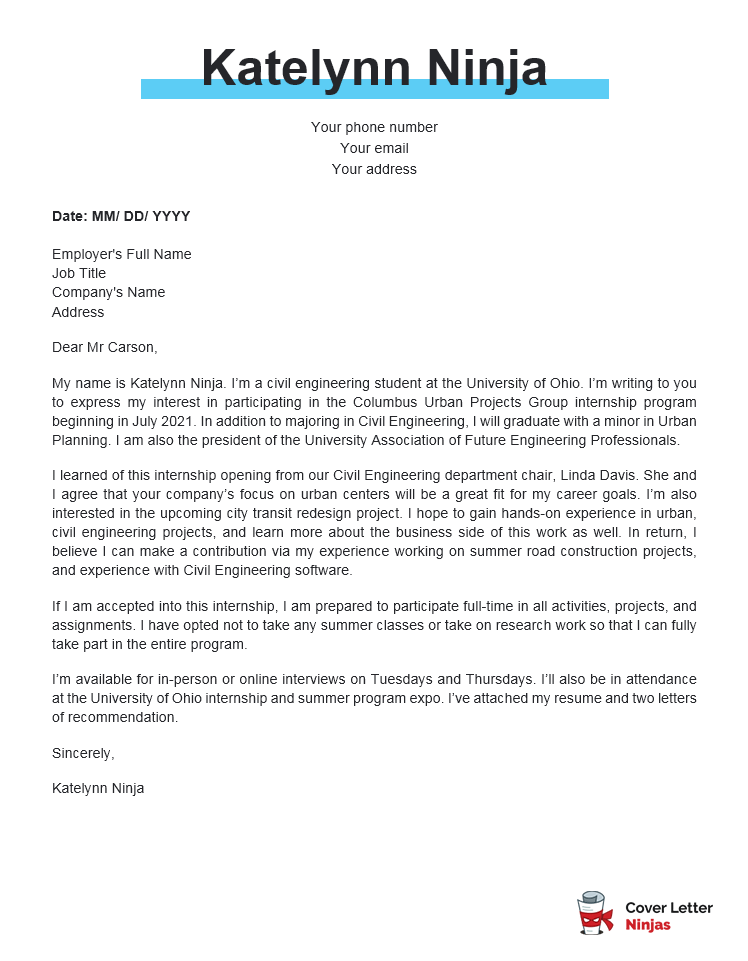 Sample Cover Letter For Engineering Internship – Text Format
Dear Mr Carson,
My name is Katelynn Ninja. I'm a civil engineering student at the University of Ohio. I'm writing to you to express my interest in participating in the Columbus Urban Projects Group internship program beginning in July 2021. In addition to majoring in Civil Engineering, I will graduate with a minor in Urban Planning. I am also the president of the University Association of Future Engineering Professionals.
I learned of this internship opening from our Civil Engineering department chair, Linda Davis. She and I agree that your company's focus on urban centers will be a great fit for my career goals. I'm also interested in the upcoming city transit redesign project. I hope to gain hands-on experience in urban, civil engineering projects, and learn more about the business side of this work as well. In return, I believe I can make a contribution via my experience working on summer road construction projects, and experience with Civil Engineering software.
If I am accepted into this internship, I am prepared to participate full-time in all activities, projects, and assignments. I have opted not to take any summer classes or take on research work so that I can fully take part in the entire program.
I'm available for in-person or online interviews on Tuesdays and Thursdays. I'll also be in attendance at the University of Ohio internship and summer program expo. I've attached my resume and two letters of recommendation.
Sincerely,
Katelynn Ninja
Final Tip: Show What You Can Offer
Yes, the internship is mostly about you. Still, you are more likely to find a position if you have something to contribute even if you have little-to-no field experience at present. Even listing general office experience can be helpful!