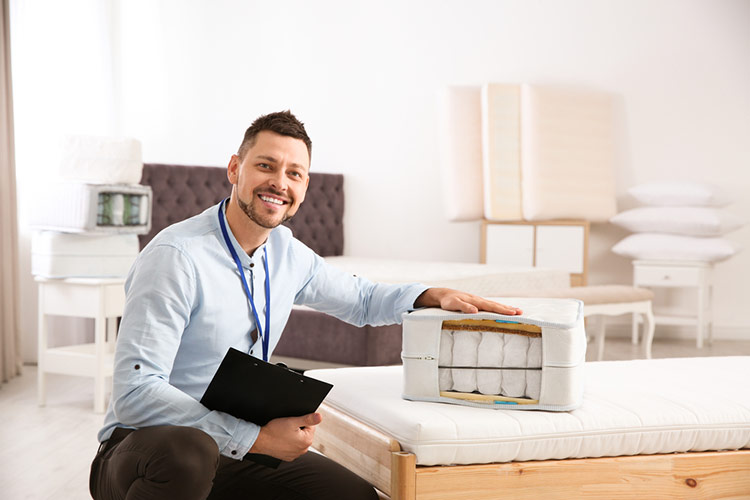 If you are outgoing, customer-service oriented, and interested in earning great commissions, a career as a sales associate may be perfect for you. After all, if there's one recession-proof job, it's sales!
However, to break into the industry, you'll need to show that you have the right aptitude. And that starts with "selling yourself" as the ideal candidate. Follow the tips below to create an attractive cover letter that outshines all the other contenders. Then, take a look at our sales associate cover letter sample for even more inspiration!
Make Your Letter Relevant
Think about every store you visit frequently. Each of these sells different products, serves a slightly different audience, and provides a slightly different customer experience.
All of the above means the term 'sales associate' is quite broad. Each hiring manager will be looking for something different in the applicant pool. Your job is to include information in your cover letter that shows that your skills are relevant to that particular position. To accomplish that, carefully read the job posting and pay attention to the desired skills/qualifications section. Copy the key terms and incorporate them into your letter and resume.
ADVICE FROM OUR EXPERT
---
Sales Associates are responsible for ensuring superb customer service throughout their interactions with others. Focus on your interpersonal skills with a diverse customer base in the cover letter and be sure to back it up by citing specific examples.

Debi Douma-Herren
Senior Certified HR Professional & Career Coach
Use The Right Voice
Will you be selling electronics at a video game store, or medical devices at hospital halls? Whatever the case is, it's always a good idea to use a writing voice that matches the persona that the hiring manager is seeking.
For example, if you plan on pursuing that position at a luxury clothing store, your writing should be impeccable and sophisticated. Planning to work for a millennial-oriented beauty retailer? In that case, aim for a more conversational, friendly tone and include some catchphrases from the brand's "vocabulary".
Brag About Your Numbers
The truth about sales associates is that the best are highly competitive. That's why so many workplaces offer attractive bonuses to sales employees who can 'outsell' their coworkers. In addition to that, potential employers want to see what you can do in very clear terms.
Thus, you should talk about money and percentages. What were your average monthly sales? Did your sales numbers increase during your time at your last position? What about mystery shopping scores? All of these things are important to hiring managers and demonstrate your skills.
Make a Skills Checklist
Let's loop back to the job listing: it already highlights some of the skills you should possess. Make a list of these along with other skills that are commonly in demand for sales associates. Your list might look something like this:
Customer Service Skills
POS/CRM System Experience
Flexibility
Teamwork
Open Availability
Product Knowledge
Communication Skills
Awesome Sales Record
Now, use this as a checklist. Your cover letter should demonstrate that you have each of these skills one way or another.
Show an Interest in The Products
Ideally, you get to sell products that you believe in. If not, you're going to have to fake it a bit. Take some time to learn as much as possible about the goods you will be handling. Then, identify the key selling points about these products so you can speak about them enthusiastically and with authority.
Cover Letter Sample for Sales Associate in .docx Format
Now it's time to bring these tips together. The following cover letter is written for someone who is pursuing an entry-level position at a retail furniture store.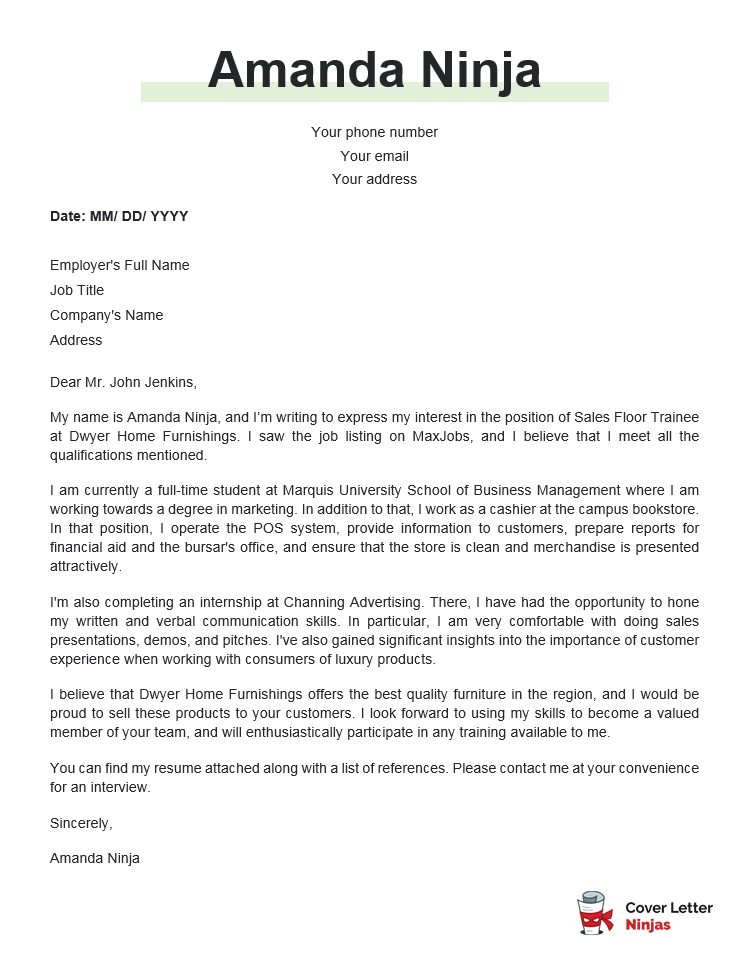 Download example (Word version)
Sales Associate Cover Letter Example – Text Format
Dear Mr. John Jenkins,
My name is Amanda Ninja, and I'm writing to express my interest in the position of Sales Floor Trainee at Dwyer Home Furnishings. I saw the job listing on MaxJobs, and I believe that I meet all the qualifications mentioned.
I am currently a full-time student at Marquis University School of Business Management where I am working towards a degree in marketing. In addition to that, I work as a cashier at the campus bookstore. In that position, I operate the POS system, provide information to customers, prepare reports for financial aid and the bursar's office, and ensure that the store is clean and merchandise is presented attractively.
I'm also completing an internship at Channing Advertising. There, I have had the opportunity to hone my written and verbal communication skills. In particular, I am very comfortable with doing sales presentations, demos, and pitches. I've also gained significant insights into the importance of customer experience when working with consumers of luxury products.
I believe that Dwyer Home Furnishings offers the best quality furniture in the region, and I would be proud to sell these products to your customers. I look forward to using my skills to become a valued member of your team, and will enthusiastically participate in any training available to me.
You can find my resume attached along with a list of references. Please contact me at your convenience for an interview.
Sincerely,
Amanda Ninja
Final Tip: No Experience? Focus on Transferable Skills
If you are an entry-level worker with little to no experience in sales, don't hesitate to apply. Many companies will gladly train someone who can work well with others and has the right personality for sales. Focus on the capabilities you have that will translate well into any job, and show your enthusiasm.