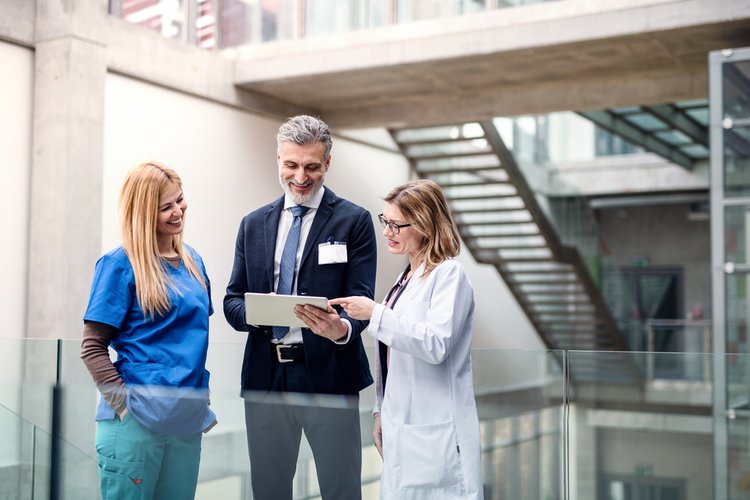 Few people realize what an important role medical devices play in healthcare. These are the tools, instruments, and implanted devices that providers use to keep patients alive. Also, such gadgets can provide a plethora of valuable healthcare data and real-time condition monitoring for patients with ongoing conditions.
So it should come as no surprise that the global medical device market is expected to grow at a CAGR of 6.1% and reach $603.5 billion by 2023. Such rapid growth also means excellent job prospects for medical device sales specialists.
Hence, if you feel like making your big career move in 2021, the timing is certainly right. But you'd still need to 'sell' yourself to a potential employer. And that where a cover letter comes in handy. Check our actionable tips to writing a memorable cover letter, followed by a medical sales cover letter sample.
Emphasize Any and All Sales Experiences
This tip is especially geared toward entry-level medical device reps, but it applies to experienced ones as well. Any sales experience that you have is worth mentioning. Especially, if you don't think you have enough time in the medical device space.
ADVICE FROM OUR EXPERT
---
Medical device sales jobs are typically highly competitive, so it's important to set yourself apart from other applicants. Whenever possible, validate your accomplishments with data and facts. Offering key performance metrics can elevate your background and previous achievements. Share the professional story of what you've accomplished and how you did it.

Claire Webber
Career Consultant, CPCC, CPRW
If that's the case, focus on your ability to establish trust with customers, nurture and manage accounts, and effectively turn leads into sales in other niches. For example:
"I have three years of experience working as an inside sales representative in the commercial transportation industry. My work includes all phases of the sales process from generating leads to closing. I've been able to create a solid customer base that has grown at an average of 15% per year."
Show Proof of Your Sales Success
Let's be realistic, the real proof is in the sales numbers you achieve. Anything else is just lip service. So, this is a good time to deliver on some meaningful figures. Instead of writing that you are amazing at creating repeat business, say you have a 90% customer retention rate. Don't bother mentioning that you are the best salesperson in your district unless you also bring up the awards that you've received for your accomplishments. 
Consider listing your most notable accomplishments in a bulleted list:
Increased southwest region sales by 15% monthly.
90% customer satisfaction rate.
Regularly exceeds quotas by more than 25%.
Mention Your Relationships, But be Discreet
The best medical device reps don't just win over new customers for their employers. Many will bring along loyal customers with them. As long as you aren't held by a non-compete agreement, it's perfectly acceptable to mention these customer relationships.
Remember that discretion is key. The point isn't to name-drop but to simply give some meaningful hints that will pique the interest of the hiring manager. That might look a bit like this:
"I am fortunate to have developed a fruitful relationship with one of the largest medical clinics in the region. This business connection is independent of any device maker or distributor, and I am free to pursue them as a sales lead in the future."
Prove Your Understanding of The Target Customer
Since medical devices are used by virtually anyone in healthcare as well as patients, each company services a specific set of customers. To be effective, you must understand the needs of that target customer base. Know the customer and your sales numbers will improve significantly.
So, your goal is to prove that you already understand their customers and that you know how to sell to them by addressing their unique needs. Consider something like this:
"Cardiac patients rely on pacemakers and other devices to keep them alive. Doctors count on the data produced by these devices to help them treat those patients effectively. I consider it my job to assist doctors in sourcing the cardiac devices they can recommend to their patients with confidence."
Medical Device Sales Cover Letter Sample in .docx Format
Here is a concise medical device cover letter example. You may use this as a guide when you compose your own letter.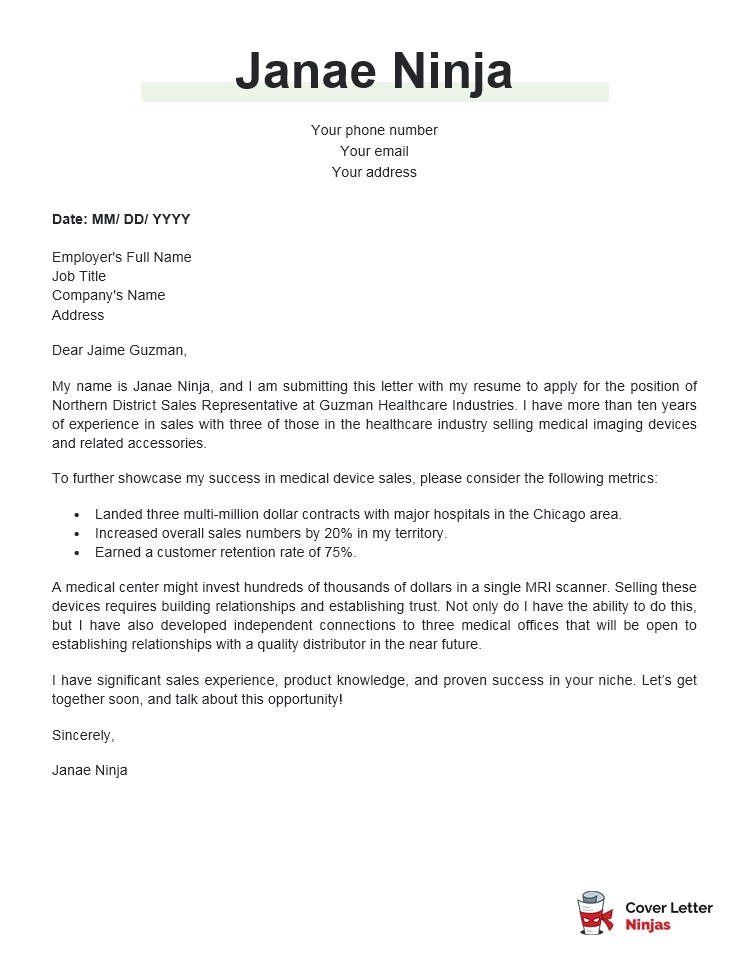 Medical Device Sales Cover Letter Example – Text Format
Dear Jaime Guzman,
My name is Janae Ninja, and I am submitting this letter with my resume to apply for the position of Northern District Sales Representative at Guzman Healthcare Industries. I have more than ten years of experience in sales with three of those in the healthcare industry selling medical imaging devices and related accessories.
To further showcase my success in medical device sales, please consider the following metrics:
Landed three multi-million dollar contracts with major hospitals in the Chicago area.
Increased overall sales numbers by 20% in my territory.
Earned a customer retention rate of 75%.
A medical center might invest hundreds of thousands of dollars in a single MRI scanner. Selling these devices requires building relationships and establishing trust. Not only do I have the ability to do this, but I have also developed independent connections to three medical offices that will be open to establishing relationships with a quality distributor in the near future.
I have significant sales experience, product knowledge, and proven success in your niche. Let's get together soon, and talk about this opportunity!
Sincerely,
Janae Ninja
Final Tip: Finish with a Summary and Call to Action
Close your letter with a brief statement that summarizes exactly why you are a great fit. Then, write a call to action that motivates the reader to schedule an interview. That's how you close that sale!