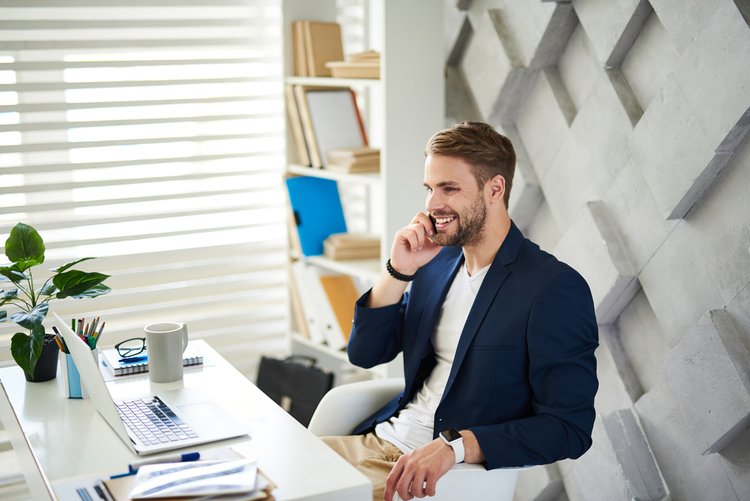 A salesperson's job is landing big accounts. Your job is keeping those accounts engaged and happy. That's why most business' value account manager so much — they help guarantee high customer retention.
After all, it costs about 5 times more to acquire a new customer than keep an existing one. What's more, a 5% increase in customer retention can boost the company's profits by 25-95%. These figures perfectly illustrate why account managers can earn hefty compensation. Not only can you receive a nice salary, but you also get commissions and bonuses on top of that.
OK, enough with the money talks. Let's see how you make it through to the interview phase. First of all, you need a stellar resume. Secondly, your cover letter should be attractive too. In this post, we'll share several tips for writing the ideal cover letter. Then, you can take a look at a working account manager cover letter sample.
Demonstrate Your Problem Solving Skills
An account manager keeps clients satisfied, even when there are some mishaps. By coming up with great solutions to any issue, you ensure smooth relationships between customers and the company you represent.
Ultimately, it doesn't matter if a problem is the result of a mistake, misunderstanding, or simply a new need on the part of the client. So if you have a history of coming up with creative, face-saving solutions that makes you an attractive prospect. Include an example or two of your problem-solving and customer service skills in your cover letter.
ADVICE FROM OUR EXPERT
---
As Account Managers are typically responsible for fostering cross-functional collaboration between teams, use language throughout your cover letter that conveys your ability to build and maintain relationships, execute effective communication strategies, and foster cohesion. Embedding a few examples of past achievements within your cover letter that highlights your ability to drive new relationships, communication streams, and revenue provides the reader with a greater sense of confidence regarding your value proposition.

Claire Webber
Career Consultant, CPCC, CPRW
Show Adaptable Communication Skills
In a sense, you are a liaison between the client and the company. Therefore, you must be able to listen to the client carefully and determine their objectives. At the same time, you are also required to communicate those objectives to various colleagues. Then, you have to continue to ensure that everybody remains on the same page.
Chances are, you find yourself adapting your communication style to get the job done. This is a valuable skill that shows you can communicate effectively with a wide variety of people. In your cover letter, mention that you interact with various team members, departments, and layers of management to help meet the needs of the customer.
Talk About How You Establish Relationships and Build Loyalty
It takes more than products and prices to convince a client to remain loyal to a particular company. It's all about customer experience and relationships. What do you do to nurture relationships with clients?
In the past, simply wining-and-dining a prospect was enough to inspire loyalty. That's not always effective today. Now, a personalized touch is valued. A good account manager uses a combination of data analytics and social skills to impress their "accounts". In your cover letter, be sure to demonstrate how you nurture relationships with clients.
Convince Them That You Can Stay on Top of Things
At any given time an account manager is juggling multiple accounts, working to meet various needs, and always prioritizing what is most urgent. That's overwhelming for some people, but it comes naturally to you. Show how you set priorities and manage your time effectively! Referencing any relevant project management experience can be a major advantage.
Cover Letter Sample for an Account Manager in .docx Format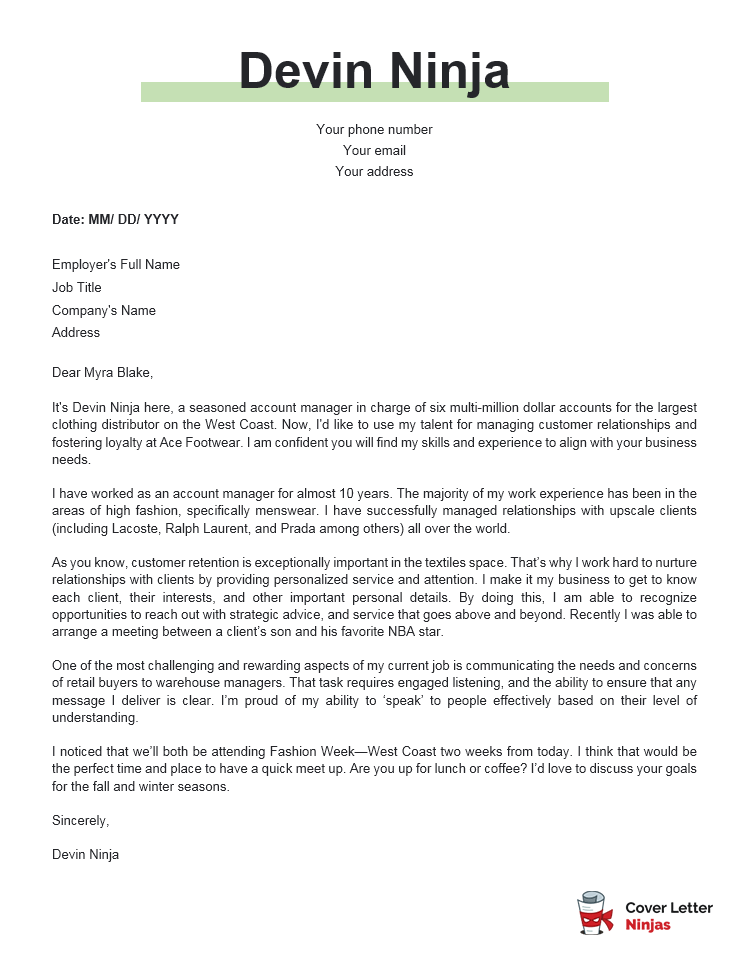 Download example (Word version)
Account Manager Cover Letter Example – Text Format
Dear Myra Blake,
It's Devin Ninja here, a seasoned account manager in charge of six multi-million dollar accounts for the largest clothing distributor on the West Coast. Now, I'd like to use my talent for managing customer relationships and fostering loyalty at Ace Footwear. I am confident you will find my skills and experience to align with your business needs.
I have worked as an account manager for almost 10 years. The majority of my work experience has been in the areas of high fashion, specifically menswear. I have successfully managed relationships with upscale clients (including Lacoste, Ralph Laurent, and Prada among others) all over the world.
As you know, customer retention is exceptionally important in the textiles space. That's why I work hard to nurture relationships with clients by providing personalized service and attention. I make it my business to get to know each client, their interests, and other important personal details. By doing this, I am able to recognize opportunities to reach out with strategic advice, and service that goes above and beyond. Recently I was able to arrange a meeting between a client's son and his favorite NBA star.
One of the most challenging and rewarding aspects of my current job is communicating the needs and concerns of retail buyers to warehouse managers. That task requires engaged listening, and the ability to ensure that any message I deliver is clear. I'm proud of my ability to 'speak' to people effectively based on their level of understanding.
I noticed that we'll both be attending Fashion Week—West Coast two weeks from today. I think that would be the perfect time and place to have a quick meet up. Are you up for lunch or coffee? I'd love to discuss your goals for the fall and winter seasons.
Sincerely,
Devin Ninja
Final Tip: Close With a Compelling Offer
Account managers are friendly, outgoing, and charming. Show your magnetic personality in your closing paragraph. End with an invitation to lunch, and offer something of value. That's sure to pique the interest of a potential employer.