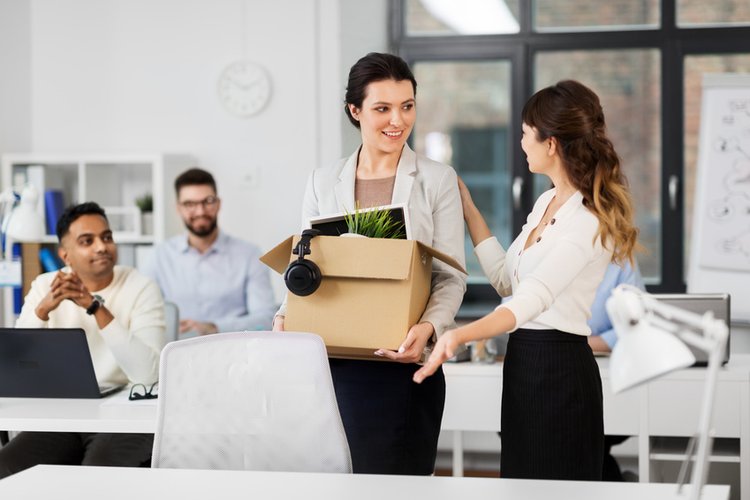 Changing careers is both exciting, and a bit scary. Most people go through this process at least once or twice in their lives. They are often driven by the desire to earn a higher salary, pursue a more marketable career, or find a job that better aligns with their passions. Whatever your reasons, the process begins with the job search.
There's just one problem. It can be difficult to convince HR staff to give you a chance in the new industry. After all, if they look at your experience, and don't see a connection, they may be less than open minded. Fortunately, you can influence that with a great resume and cover letter.
If you'd like to know how to write a career change cover letter that opens up new doors for you, keep reading. We have some actionable tips, complemented by a great career change cover letter sample.
Share Your Reason For Making This Change
What is it that made you want to enter this field? Did you take part in a side project that involved this work? Maybe you have taken a relevant class. If you can convince the hiring manager of your passion and sincerity, you will improve your chance of being considered for the position.
What if your motives are purely financial? If that is the case, just word your letter carefully. Stating 'I want to make more money.' isn't going to have a good outcome. However, you can say that you are interested in building a dynamic career with a great future advancements.
Emphasize Transferable Skills
Even if you have no experience in the field, there's still a high chance that you have some marketable skills. Read the job listing carefully. Make a list of required skills that you already possess. These might include the universal ones like using Microsoft Office, working with a specific software package, or handling cash. Next, take a look at your current resume and pick out skills that may come handy at a new position. Finally, get down to writing and make your transferable skills the focal point of your cover letter.
ADVICE FROM OUR EXPERT
---
Regardless of your role, industry, or area of specialization, alignment can always be found through transferrable skillsets. Determine the underlying skills that make you successful in one role and measure their comparison with those of another. Emphasize your unique transferrable skills to present a clear trajectory to the contribution they would add to a new position.

Claire Webber
Career Consultant, CPCC, CPRW
Show What You Know
When you prepare to enter a new field, potential employers want to know if you are serious. You can demonstrate this by proving that you have taken the time to learn about the industry, and that you are working to continue your education in relevant ways.
For the former, consider mentioning something about the industry today, and tie it into your experience or desire to change fields. For the latter, mention any courses you have or are currently taking. This includes free online courses, internships, job shadowing, etc.
Mention Any Awards or Accolades
It's easier to justify giving people a chance at a new career when they have proven themselves to be noteworthy in other ways. Make a list of any awards you've been given or other accolades, then try to work these into your cover letter. Don't forget to mention community and volunteer awards.
It's Who You Know
Have you made a connection with anyone in your new field? Maybe you've conversed with an influencer on social media, or been mentored by someone who is noteworthy. Perhaps you and the hiring manager have a connection in common. Mention this, and you just might establish a beneficial personal link.
Example of Cover Letter for a Career Change (.docx Format)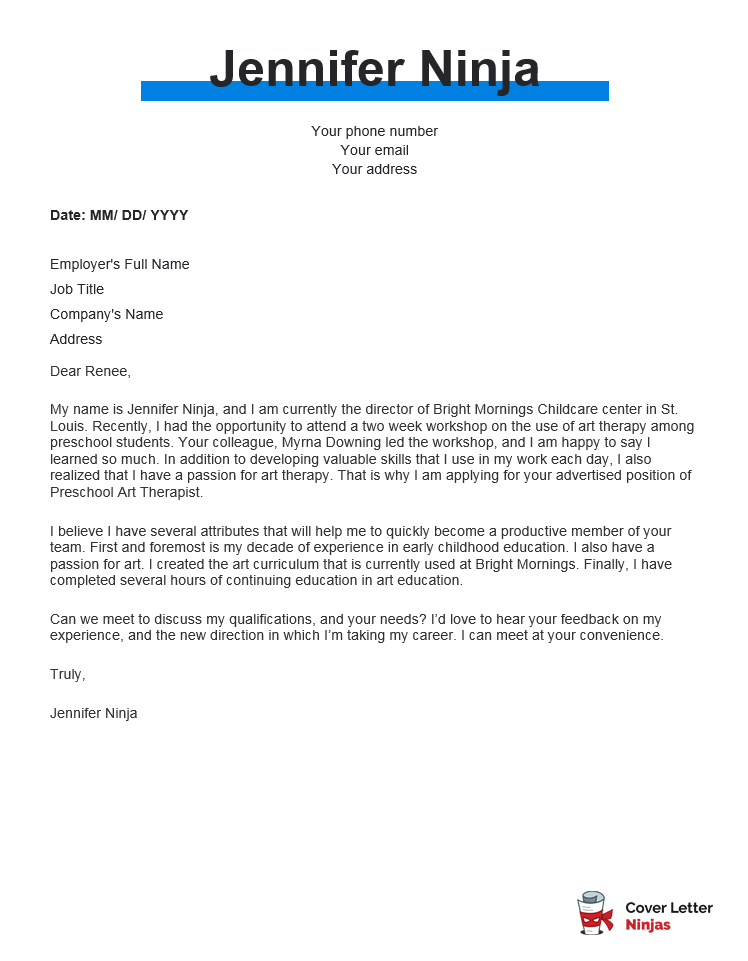 Download example (Word version)
Career Change Cover Letter Sample – Text Format
Dear Renee,
My name is Jennifer Ninja, and I am currently the director of Bright Mornings Childcare center in St. Louis. Recently, I had the opportunity to attend a two week workshop on the use of art therapy among preschool students. Your colleague, Myrna Downing led the workshop, and I am happy to say I learned so much. In addition to developing valuable skills that I use in my work each day, I also realized that I have a passion for art therapy. That is why I am applying for your advertised position of Preschool Art Therapist.
I believe I have several attributes that will help me to quickly become a productive member of your team. First and foremost is my decade of experience in early childhood education. I also have a passion for art. I created the art curriculum that is currently used at Bright Mornings. Finally, I have completed several hours of continuing education in art education.
Can we meet to discuss my qualifications, and your needs? I'd love to hear your feedback on my experience, and the new direction in which I'm taking my career. I can meet at your convenience.
Truly,
Jennifer Ninja
Final Tip: You Are Not Entry-Level
You may not have experience that is directly related to your new field. That doesn't mean that you are an entry-level candidate. Presumably you have work experience under your belt, have come to be respected in your current job, and have developed a level of professionalism.
All of these things are valuable, and should be taken into consideration by potential new employers. Things like productivity, customer service skills, and great work ethic are valuable no matter where you go! So pack those into your cover letter, 'dress' it in attractive cover letter template and dispatch your job application with confidence!