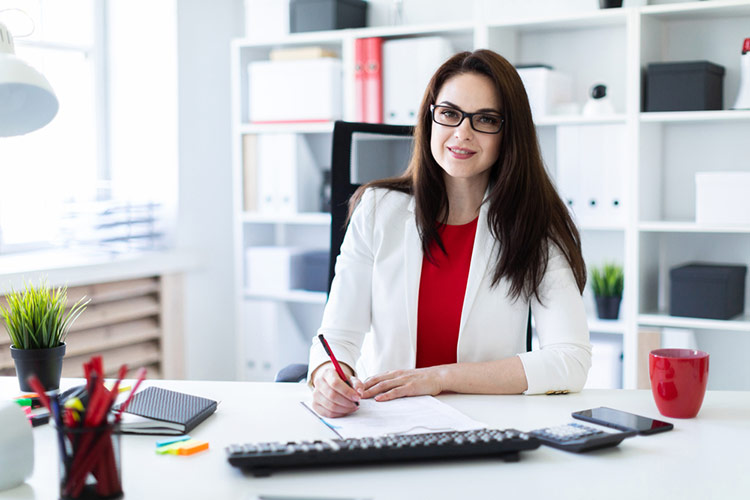 Openings for executives tend to be quite rare. You may find only a few of these compared to lower management positions. On the other hand, executives don't make as many career changes, so the competition isn't as high. People in executive circles also tend to know one another.
Still, you have to stand out among some very accomplished people if you want to land a new position atop. Of course, that means creating a great resume. It also means writing an effective cover letter. To help with that, we've included this list of tips along with a working executive cover letter sample that you can use for inspiration.
Show Enthusiasm and Motivation
Most businesses hire new executives when:
They struggle with the current leadership
Need to make major organizational changes
They have financial issues
Or have suffered from a very public embarrassment.
All of the instances mentioned above will require a strong hand to handle. In your letter, show that you can effectively lead the organization through the rough patch. Mention that you have what it takes to get the job done (no matter how hard it is). For example:
'I understand that Startup C suffered major reputational damage after the negative press coverage of the failed product launch. As the new head of marketing and public relations, I'm ready to commit all my resources and leverage all the connections I have to show that your company has a strong commitment to environmental stewardship and social responsibility."
ADVICE FROM OUR EXPERT
---
The best leaders are evaluated on their team's achievements instead of their own. In an executive cover letter, focus less on your own accomplishments, and only on the results of your leadership. Include metrics on financial impact and business results of your teams.

Mary Ford
Executive Career Coach
Always File a Formal Cover Letter
Some advise people at the executive level to use an informal note instead of a cover letter, especially if they are applying via a referral. Do not take this approach as it might smudge your reputation with the board of directors.
Instead, keep things professional and write a full-length, formal cover letter. Use it as another avenue to present your relevant experience, showcase character traits, and interest in the job.
If you have a connection at the company, feel free to reach out to them separately with an email. In the meantime, the hiring contact should receive a formal business letter from you. You can get more ideas about the right tone, style and format from other cover letter examples on our website.
Focus on Your Key "Selling Point"
You undoubtedly have many great qualifications. You should list these on your resume. For your cover letter, keep your focus on one or two of your most important skills or experience. These should be items that cause the hiring committee to really want to take a second look at you as a potential candidate.
Talk About Your Value
Think of the cover letter as your opportunity to share your value proposition. Can you introduce fiscal discipline to a struggling company? Can you motivate employees who feel discouraged and demoralized? These are the things that will make hiring authorities believe you are a good fit.
For example:
'My track record as the chief financial officer at two Fortune 500 companies demonstrates that I have the skills to help companies near bankruptcy change course. At Myers Dairy, in particular, I was able to reduce costs by more than 20% while also providing staff with pay increases.'
Cover Letter Sample For Executive in .docx Format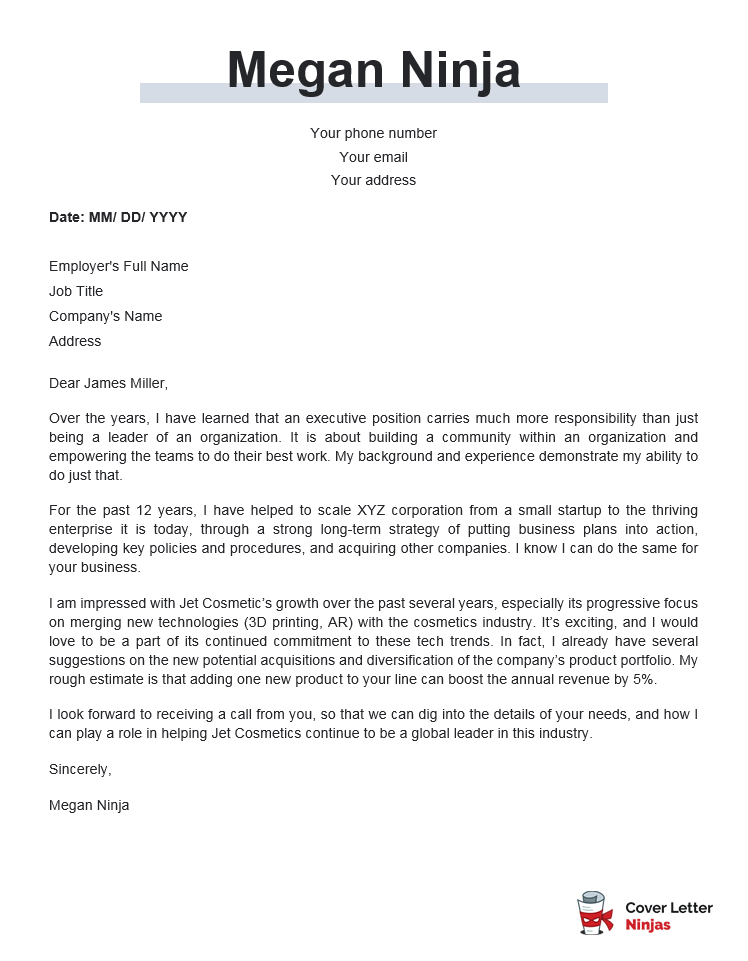 Download example (Word version)
Executive Cover Letter Example – Text Format
Dear James Miller,
Over the years, I have learned that an executive position carries much more responsibility than just being a leader of an organization. It is about building a community within an organization and empowering the teams to do their best work. My background and experience demonstrate my ability to do just that.
For the past 12 years, I have helped to scale XYZ corporation from a small startup to the thriving enterprise it is today, through a strong long-term strategy of putting business plans into action, developing key policies and procedures, and acquiring other companies. I know I can do the same for your business.
I am impressed with Jet Cosmetic's growth over the past several years, especially its progressive focus on merging new technologies (3D printing, AR) with the cosmetics industry. It's exciting, and I would love to be a part of its continued commitment to these tech trends. In fact, I already have several suggestions on the new potential acquisitions and diversification of the company's product portfolio. My rough estimate is that adding one new product to your line can boost the annual revenue by 5%.
I look forward to receiving a call from you, so that we can dig into the details of your needs, and how I can play a role in helping Jet Cosmetics continue to be a global leader in this industry.
Sincerely,
Megan Ninja
Final Tip: Don't Let The Details Get Away From You
Many executives are used to being 'big idea' people. They usually rely on underlings to work out the details of their plans. Keep in mind that there won't be an administrative assistant in this case. It's up to you to go through your letter carefully to ensure that your writing is superb. Pay attention to details such as spelling and grammar, ensuring you've spelled the name of the hiring contact correctly, and that you've made your points convincingly.
Even More Relevant Cover Letter Examples!