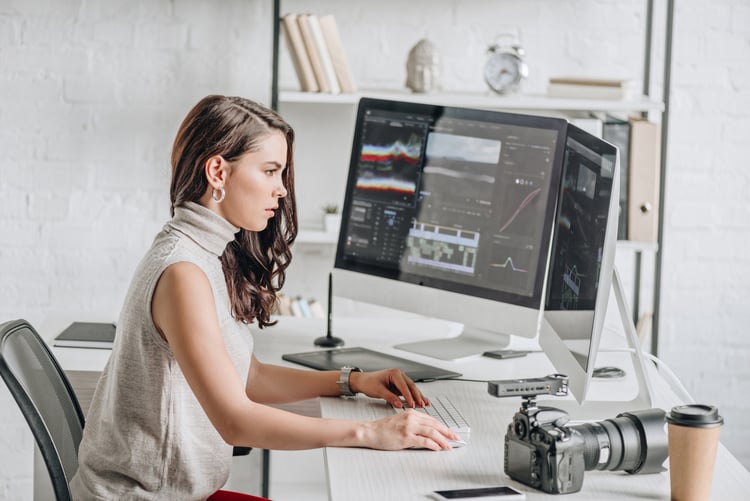 As a video editor, you are the creative mastermind behind turning raw footage into a visually appealing, awe-inspiring, and breath-taking reel, ready for public viewing. And that is something the public very much demands.
Over the last, video consumption increased by 120%. With 50% of young adults admitting they "couldn't live" without video in their daily lives. The above means that video production is up too and that video editing skills are more in-demand than ever!
A talented video editor can certainly stay busy. However, you know you'll be happiest at a job where the work is interesting and the pay is good. But great compensation means fierce competition. So if you are ready for your next career move, you need to give your resume and cover letter a good oomph too.
That's where we roll in with our compelling cover letter for video editor example and some snappy sound-bite tips for making your letter a true masterpiece.
Video Editor Cover Letter Sample in .docx Format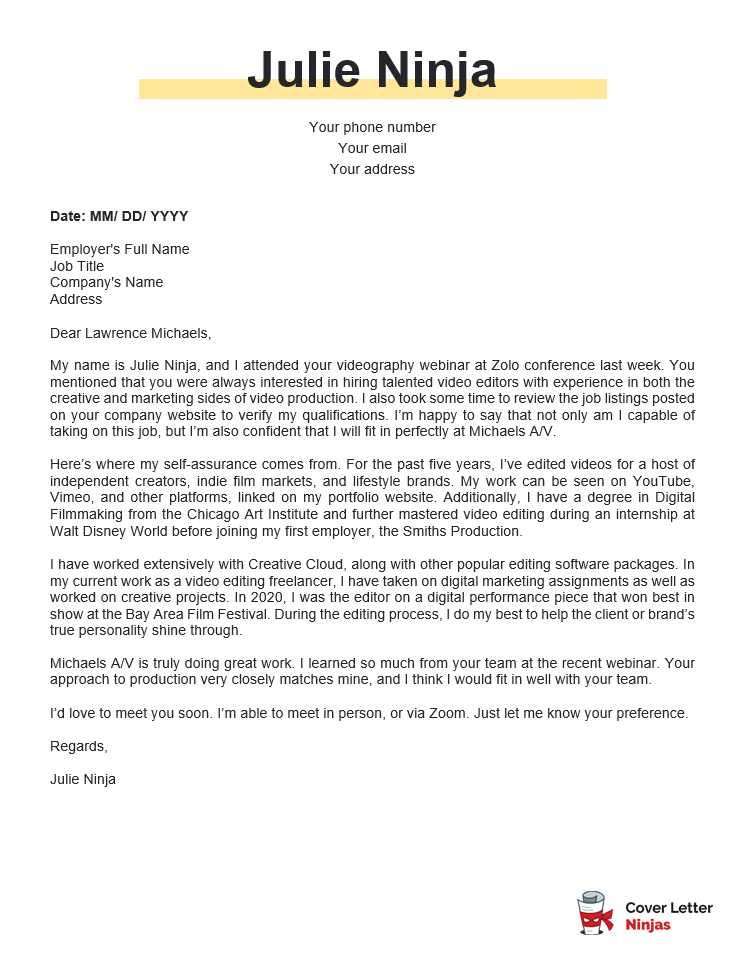 Download example (Word version)
Video Editor Cover Letter Example – Text Format
Dear Lawrence Michaels,
My name is Julie Ninja, and I attended your videography webinar at Zolo conference last week. You mentioned that you were always interested in hiring talented video editors with experience in both the creative and marketing sides of video production. I also took some time to review the job listings posted on your company website to verify my qualifications. I'm happy to say that not only am I capable of taking on this job, but I'm also confident that I will fit in perfectly at Michaels A/V.
Here's where my self-assurance comes from. For the past five years, I've edited videos for a host of independent creators, indie film markets, and lifestyle brands. My work can be seen on YouTube, Vimeo, and other platforms, linked on my portfolio website. Additionally, I have a degree in Digital Filmmaking from the Chicago Art Institute and further mastered video editing during an internship at Walt Disney World before joining my first employer, the Smiths Production.
I have worked extensively with Creative Cloud, along with other popular editing software packages. In my current work as a video editing freelancer, I have taken on digital marketing assignments as well as worked on creative projects. In 2020, I was the editor on a digital performance piece that won best in show at the Bay Area Film Festival. During the editing process, I do my best to help the client or brand's true personality shine through.
Michaels A/V is truly doing great work. I learned so much from your team at the recent webinar. Your approach to production very closely matches mine, and I think I would fit in well with your team.
I'd love to meet you soon. I'm able to meet in person, or via Zoom. Just let me know your preference.
Regards,
Julie Ninja
Video Editor Cover Letter Tips
Now let's get the momentum going and help you write your personalized cover letter to razzle and dazzle a prospective employer.
Explain How You Developed Your Skills
Your hard and soft skills determine your employability. But in the case of video editing, it's also important how you developed those skills. For example, someone who learned video editing as a marketing student may have a different perspective than one who attended art school. Editors with a marketing agency background have different ideas and approaches to post-production than someone specializing in educational content. Thus, explain where you are coming from and what you are bringing to the table early on. 
Here's a quick example:
"I learned video editing while working as an assistant at a video marketing agency in Chicago. While my position largely involved analytics, I was frequently asked to assist in the post-production process."
Mention Notable Awards or Accolades
It's always helpful to provide verifiable proof that other people approve of your work. One way to do this is by listing relevant awards or honors you have received for your work. Consider placing this in the same paragraph that you list your education and key experience.
If you are new to the game, don't fret either. You can always share viewing statistics for your videos, online praise from viewers, or testimonials from your client e.g. a social media marketing manager you've worked with.
ADVICE FROM OUR EXPERT
---
Craft your cover letter in a way that engages the hiring manager by offering insight into how your professional story qualifies you for this role. You may also share how your core strengths, creative experience, passion, and commitment to creating unique video content will captivate future audiences.

Claire Webber
Career Consultant, CPCC, CPRW
Show How You Work With Clients
Videography is a creative process. As an editor, you are given the important but sometimes touchy job of changing someone's creation. In addition to that, you've also got to work with the marketing manager to ensure that their brand shines through. What you do is important, but so is your process. 
You won't be able to go into this in-depth. But, you should mention some key points. For example:
"Because I work closely with videographers who have a very clear vision of the final product, I tend to keep my editing true to that. When possible, I ask to attend at least a few preproduction sessions so that I can learn as much as I can about the creator and their client."
Final Tip: Show Enthusiasm For The Hiring Company
Take some time to research the company you are applying to. Get to know the work they do, major projects they've completed, or awards they've been given. Use that to show how you would work well with their team, and that you are sincerely interested in the job.