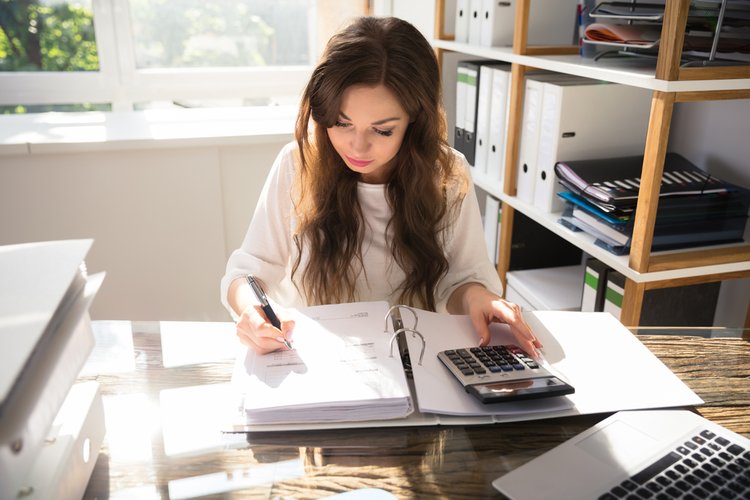 Banks, mortgage companies, and other financial institutions depend on underwriters to ensure they only lend money to those who will pay it back. Underwriters use their extensive experience to measure credit ratings, payment history, income, assets, and debts. Then, they offer their recommendations. A good underwriter understands financial regulations but also has the business savvy to recognize worthwhile risks. Some underwriters work for insurance companies to assess risk and insurability.
If you have the skills and experience to work as an underwriter, it's time to put together a great cover letter. Before you begin, take a look at some helpful tips. We've also wrapped this post with a great underwriter cover letter example.
Show That You're Organized and Methodical
This line of work is both data- and regulation-heavy. So it's important for an underwriter to have great attention to detail and be very organized. These skills should be reflected in your letter. Keep your writing focused. Prioritize brevity. Make sure each paragraph has a single focal point. Use a free cover letter template if you need to fit your narrative neatly into one page. Finally, and hopefully, obviously, edit and proofread carefully.
ADVICE FROM OUR EXPERT
---
In short, underwriters determine risk. So strong analysis skills and attention to detail are needed. In a cover letter as an underwriter, describe your ability to analyze data as well as your attention to detail in reviewing information. Use a clear example where you combined the two to help an organization make a great decision.

Debi Douma-Herren
Senior Certified HR Professional & Career Coach
List Your Relevant Certifications
The majority of jobs in the banking field require that you have a college degree. In addition to this, there may be additional standards for you to meet. Certain industries have licensing requirements. Different states may also require you to carry and keep a license or certificate from a governing body. You may even have to take a certain number of continuing education units each year to remain 'employable'.
Show that you tick all of these boxes within your letter. Here's how:
"I have held a life insurance underwriter's license through the state of Missouri since 2010. In addition to this, I am a certified, Risk Management Specialist. As required by the state, I have completed 200 hours of continuing education units in the areas of fraud prevention and insurance regulations."
Demonstrate Specific Industry Understanding
Underwriters work for life insurance companies, credit unions, mortgage companies, traditional banks, and other institutions. Some of the potential specializations include residential mortgage lending, business liability, insurance, or commercial lending. These are very limited lists, and there are unique skills required to succeed within each industry, ranging from general financial analysis to credit control.
Keep in mind that your cover letter should be a very customized document. In fact, each application package you create needs to have a uniquely written cover letter that addresses the specifics of that job opportunity. If you don't have specific experience, write about your current abilities to demonstrate that you are capable of adapting to your new job.
Emphasize Soft Skills
An underwriter is a member of a team. To do the job effectively, you must have well-developed soft skills. Be certain to bring up your communication skills, ability to organize, teamwork, and time management capabilities. By doing this, you will show that you are capable of handling all aspects of the job, not just the analytical parts. As always, showing rather than telling is key. Here's an example:
"I'm currently the lead underwriter on the commercial lending team at Magna Lending. One of my key duties is presenting my findings to team members who are unfamiliar with underwriting methodologies. I take great pride in my ability to communicate my recommendations effectively."
Underwriter Cover Letter Sample in .docx Format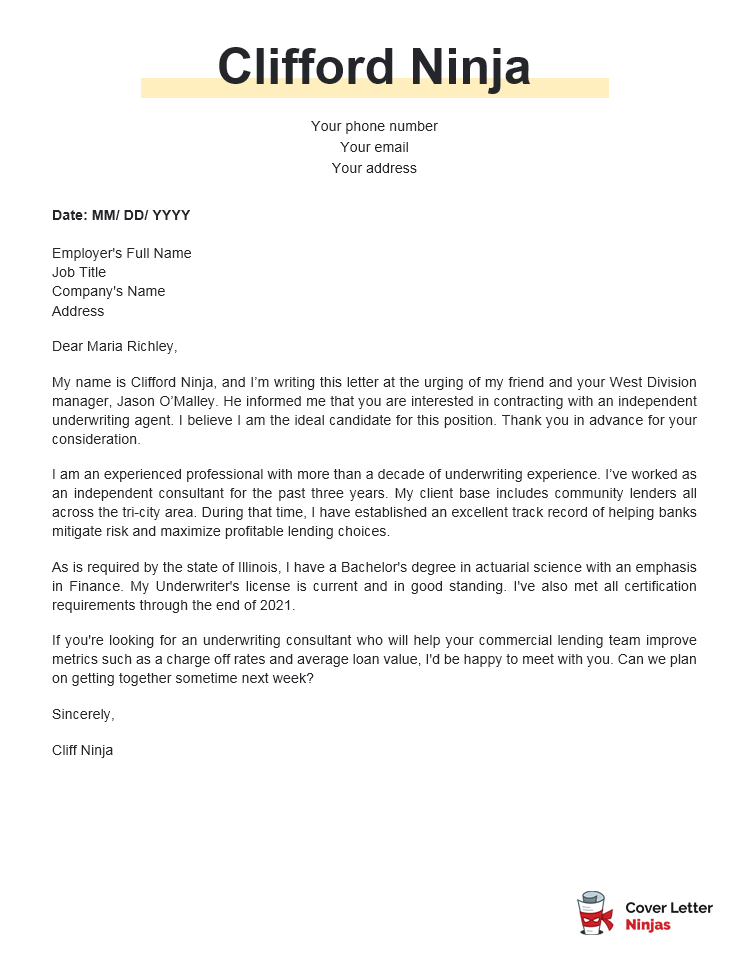 Download example (Word version)
Underwriter Cover Letter Example – Text Format
Dear Maria Richley,
My name is Clifford Ninja, and I'm writing this letter at the urging of my friend and your West Division manager, Jason O'Malley. He informed me that you are interested in contracting with an independent underwriting agent. I believe I am the ideal candidate for this position. Thank you in advance for your consideration.
I am an experienced professional with more than a decade of underwriting experience. I've worked as an independent consultant for the past three years. My client base includes community lenders all across the tri-city area. During that time, I have established an excellent track record of helping banks mitigate risk and maximize profitable lending choices.
As is required by the state of Illinois, I have a Bachelor's degree in actuarial science with an emphasis in Finance. My Underwriter's license is current and in good standing. I've also met all certification requirements through the end of 2021.
If you're looking for an underwriting consultant who will help your commercial lending team improve metrics such as a charge off rates and average loan value, I'd be happy to meet with you. Can we plan on getting together sometime next week?
Sincerely,
Cliff Ninja
Final Tip: Choose the Right Type of Letter
Before you begin writing, it's important to identify the right cover letter for your situation. Your choices are application letter, referral letter, and letter of interest. An application letter is the most common option, and you typically write it in response to a job listing. If you know someone in the firm who will give you their endorsement, consider writing a referral cover letter instead. Finally, you would write a letter of interest if you are not applying for a specific job opening, but want to express that you'd like to work for that company.