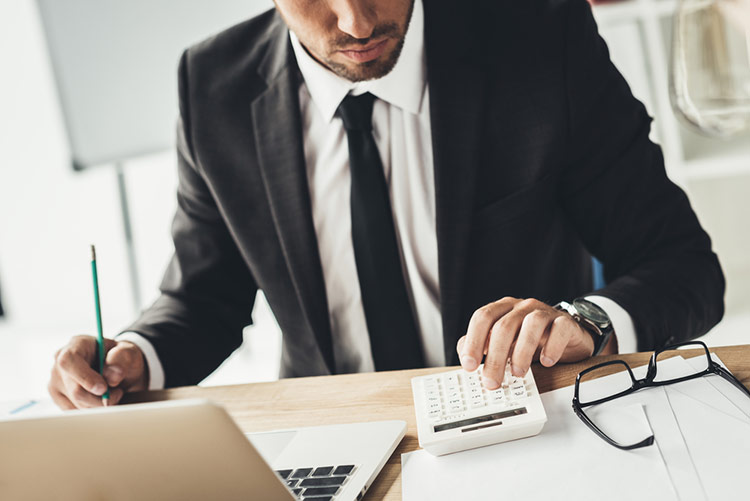 For a business to stay afloat, they must ensure that customer accounts are paid promptly. In addition to this, they must take great care when extending credit. As a skilled credit controller, it's your job to oversee these efforts. At the same time, you must do so while maintaining excellent customer relations. You have the abilities to do this job well, now you need a great cover letter to include in your application packet. Keep reading for a credit controller cover letter sample and some great writing tips.
Highlight Your Negotiating and Customer Service Skills
The job of a credit controller requires a delicate balance of skills. On one hand, you want to motivate customers to keep their accounts current and avoid extending credit when the risk is too high. On the other hand, a customer in arrears is still a customer, and you must handle credit accounts to maintain excellent customer relations. Also, you are more likely to keep a profitable relationship with a firm, but friendly approach.
In your cover letter, show that you know how to create credit agreements, and obtain payments while giving your VIP customers incentive to continue doing business with your company. Here's an example:
"In my current position, I am in charge of personally handling VIP and complex accounts. I am proud to say that I have been able to successfully negotiate payments while achieving a 100% customer retention rate."
Show You Understand Regulations and Procedures
A credit controller must understand both banking and credit regulations. In addition to this, there may be industry best practices to follow to maintain an excellent reputation. Use your cover letter to detail that you are familiar with the common compliance requirements and can carry out your duties in line with the latest regulations.
ADVICE FROM OUR EXPERT
---
Holding a high level of responsibility within an organization, a Credit Controller must be trustworthy, proactive, and above reproach with a high acuity to detail. Consider sharing with prospective employers your past experience within similar roles as well as your consistent commitment to acting in the best interest of the company, stakeholders, and industry.

Claire Webber
Career Consultant, CPCC, CPRW
Quantify Your Previous Successes
Ultimately, your job is to ensure that monies owed are paid to your company and that accounts are organized for ease of reporting and tracking. If you can prove you can accomplish these things, you will increase your chances of landing the job. However, you must be specific. It's not enough to state that you 'successfully manage accounts while maintaining successful risk metrics'. Instead, you should bring some meaningful detail to show exactly what you've done for previous employers. For example:
"I am in charge of credit approvals for customer accounts with a value of more than 100K annually. Since I have taken over this task, I have increased the percentage of current accounts in this category by more than 15%."
Detail Your Technical Skills
As part of your job, you must understand how to use ERP software as well as automated credit control software. Knowledge of different apps, tools, and software systems will win you some extra points with the employer. So consider adding a short, bulleted list of any relevant tools or software you can use. For example SAP, Microsoft Dynamics, CreditForce, Credica, etc.
Credit Controller Cover Letter Sample in .docx Format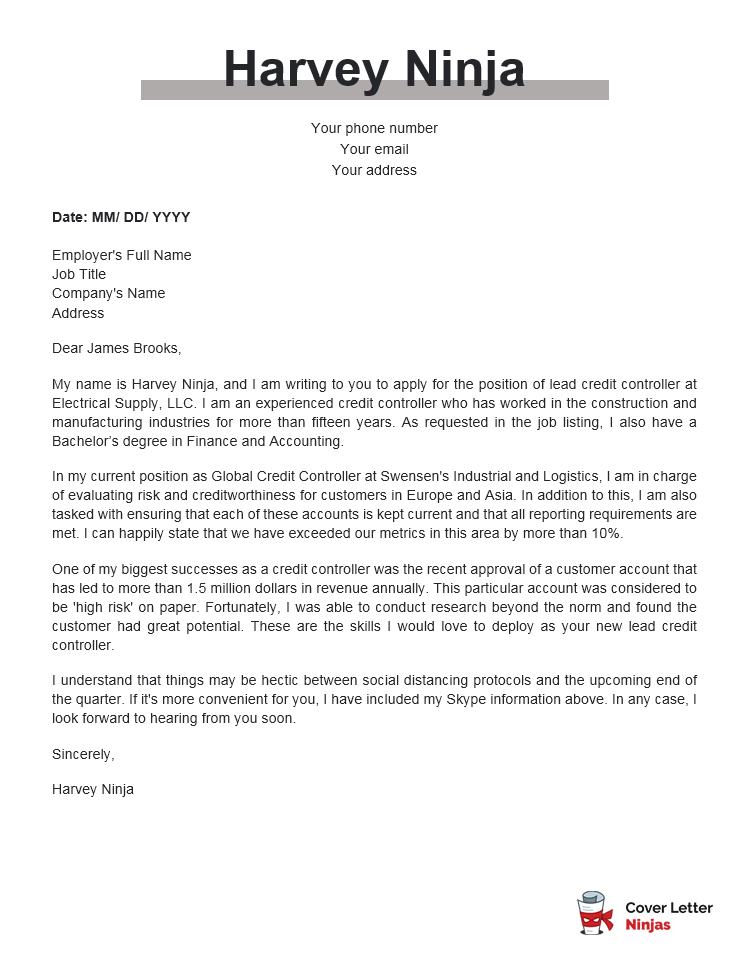 Download example (Word version)
Credit Controller Cover Letter Example – Text Format
Dear James Brooks,
My name is Harvey Ninja, and I am writing to you to apply for the position of lead credit controller at Electrical Supply, LLC. I am an experienced credit controller who has worked in the construction and manufacturing industries for more than fifteen years. As requested in the job listing, I also have a Bachelor's degree in Finance and Accounting.
In my current position as Global Credit Controller at Swensen's Industrial and Logistics, I am in charge of evaluating risk and creditworthiness for customers in Europe and Asia. In addition to this, I am also tasked with ensuring that each of these accounts is kept current and that all reporting requirements are met. I can happily state that we have exceeded our metrics in this area by more than 10%.
One of my biggest successes as a credit controller was the recent approval of a customer account that has led to more than 1.5 million dollars in revenue annually. This particular account was considered to be 'high risk' on paper. Fortunately, I was able to conduct research beyond the norm and found the customer had great potential. These are the skills I would love to deploy as your new lead credit controller.
I understand that things may be hectic between social distancing protocols and the upcoming end of the quarter. If it's more convenient for you, I have included my Skype information above. In any case, I look forward to hearing from you soon.
Sincerely,
Harvey Ninja
Final Tip: Share a Quick Story to Prove Your Expertise
There's more to the job of credit controller than simply reading credit reports and calculating risk scores. This is a customer service position as well, and one that allows you to increase the employer's profitability. Consider sharing a brief story that showcases how you used your skills and experience to improve customer relations or collect on a difficult account. If possible, back up some of your claims with data.