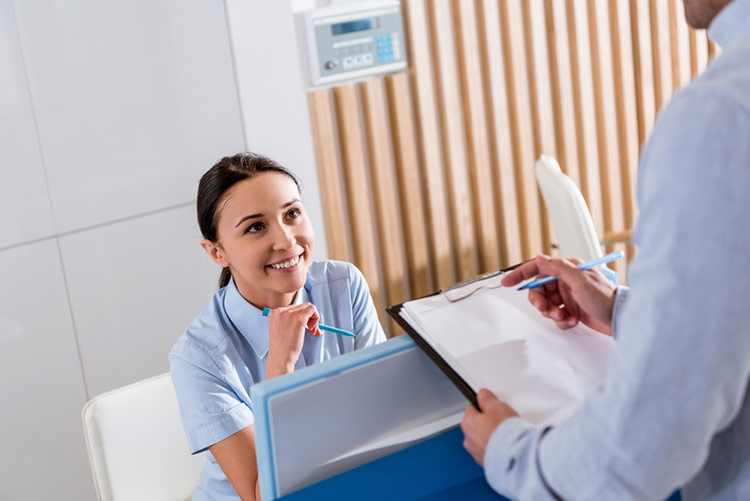 Did you know that the amount of healthcare data has grown by 878% since 2016? A good portion of that information is directly related to insurance and billing. Such a massive surge has further led to an increased demand for medical billing and coding professionals. Not only do workers in this field expect good growth prospects and stability, employment stability, but there are also many perks. For example, many medical billers and coders can work remotely, receive regular bonuses, and other employment benefits.
Do you want to pursue a rewarding career that doesn't require a college degree? You need a great resume. That's not all. You'll also need an eye-catching cover letter. Keep reading for some helpful tips and a great medical billing cover letter sample.
Make Your Skills Relevant to The Position
Are you inexperienced? That's okay. There's such high growth in this field that many companies are willing to provide training. Of course, that doesn't mean you don't have to bring anything to the table. Now it is your chance to show that you already have some relevant skills.
Here's an example that illustrates how you might use your cover letter to showcase some of the technical skills you've previously developed:
"While I am applying as a medical billing and coding trainee, I do have several skills that will make me a valuable addition to your team. These are:
Experience working in a medical office.
Understanding of medical terminology.
Microsoft Office Certification.
Capable of Managing a Multi-Line Phone System"
ADVICE FROM OUR EXPERT
---
As with all data entry roles, a high acuity to detail is vital to ensure appropriate documentation is made regarding stakeholder or patient information. Use your cover letter to provide a few examples of times where you held ownership of organizational and detail-oriented processes within previous roles.

Claire Webber
Career Consultant, CPCC, CPRW
Show Your Attention to Detail
To process the payment appropriately, insurance companies must receive accurate billing information. To help ensure that everything has been standardized, a system of codes was created. As a biller, it is your job to assign the appropriate code based on the diagnosis or treatment each patient receives. Also, one appointment can generate multiple codes depending on the reason for the visit, or the procedure performed.
So, there's a lot to keep track of in this job, similar to bookkeeping and accounting. You'll be expected to ensure that all accounts were billed accurately and to coordinate multiple accounts at once. A mistake could lead to a rejection of payment or loss of services. Thus, you must have an eye for detail and accuracy. If you can include something meaningful about your skills in this area. Consider something like this:
"Currently, I am working as a pharmacy technician. As you know, this position requires great memory, and the ability to notice the smallest details. I intend to bring the same commitment to accuracy to the medical biller position."
Share a Relevant Story
The best way to convince someone of your competency is to provide them with an example that helps them visualize and contextualize it. So come with a quick story that showcases your work experience and skills. It doesn't need to be long. Something as simple as this should work fine:
"Last month, I managed to avoid an unpleasant customer service issue thanks to my attention to details. As I was processing a batch of statements, I noticed that several companies were receiving invoices for the same amount. I pointed the issue out to IT and they discovered a major software issue."
Demonstrate Your Commitment to Growth
Where do you see yourself in two years? What about five years? Perhaps you're attending school, or interested in advancing into a supervisory position. Most companies are interested in working with goal-oriented people. Share what you're committed to doing to become better at your job, and advance as a professional overall.
If you are wondering how to frame this, check other cover letter examples that we've published.
Medical Billing Cover Letter Sample in .docx Format
Here is a sample of a cover letter for a medical billing specialist looking for an entry-level job.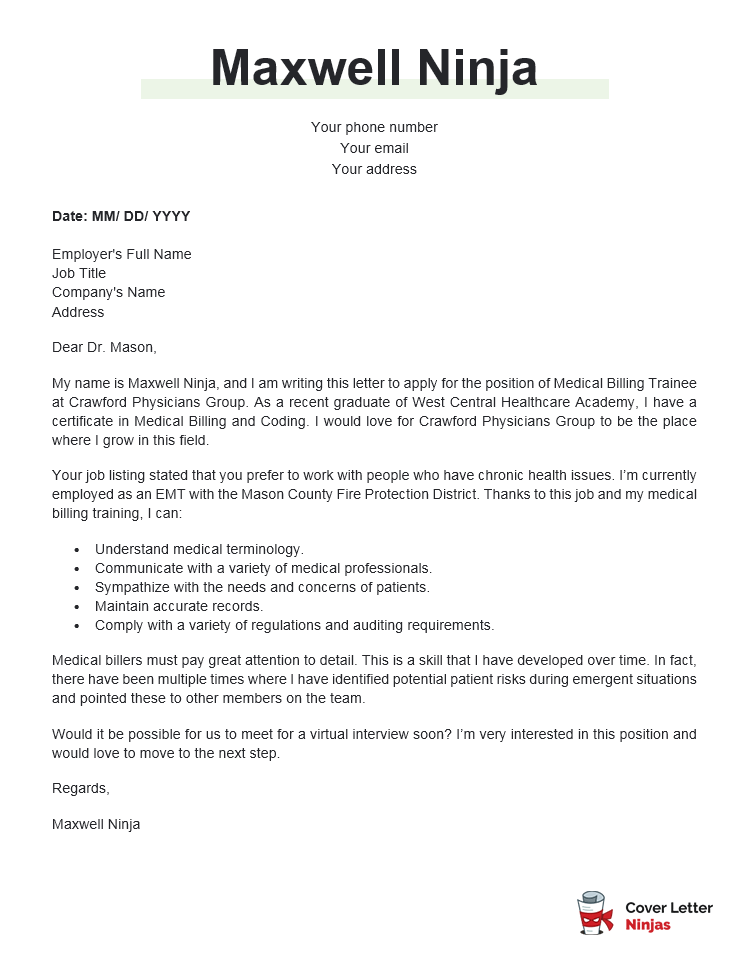 Download example (Word version)
Medical Billing Cover Letter Example – Text Format
Dear Dr. Mason,
My name is Maxwell Ninja, and I am writing this letter to apply for the position of Medical Billing Trainee at Crawford Physicians Group. As a recent graduate of West Central Healthcare Academy, I have a certificate in Medical Billing and Coding. I would love for Crawford Physicians Group to be the place where I grow in this field.
Your job listing stated that you prefer to work with people who have chronic health issues. I'm currently employed as an EMT with the Mason County Fire Protection District. Thanks to this job and my medical billing training, I can:
Understand medical terminology.
Communicate with a variety of medical professionals.
Sympathize with the needs and concerns of patients.
Maintain accurate records.
Comply with a variety of regulations and auditing requirements.
Medical billers must pay great attention to detail. This is a skill that I have developed over time. In fact, there have been multiple times where I have identified potential patient risks during emergent situations and pointed these to other members on the team.
Would it be possible for us to meet for a virtual interview soon? I'm very interested in this position and would love to move to the next step.
Regards,
Maxwell Ninja
Final Tip: Edit Carefully
Medical billing is a field where professionals are required to maintain high accuracy standards. Start on the right foot by presenting a cover letter and resume that has been impeccably edited. Don't make people question your credentials due to grammar mistakes and misspelled words!