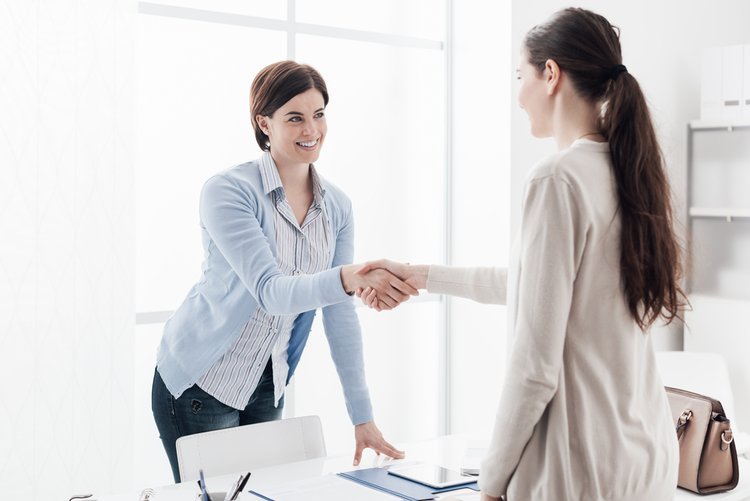 No matter what you do for a living, having the right recruiter in your corner can help you land the job of your dreams. In fact, some companies only hire through recruitment agencies. So going through one is your only chance of breaking into the industry.
Yes, some recruiters work with all job seekers. However, the truth is that the best recruiters with connections to high paying jobs are selective. You'll need to impress them with a great cover letter and resume. That's why we're providing you with these helpful writing tips, followed by a sample cover letter to a recruitment agency.
Be Concise
If you read our other posts about writing cover letters, you already know that your cover letter is your chance to share your enthusiasm for a particular job and show that you did some research on the employer. In this case, however, you'll want to ignore that advice entirely.
With a recruiter, stick with the relevant facts only, and keep your letter short. That's not to say that you should be abrupt or terse. It's just that your recruiter is very busy. They want to quickly determine whether they can help you. Then, they want to get to work doing just that. Save any information about being a cultural fit, or excited about the opportunity to work for a particular company for later in the process.
ADVICE FROM OUR EXPERT
---
Recruitment agencies specialize in identifying and maximizing talent and can be an incredible resource for job seekers as they navigate a career transition. When creating a cover letter targeting recruitment firms, clearly articulate what experience, competencies, and areas of specialization make you a valuable resource within the market. As the agency will likely connect you with prospective employers, consider taking more of an open-ended approach without mentioning specific jobs, industries, and organizations.

Claire Webber
Career Consultant, CPCC, CPRW
State Your Needs Clearly
The more direct you are about your needs and expectations, the better your recruiter can help you. Outline details such as:
Your willingness to travel
Companies that interest you
Salary expectations
Your preference regarding contract/temp work.
No recruiter wants to waste their time on submitting you for jobs that will not interest you. Finally, don't forget to let them know if you are willing to relocate, and where you are interested in going.
Try something like this:
'Because I have more than a decade of experience as a Systems Analyst, I'm only interested in jobs that pay at least 75 dollars per hour. I am willing to travel, as long as the benefits include an attractive per diem, and I can be home at least 20% of the time. My preference is to accept permanent positions, but I will consider contract to hire.'
Outline Your Availability
A recruiting agency employee will want to know two key pieces of information. First, when will you be available to start a new position. If you'll need two weeks after accepting an offer, let them know that. Otherwise, give a firm date if you can. Next, you'll need to include when you are available for interviews. Here's an example:
'I am prepared to give notice at my current employer immediately upon accepting an offer. However, to properly close out any open projects, I will need to provide 30 days' notice.'
Disclose Any Conflicts
This is a tough one. Every recruiter is different. Some will absolutely not work with you if you are working with other headhunters. Others will request that you agree to drop other recruiters and work only with them. There's a reason for this. It looks bad for a recruiter when they double submit a job seeker to a client.
As part of your cover letter, be certain that you disclose the names of any other recruiting agencies you've worked with, and where you've submitted your resume within the past six months. You can do this with a simple bulleted list:
"I've worked with the following recruiters and employers.
Data Staffing
Eastern Missouri Technical Recruiting
Sacramento Board of Education
Nabisco"
Cover Letter Example to Recruitment Agency in .docx Format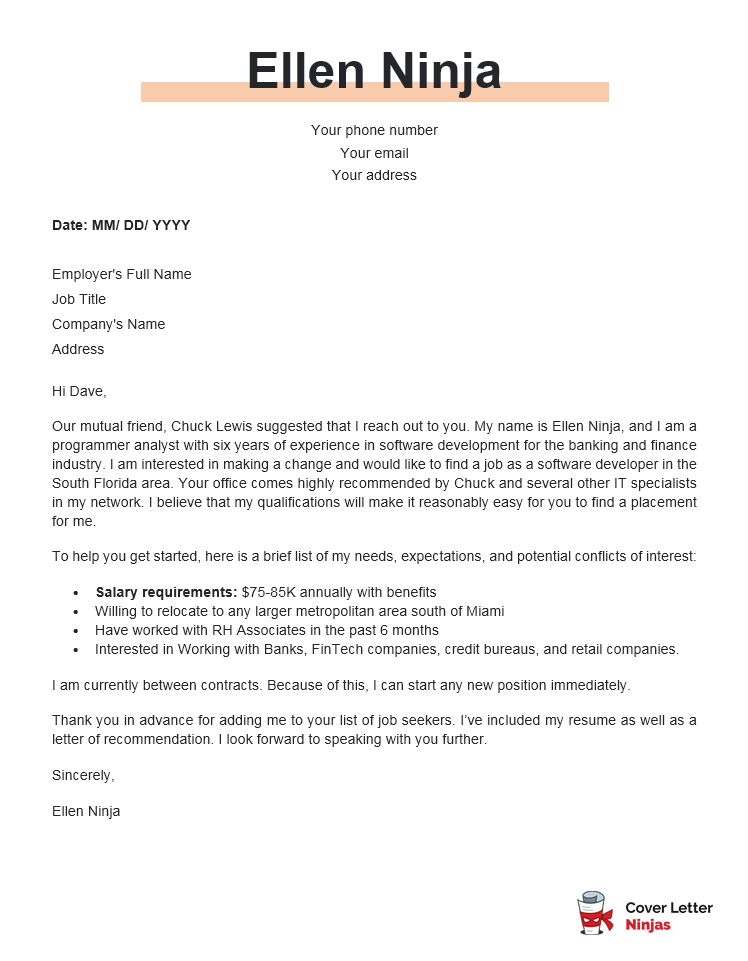 Download example (Word version)
Sample Cover Letter to Recruitment Agency – Text Format
Hi Dave,
Our mutual friend, Chuck Lewis suggested that I reach out to you. My name is Ellen Ninja, and I am a programmer analyst with six years of experience in software development for the banking and finance industry. I am interested in making a change and would like to find a job as a software developer in the South Florida area. Your office comes highly recommended by Chuck and several other IT specialists in my network. I believe that my qualifications will make it reasonably easy for you to find a placement for me.
To help you get started, here is a brief list of my needs, expectations, and potential conflicts of interest:
Salary requirements: $75-85K annually with benefits
Willing to relocate to any larger metropolitan area south of Miami
Have worked with RH Associates in the past 6 months
Interested in Working with Banks, FinTech companies, credit bureaus, and retail companies.
I am currently between contracts. Because of this, I can start any new position immediately.
Thank you in advance for adding me to your list of job seekers. I've included my resume as well as a letter of recommendation. I look forward to speaking with you further.
Sincerely,
Ellen Ninja
Final Tip: Do Your Research
If you submit a cover letter with salary requirements that are too low or too high, potential recruiters won't consider you in any case. The same is true if you show interest in a company or industry for which you are a poor fit. Before you send your cover letter, be sure that your salary requirements and other expectations align with reality.