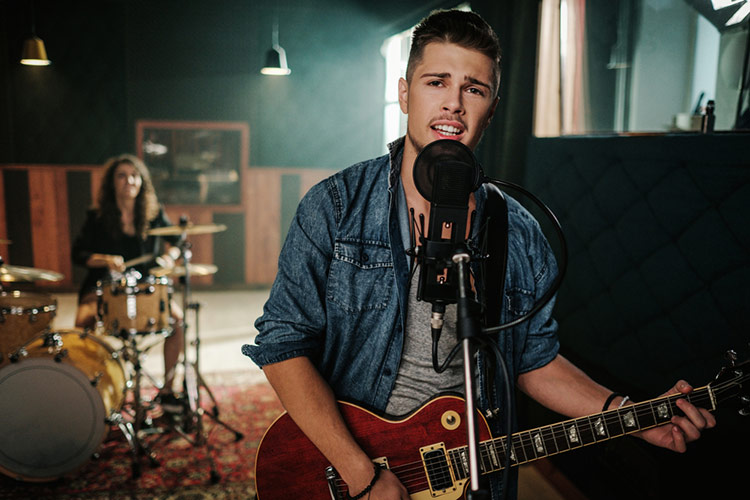 People who aren't in the industry may not understand that working musicians often have to go through the same job application processes as many workers in other industries. To get that gig, some need to send over a well-written resume and introduce themselves with a compelling cover letter. So how do you compose a fine-sounding letter? Below are your tips, followed by a cover letter sample for a musician you can use for inspiration!
Get Rid of Words That Water Things Down
As you write your cover letter, be vigilant about words and phrases that add nothing meaningful to your letter. These include adverbs, conjunctions, and a ton of prepositions. Basically, if a word or phrase adds nothing but filler, rewrite things.
By cleaning up your writing, you'll accomplish two things:
Ensure your letter is short and concise, making it pleasant to read for an HR.
Strengthen your writing, so that you appear as a confident candidate.
You can use the Hemmingway app to help you find some 'weak words'.
Avoid Too Much Creativity
You may have heard stories of musicians or other people in creative fields gaining attention by taking a creative approach to their resume or cover letter. However, unless you are very confident something like this will be well-received, don't do this. Writing your cover letter in rhyme, attempting to use too much humor, or adopting some sort of creative formatting is almost always a bad idea. Instead, you are better off keeping things straightforward with a professional cover letter template that uses a bit of color to stand out.
ADVICE FROM OUR EXPERT
---
As a musician, you are likely passionate about what you do and demonstrate highly developed creative thinking and problem-solving skills. When applying to musical roles, provide your qualifications balanced with your passion for your craft to engage prospective employers and motivate them into action.

Claire Webber
Career Consultant, CPCC, CPRW
Play up The Most Relevant Parts of Your Experience
When it comes to speaking about your experience as a musician, keep in mind that your resume should go wide, and your cover letter should go deep. This means that you will write your cover letter to focus on your depth of experience in the areas that are most relevant to the job opening.
For example, if you are applying for a job as the house singer at a recording studio, you would focus on your experience recording demos, singing harmonies, and collaborating with studio musicians.
Likewise, if you are pitching a restaurant manager, focus more on your experience with providing entertainment at different venues and engaging with the public.
Share Samples of Your Work
If you were a visual artist, you would reference your work, and link your portfolio. You can do the same here by including a link to audio samples of your work. If you are applying for a position as a performing musician, consider adding some video footage. This will help the hiring manager see or hear you in action.
For your cover letter, consider linking to a particular song or performance. Then, you can link to your professional website, SoundCloud, or band camp in your resume for a fuller view of your work.
Musician Cover Letter Sample in .docx Format
Here is a sample of a musician's cover letter. It applies some tips listed here. Feel free to use this as a bit of inspiration as you write your own.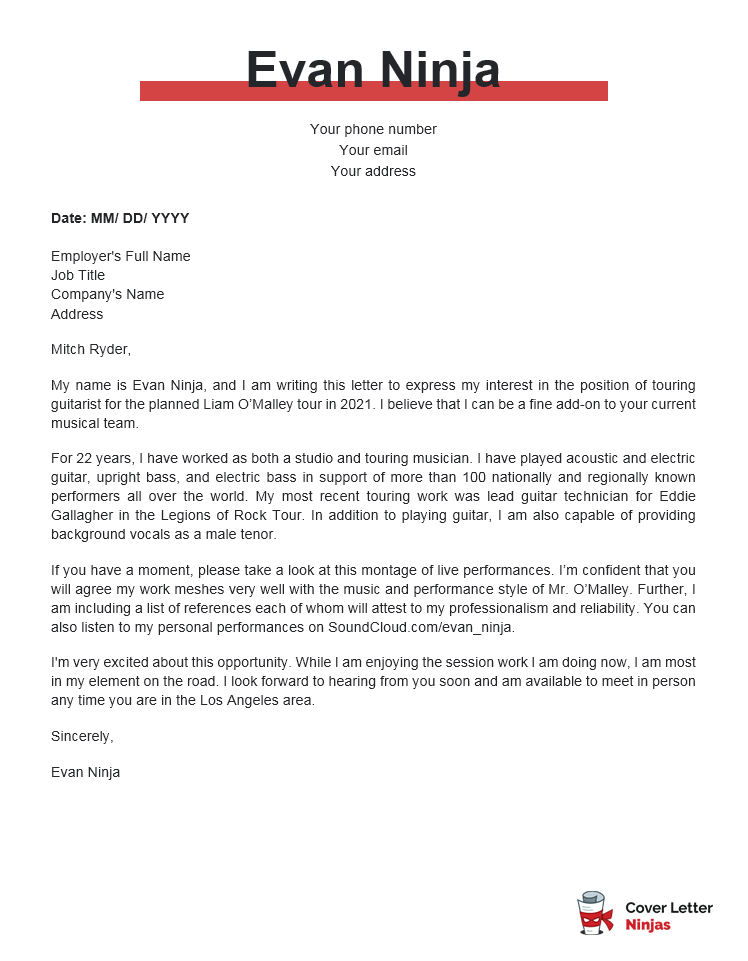 Download example (Word version)
Cover Letter Example For a Musician – Text Format
Mitch Ryder,
My name is Evan Ninja, and I am writing this letter to express my interest in the position of touring guitarist for the planned Liam O'Malley tour in 2021. I believe that I can be a fine add-on to your current musical team.
For 22 years, I have worked as both a studio and touring musician. I have played acoustic and electric guitar, upright bass, and electric bass in support of more than 100 nationally and regionally known performers all over the world. My most recent touring work was lead guitar technician for Eddie Gallagher in the Legions of Rock Tour. In addition to playing guitar, I am also capable of providing background vocals as a male tenor.
If you have a moment, please take a look at this montage of live performances. I'm confident that you will agree my work meshes very well with the music and performance style of Mr. O'Malley. Further, I am including a list of references each of whom will attest to my professionalism and reliability. You can also listen to my personal performances on SoundCloud.com/evan_ninja.
I'm very excited about this opportunity. While I am enjoying the session work I am doing now, I am most in my element on the road. I look forward to hearing from you soon and am available to meet in person any time you are in the Los Angeles area.
Sincerely,
Evan Ninja
Final Tip: Explain Why You Are Interested in That Position
Show your interest and enthusiasm by detailing what it is about the new opportunity you find appealing. For example, you might be excited to work with a particular musician or explore a new style of music. This is especially helpful if you are applying for a job that might be considered a step-down, or a lateral move. So clearly explain what's your motivation for pursuing this particular gig!