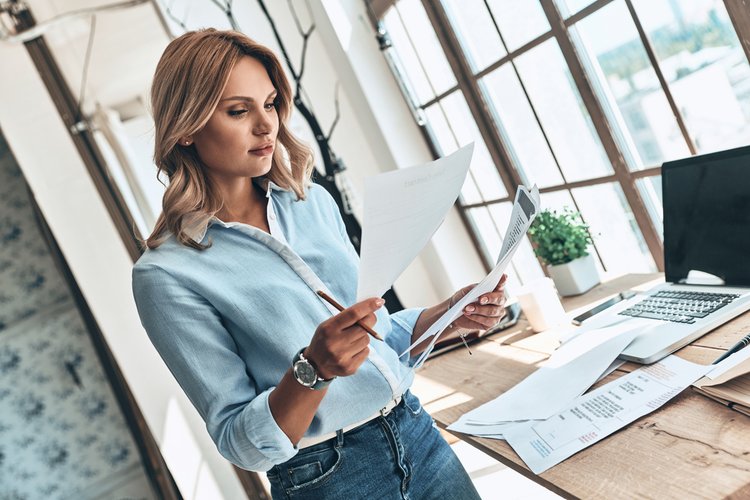 If you've spent any time exploring our website, you know that we offer advice and examples for a variety of cover letters. We have advice that pertains to specific career fields, levels of experience, and your career goals.
In this piece, we're going to address something universally important. It applies to everyone, no matter which job you are pursuing. This is the art of brevity.
If your cover letter is more than a page long, that's an issue. Most HRs will not read it until the end. Worse, you may be disclosing things that are better left unsaid.
In this post, we are going to cover some reasons for keeping your cover letters short. We'll also give you some tips for doing so. Be sure to read to the end. We've included a short cover letter sample.
Why Cover Letters Should Be Short
The primary reason to keep your cover letter as brief as possible is in consideration of your hiring manager. They may be viewing designs of application packets. Imagine if all of them included a lengthy 3-page cover letter. The last thing you need is to have your application ignored because someone looks at your cover letter, and finds it to be exhaustingly long.
ADVICE FROM OUR EXPERT
---
Redundancy is an unwelcomed visitor when it comes to professional application documents, especially within cover letters. Lengthy cover letters can be overwhelming to potential employers, who may receive a substantial number of applications to review. Let your clear and concise cover letter be a tool to continue an employment conversation, rather than a barrier.

Claire Webber
Career Consultant, CPCC, CPRW
What Do You Write in a Short Cover Letter?
A short cover letter should briefly introduce yourself, state your reason for writing, briefly summarize your competitive skills and professional background, plus prompt the interviewer to contact you. Don't list all the skills you have (these should on your resume) or babble about your "immense enthusiasm" and "graciously granted opportunity". Trim the fluff and focus on what's important — your main qualifications.
How to Write a Short Cover Letter
First, don't fret too much. You just need to type about 150-200 words or three short paragraphs of text. Then, use the following actionable tips to help you get organized with your thoughts.
Save The Details For Your Resume And The Interview
Your resume is the place for details about your work history and education. So don't dwell too much on these. When you want to add some career facts, think in terms of bullet points – bite-sized statements that will provide some context.
You should also consider the interview. Awkward silences are always a bad thing. So is repeating yourself. Leave out some details so you always have a few conversation points if things slow down.
Don't Talk Yourself Out of a Position
When someone is reading your cover letter, you don't have the benefit of seeing their reaction. You can't switch topics if you see that something isn't going over well. If you go into too much detail on too many subjects, you run the risk of rubbing someone the wrong way.
Stick to Two or Three Important Points
To help keep things concise, identify two or three points that you believe will best communicate your interest in the position, and your ability to fit into the organization. By focusing only on these important points, you will be able to keep your letter nice and short just like most other winning cover letter examples in our database.
Use Links Instead of Explanations
Rather than going into exhaustive detail about a project you did, consider adding a link instead. This is a great way to communicate your agenda without taking up too much space on the page.
For example, imagine that you want to mention some web design work that you've done. Why go into detail describing your work? Instead, link to your portfolio and let your work speak for itself.
Short Cover Letter Example in .docx Format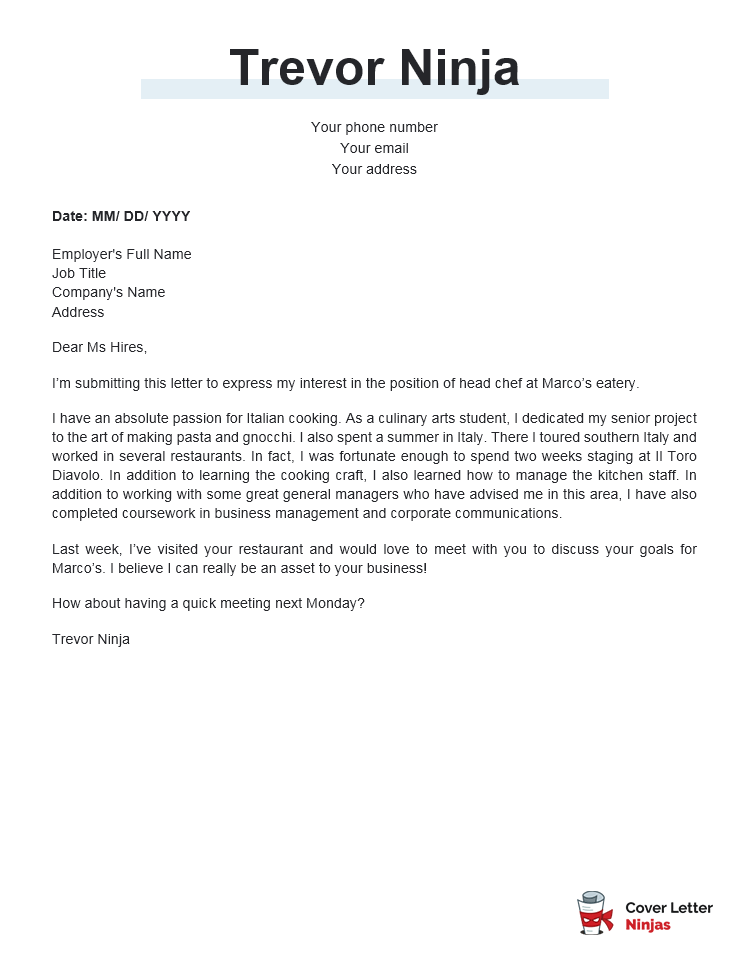 Download example (Word version)
Short Cover Letter Example – Text Format
Dear Ms Hires,
I'm submitting this letter to express my interest in the position of head chef at Marco's eatery.
I have an absolute passion for Italian cooking. As a culinary arts student, I dedicated my senior project to the art of making pasta and gnocchi. I also spent a summer in Italy. There I toured southern Italy and worked in several restaurants. In fact, I was fortunate enough to spend two weeks staging at Il Toro Diavolo. In addition to learning the cooking craft, I also learned how to manage the kitchen staff. In addition to working with some great general managers who have advised me in this area, I have also completed coursework in business management and corporate communications.
Last week, I've visited your restaurant and would love to meet with you to discuss your goals for Marco's. I believe I can really be an asset to your business!
How about having a quick meeting next Monday?
Trevor Ninja
Additional Sample of Short Cover Letter
Dear Karen Jackson,
I am sending you this letter along with my resume to apply for the position of cashier at The Jackson Family General store. During my recent visit, I learned from your manager that you are looking for extra staff.
The manager emphasized that customer service and cash handling experience were key. I'm currently working as a staff member at the Laketon community pool concession stand, where my duties include:
Taking orders from customers
Accepting cash and debit card payments
Providing appropriate change
Drawer balancing
Assisting customers with questions and concerns
Ensuring that the snack bar and surrounding areas are clean and sanitary
As an art student, I spend quite a bit of time in the Creative District. The Jackson Family General store has always been an important part of that community. I'm a great admirer of the work you've done personally to revitalize the area If you're available, I'd love to meet soon for an interview.
Best,
Martina Ninja
Even More Short Cover Letter Examples!
Need some more inspo? Check several short cover letter examples we created for other industries and candidate experience levels.
Cover Letter With No Experience Example
Administrative Assistant Short Cover Letter Example
How Do I Write a Simple Cover Letter?
The issue most people struggle with when writing a short cover letter is getting to the point fast. Oftentimes, this is because most go into writing without thinking through the main focal point of their letter. What is the main idea you want the reader to retain about you as a candidate? This idea will be a centerpiece of your letter.
Once you know what you want to say, the rest is simple.
Write the body of your cover letter first, discussing your main competitive strengths
Add a call-to-action encouraging the reader to get in touch with you.
Add a one-line introduction atop of the main paragraph.
Read your letter once again for clarity and edit the longer sentences if needed.
This is it — your recipe for writing the perfect, simple cover letter!
Final Tip: Clean up Your Writing of Needless Words And Phrases
If your writing is full of jargon and "weak" adverbs, chances are it's going to be needlessly long. The same thing applies if you use the passive voice. Look for repetition, sentences that are too long, and words and phrases that don't add anything useful to you cover letter. Then edit them out ruthlessly.